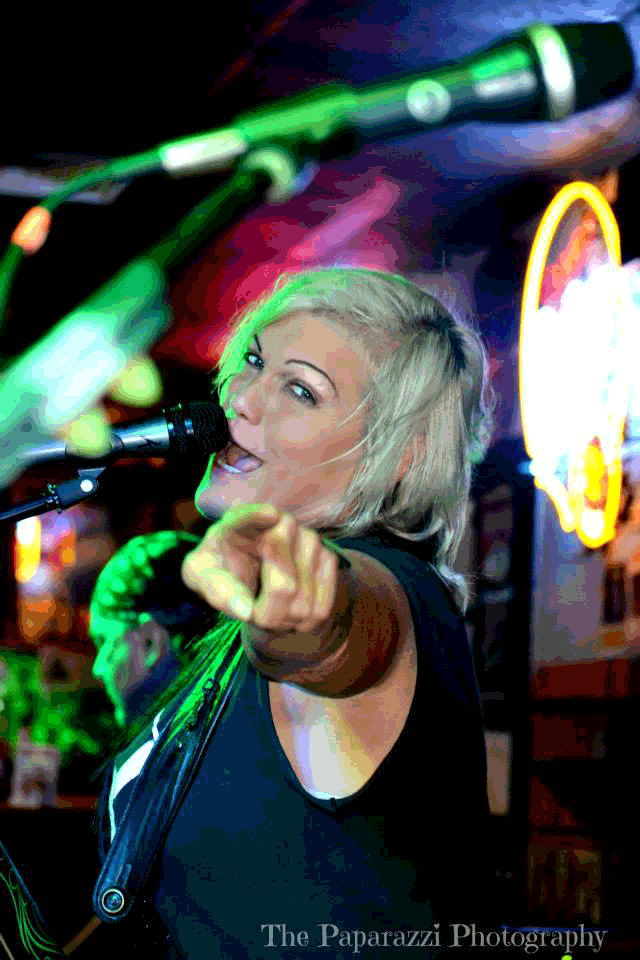 Kat James and Troublemaker
By Craig Jones
Kat James and her band, Troublemaker have performed around Houston for over 3 decades now. The other two local bands that continually performed in the area were Earlywine and Ezra Charles and the Works. Ezra recently retired from the band business (he now performs occasionally as a solo act) and I haven't heard anything from Earlywine recently. The Fab 5 started about the same time as North of the Border did. Despite several lineup changes through the years, The Fab 5 continues to thrive. Kat even has has two guitar stores named in her honor. I wanted her to share her memories with us in her own words. I have a feeling we just scratched the surface of her life story. Troublemaker is the longest running female-fronted band in Texas history.


Craig Jones: When did you first think of being a musician and who influenced you and your music?
Kat James: It was just by chance that I learned guitar. I was born a kidney patient and lived in a hospital for the first 5 years of my life. I was lucky enough to be chosen by the United States Government to go into their experimental program. It was my only option at life at that time. So during my lengthy stay at the hospital, my father (who was a guitarist for the U.S. Navy band) thought that playing a guitar might be something I could do in a hospital bed. I was given a little acoustic guitar and I just never did lay it down. With some coaching from my father from time to time, I would play and sing children's songs. My father played a lot of country music, so that was the format that I started on, but it soon changed. My influences were quite varied - from my father, Loretta Lynn to Merle Haggard and Wendy-O, all the way to Motley Crue!
Craig Jones: What was your first experience with any band?
Kat James: My father passed away at a young age, so naturally I felt closer to him when I was playing my guitar. I was always trying to remember things he had told me, and things he had showed me. My first attempt at a band was when I was about 16-years old and I was quite the novice at working with other musicians. It was a train wreck and I learned quickly that you had to have good players on a stage. There were none on this stage, and I was still trying to find my direction in the music world. I remember when I first heard the rock bands that changed the world back in the 60's. It changed me. It made me come alive and it felt so natural. It was a feeling that I could not explain. I knew that was the direction I wanted to go, and I pursued it.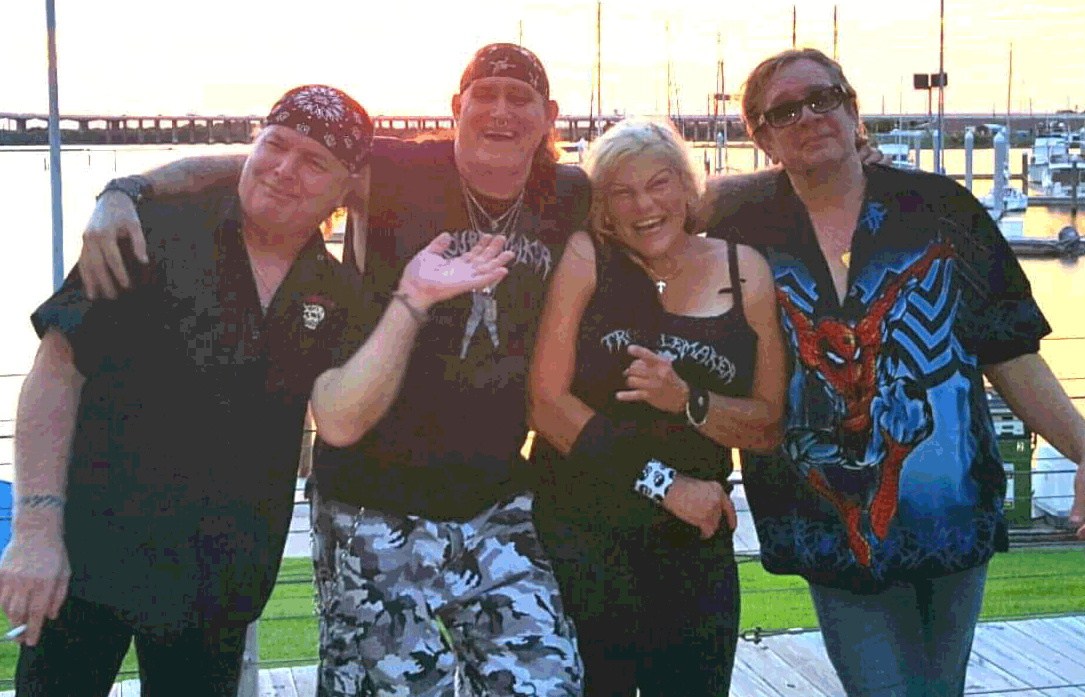 Troublemaker today - (L-R) - Tony Heibel, Mel Gilmore, Kat James, Robert Hampton
Craig Jones: What brought about the idea for Troublemaker (and its name)?
Kat James: I spent a lot of my young years with my grandfather. He was like a second father to me. He taught me so much. His nickname for me was "Troublemaker". He called me that on lots of occasions while grinning. After years of playing guitar, I was putting together the first lineup of what is now Troublemaker. We were talking and I told him I was having a hard time finding the right name for this new band. He immediately blurted out, "well you probably should call it Troublemaker" (as he grinned). I thought about that for a few days and when I mentioned it to the rest of the band, they really liked it, so it was decided and Troublemaker was born. I know it's hard to believe that my grandfather named the band, but it is true.
Craig Jones: What were some of your favorite venues through the years?
Kat James: There were so many cool venues back in the 80's and 90's. Those were wild times and we, like most young bands, were staying busy performing at them all as much as possible. While Strut's, Cardi's, Rockers, Livewire and several others were all really rocking Houston clubs at the time, we were also tearing it up north of Houston too at The 19th Hole and the infamous T's Bar. Fast-forward to present day and The 19th Hole is still rocking Spring today, along with The Jailhouse Saloon in Spring. If you go up farther into Conroe, you have the Backwoods Saloon and Kixtandz among the hot music venues. Troublemaker also performed 5 nights at the Sturgis Bike Rally, which was a great experience and so much fun! There are so many great memories of all with lots of stories to tell, and some stories that you could just never tell!
Craig Jones: What are some of the funniest or scariest things that have happened at shows?
Kat James: There are always wild things happening at shows especially when you are a young band. Some maybe not so funny, as they were more kind of crazy! I don't count the usual bar fight that you might see. But it's not every day that you see 20 topless girls in front of the Troublemaker stage! Then there was that time that some guy walked into the show wearing a trench coat and when he opened that coat he had a gun which looked like an Uzi. Needless to say the club emptied with everyone screaming "he's got a gun" and the entire band dove behind the PA to take cover. The cops showed up shortly after. Then there was that time we played Outlaw Dave's party at the Lonestar Rally, where after the show we had to back down a long dark alley to load out. Some dunk guy was standing in the roadway drinking a beer and when I asked him to please step back out of the way he got mad and kicked the side of the truck. At which time I threw it in park and came out of the truck screaming at him. He then took off running down the alley and naturally I was angry so I ran after him. He ran into a port-o-can and locked the door as I got to the door. The rest of the band had ran after me and were standing there laughing at me while I was banging and hollering on this port-o-can door. Well, finally he opened the door and I went in after him. It was then when I realized that this was a really big guy! Long story short, I won! Whew.
Craig Jones: How did you meet Bryan?
Kat James: I met Bryan for the first time at a rehearsal session at Charlie Parker's house. We kept running in to each other at WASP concerts and parties. As time went on we became good friends. And the rest is history.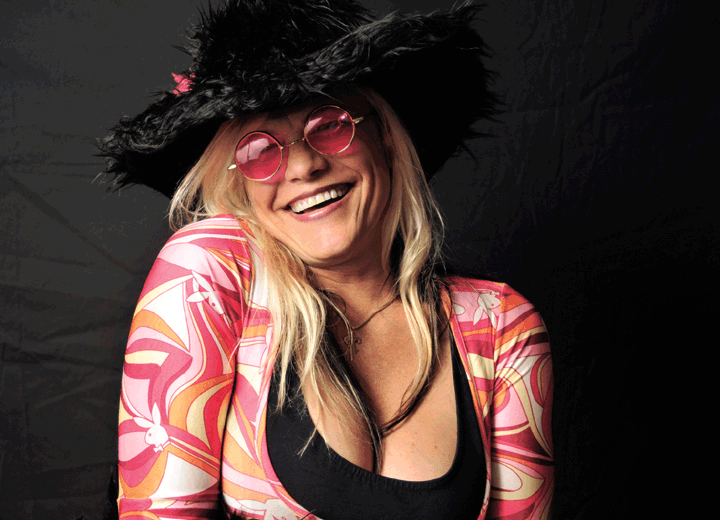 Craig Jones: How did the idea of performing Janis Joplin come to be a reality?
Kat James: I was always told through the years that I sounded a lot like Janis Joplin so I started doing a couple of her songs. People started noticing and requesting those songs. Then we picked up a few more songs, and then a few more. Eventually we had a whole albums worth of Janis Joplin tunes. We started a tribute act called Janis on the Rocks and had some success with that, but it did not keep the band busy enough. So eventually the Janis material was just incorporated into the Troublemaker shows!
Craig Jones: What are your overall thoughts on the current lineup and to what do you attribute to the amazing long run with Troublemaker?
Kat James: I have been lucky throughout my entire career to have always been surrounded by great players in Troublemaker. And the current lineup is no exception! These are ALL seasoned professionals who have been playing as long as I have. The lineup consists of: Robert Hampton on vocals and lead guitar, Mel Gilmore on vocals and drums, and Tony Hiebel on vocals and bass guitar. A top notch lineup. As far as the longevity of Troublemaker, I attribute it to God almighty, along with lots of hard work, strong convictions, tenacity, self-discipline, lots of persistence, and the elixir of life ,Jack Daniels. It has been a long life-changing road.
For more information about Kat James & Troublemaker and to see their performance schedule, check their Facebook page at https://www.facebook.com/Troublemaker-102368944627/.

---
Serving Houston, Tx and the surrounding areas.
Music News covers all kinds of music from Rock to Country and Alternative to R&B..