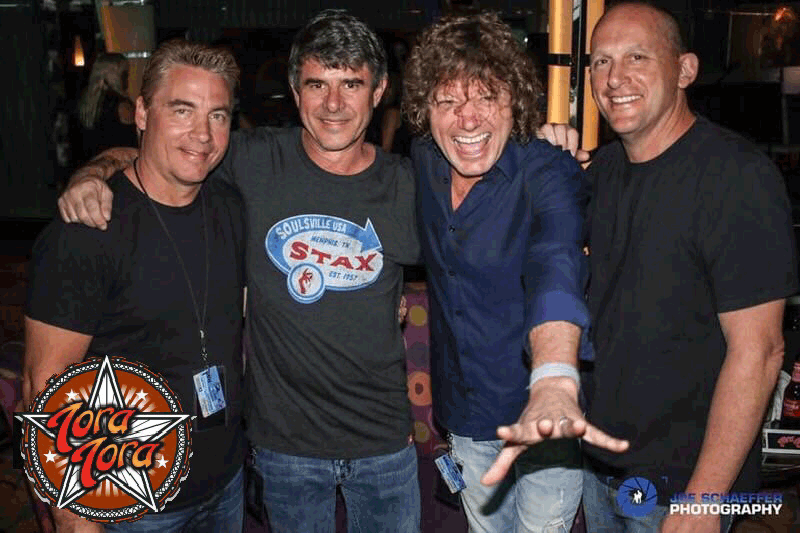 Tora Tora Performs at The BFE Rock Club
The battle cry Tora Tora Tora was the code name for the Japanese attack on Pearl Harbor signaling the beginning of World War II. For the folks this month at the BFE Rock Club, the chant Tora Tora Tora will mean 80's rockers Tora Tora better hit the stage quick. Tora Tora, the critically acclaimed band from the late 80s and early 90s will be performing this month at The BFE Rock Club on January 20th. Tora Tora is the type of band that legends are made of. They started out as a local garage band in 1985. Tora Tora is Anthony Corder (vocals), Keith Douglas (guitar), Patrick Francis (bass), and John Patterson (drums). After winning some studio time in a local battle of the bands contest, they got the recording bug and soon released their first EP, "To Rock and Roll," which contained the songs, "Phantom Rider" and "Love's A Bitch." Both of these songs started getting played regularly on their local radio station and soon brought them to the attention of A&M Records, which gave them a record deal and released their debut album, "Surprise Attach" in 1989. Success came quick and the album debuted at #47 on Billboard's Top 200 chart, yielding them the hit singles, "Walkin' Shoes" and "Guilty." To top things off, the single off this release, "Dancing With A Gypsy" wound up in the movie "Bill and Ted's Excellent Adventure. What a beginning! This was definitely a great beginning for Tora Tora.
By 1992 the band had released their second album, "Wild America," which again landed them on Billboard's Top 200 chart. The band then had another album under their belt ready to release in 1994 called "Revolution Day," but the record label shelved the album and after much deliberation, the band folded.
Flash forward now to 2008 The original band reunited to perform several performances, which included a sold-out performance at Newby's, a local club in Memphis. The occasion was to celebrate the 20th anniversary of receiving their A&M recording contract. Then they appeared at Rockahoma the same year to much acclaim.
This brought them to the attention of FNA Records, which signed them and released three more records, "Before & After," "Bombs Away: The Unreleased Surprise Attach Recordings," and "Miss B. Haven: The Unreleased Wild America Recordings." And finally, 17 years after the completion of their unreleased album, "Revolution Day," FNA Records released that as well.
It's been a long road for Tora Tora, but the band has remained together since then throughout the following years and performs several time a year.
Their performance this month at the BFE Rock Club is sure going to be a momentous occasion for the band since it's been about 20 years since they've performed in Houston. And yes, the original lineup is going to be on stage at this show, which is sort of a rarity for bands that have been through as much as they have.
We got a chance to talk with lead singer Anthony Corder and he gave us a little insight on what's been going on and what to expect.
"Man, we can't wait to get there." Anthony tells us. As a matter of fact, Anthony used to live in Houston for a while. "I lived down there for a while. We were in Clear Lake City. It was like the early 80s. It was great. It was one of my favorite memories. I went to school there. It had to be around '82. It's been a long time since I've been down there playin'. We're just so thrilled. We're excited that we're comin'. We can't wait."
Tora Tora has been on the while for a while now, promoting their new release, a DVD of them in concert as Anthony explains. "Our bass player, Patrick, kind of had a health scare at the end of last year, so we did a show at home in Memphis to help raise some funds for his medical expenses. We ended up taping the show and we made a live DVD out of that so we're out promoting that. He got the 'all clear' on his heath, which is amazing, and a huge blessing. He got the 'all clear', so we jumped on the Monsters Of Rock Cruise. We got to get out and perform for the fans on that, which was one of the most amazing experiences. We've never done one of those cruises before and it was awesome. We got to see tons of bands that we were fans of, plus some that we got to tour with back in the day."
Besides their Houston show, Tora Tora has a busy schedule ahead of them. "We've been playin' a bit," continues Anthony, "We've got shows coming up in Texas. We'll do Dallas and Houston, they we're off to Colorado, then on to Chicago and Memphis, so we're pickin' up a bit of momentum."
Times have changed a bit for the members of Tora Tora. They've raised families, they've been through health scares and now the time seems right to head back out on the road again. "Our perspective has kind of changed. We're all rock & roll dads our children are older now, kind of self-sufficient and have their own agendas, and we've been kind of busy being domesticated with families and stuff. But now, the timings right, the kids have grown up, and Patrick's health was a big part of this. Patrick told us, 'I just want to get out and play, I want to see the fans again.' He's the kind of guy with a new lease on life. We've all remained close. We've been together 30 years. We've been friends since High School and we said, 'Why not.' The timings right the fans want to see us so we said, let's take advantage of it. We can't wait to come to Texas."
We asked Anthony what to expect, and he let us know that we should expect a pretty lengthy set. "You'll definitely hear the singles, "Walkin' Shoes," "Guilty," "Phantom Rider," "Amnesia," "Dead Man's Hand," continues Anthony. "There's one song on 'Wild America' called "Nowhere To Go But Down" It's kind of an acoustic song. We wrote that with a guy named Stan Lynch from Tom Petty and The Heartbreakers. He was the drummer with them for a long time. He wrote "Nowhere To Go But Down" and "Dead Man's Hand" with us. Our record label flew us out to L.A. and we wrote that with him, and man, at every gig I play, I still love it and play it. You'll probably hear that one. There's also some old standbys off 'Surprise Attack,' "Love's A Bitch," "Twenty Eight Days." We still do that one. And then "Wild America." There are still a couple of them we like to throw in, "City Of Kings." Things like that. We just can't wait to see you. We're gonna have a great time."
Join Tora Tora this month at the BFE Rock club on January 20th.

---
Serving Houston, Tx and the surrounding areas.
Music News covers all kinds of music from Rock to Country and Alternative to R&B..