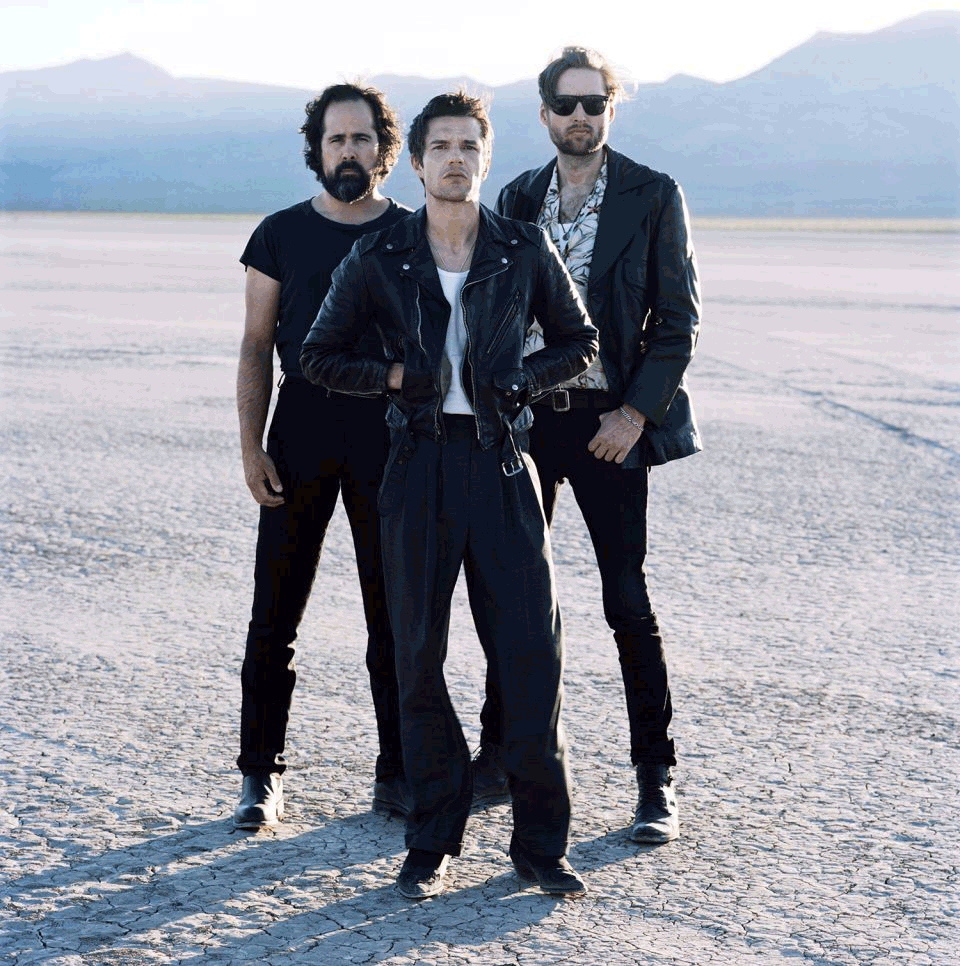 The Killers Perform at Smart Financial Centre
The Killers have lined up a North American tour in support of their new album, Wonderful Wonderful. The early 2018 trek kicks off in Toronto on January 5th and includes stops at Brooklyn's Barclays Center and Madison Square Garden in New York as well as Staples Center in Los Angeles. They will be appearing in the Houston area at Smart Financial Centre in Sugar Land on January 26th.
Their new album is titled Wonderful Wonderful, and was released September 22 of last year on Island Records. The first single from the album is titled, "The Man." Wonderful Wonderful follows up 2012's Battle Born as the fifth studio effort from the Las Vegas group, who came onto the scene in the mid-2000s as part of the post-punk revival movement that entered the mainstream.

Wonderful Wonderful became the band's first album to reach the number one spot on the US Billboard 200. it also claimed the top spot on the UK Album Chart making The Killers the first international act to have their first five studio albums all reach number one in the UK. The Killers are Brandon Flowers ­ vocals, keyboards, Dave Keuning ­ guitar, Mark Stoermer ­ bass, and Ronnie Vannucci Jr. ­ drums.
Brandon Flowers revealed in May 2015 that he and guitarist Dave Keuning were exchanging ideas for The Killers' fifth studio album. The four members reconvened in October 2015, a few months earlier than originally planned. The band began working on the album at their own Battle Born Studios and also rented houses in Joshua Tree National Park and San Diego. They briefly recorded with Ryan Tedder and other producers in Los Angeles before beginning to work with Jacknife Lee, who had been recommended to them by U2 frontman Bono. Lee worked with the band between September 2016 and May 2017 at his home studio in Topanga, California and at National SouthWestern Recording studios in Las Vegas, Nevada. Lee produced all tracks on the album alongside The Killers, with additional production by Erol Alkan on "The Man" and Stuart Price on "Out of My Mind".
In May 2016, it was announced that bassist Mark Stoermer was to take an extended break from touring with the band. However, he continued work on the album, forging many of the tracks alongside Flowers. "He stopped touring with us and it ended up being a blessing for the band. He was much more eager to go to the studio, he felt like he had a monkey off his back, he really contributed a lot to this record."
After celebrating the 10th anniversary of their second album Sam's Town by holding a few concerts, Flowers realized they wanted to make an actual record and not just "slap a bunch of songs together". He stated Wonderful Wonderful is the closest thing they have done to their 2006 album. According to him, the idea for the title of the album came when he was in the desert and saw a storm coming: "I thought 'wonderful, wonderful' and I was able to use it in a song that I wrote with Mark, our bass player, and it ended being an important part of the record."
Lyrically, the album is about what it means to be a man, as Flowers revealed on an interview with Entertainment Weekly: "In your head it's about being tough and bringing home the bacon, but what I've come to find is it's really more about empathy and compassion." He explained how the song "Tyson vs Douglas" was inspired by the 1990 boxing match between Mike Tyson and Buster Douglas, where he explores what it is like to watch a hero fall. For NME magazine, Flowers shared that the lyrics of the album are "the most personal and bare" that he has ever been: "I'm looking in the mirror on this record and focusing a lot on my own personal experiences. Instead of just drawing upon all these experiences and maybe using them in other songs, I am going straight for it with this and singing about my life and my family and that's something different for me." The track "Rut" was inspired by the struggle of Flowers' wife Tana with PTSD. He said: "Usually I feel protective of her but I decided to take it head on. So 'Rut' is about her submitting to it. That doesn't mean that she's gonna let it beat her, but rather that she's gonna finally acknowledge that it's there and promise to break this cycle." Flowers also added that putting his wife's battle into a song helped him understand better what she is going through.[14]"Have All the Songs Been Written?" was originally the subject line of an email Brandon Flowers sent to Bono, in the midst of a bout of writer's block, before the latter suggested it would make an excellent song title.
Few bands in the early 2000s rose so quickly to the forefront of pop music as the Killers. With a mix of '80s-styled synth pop and fashionista charm, the band's street-smart debut, Hot Fuss, became one of 2004's biggest releases, spawning four singles and catapulting the group -- particularly their dandyish, 22-year-old frontman, Brandon Flowers -- into the international spotlight. Hot Fuss reveled in the garish glitz of the band's native Las Vegas, spinning tales of androgynous girlfriends and illicit affairs to a public whose taste for revivalist dance-rock would prove to be virtually insatiable. Franz Ferdinand, Interpol, and the Bravery all benefited from such retro-minded interest, but the Killers unapologetically trumped them all -- even when their sophomore effort, Sam's Town, deemphasized the group's new wave sensibilities in favor of something more akin to the heartland rock of Bruce Springsteen and Rattle and Hum-era U2.
Brandon Flowers (vocals/keyboards), David Keuning (guitar), Mark Stoermer (bass), and Ronnie Vannucci (drums) first came together in 2002, two years before Hot Fuss introduced their band to the public. Flowers had been sacked by his former synth pop band, Blush Response, after refusing to move to Los Angeles with the rest of his bandmates. Instead, he remained in Las Vegas, where he soon met local guitarist and Oasis fanatic Keuning. The two began collaborating on material; within weeks, they'd composed their soon-to-be radio hit "Mr. Brightside." Stoermer, a former medical courier, and Vannucci, a classical percussion major at UNLV, eventually joined the fray, and the band began playing small clubs in its hometown. A U.K. representative for Warner Bros. caught wind of the Killers' brewing hype, and although he neglected to bring them on board the Warner roster, he did pass along their demo to the London-based indie imprint Lizard King. The British label quickly signed the Killers, who temporarily moved to the U.K. and issued a limited-edition single for "Mr. Brightside." The Killers' buzz had effectively traveled back across the Atlantic by fall 2003, and the band was offered a prime spot at the annual CMJ Music Marathon in New York City. A worldwide deal with Island followed shortly thereafter, positioning the Killers to join the ranks of Interpol, the Rapture, and the Strokes.
Shared U.K. dates with British Sea Power and stellastarr* in 2004 gave the Killers an opportunity to showcase material from their debut album, Hot Fuss, which was released that June. "Somebody Told Me," "Mr. Brightside," "Smile Like You Mean It," and "All These Things That I've Done" all became worldwide chart hits, and Hot Fuss peaked at number seven on the Billboard Top 200. Buoyed by such success, Flowers became a sought-after media presence, often lashing out at such groups as the Bravery for riding his band's coattails into the mainstream. The frontman's confidence was not unwarranted; by 2006, Hot Fuss had earned five Grammy nominations and sold over five million copies. Rather than take a break to recover from their heavy tour regime, the Killers immediately set to work on a second album. A newly built facility at the Palms Hotel and Casino in Las Vegas became the band's studio, and legendary producers Flood and Alan Moulder (who had previously worked together with U2 and the Smashing Pumpkins) were chosen to helm the controls. Instead of mining the glamour and glitz of their hometown (as they did to a successful extent on Hot Fuss), the group instead focused on nostalgia and the demise of old-fashioned American values, citing veteran songsmith Bruce Springsteen as a chief influence.
The popularity generated by leadoff single "When You Were Young" led up to the highly anticipated release of Sam's Town in early October 2006. While the album did not match the popularity of the band's debut, it nevertheless sold 700,000 copies worldwide during its first week, eventually spawning three U.S. singles and gaining the Killers two additional Grammy nods. Sawdust, a collection of B-sides, rarities, and remixes, followed one year later, serving as a stopgap recording between the band's proper studio albums. The Killers then returned in 2008 with Day & Age, which eschewed the Americana tangents of Sam's Town in favor of pop pastiches and sleek, oddball dance-rock. The band's return to the dancefloor was emboldened by Stuart Price, a veteran producer who had previously worked with Madonna and Gwen Stefani, and the Top 40 single "Human" helped the Killers continue their commercial streak. A lengthy tour carried the band into 2009, which also saw the release of the concert album Live from the Royal Albert Hall. Solo work filled many of the next few years, including Brandon Flowers' Flamingo, Ronnie Vannucci's Big Talk, and Mark Stoermer's Another Life.
After reconvening in early 2011, the band got to work on its fourth studio album, enlisting a small army of notable producers, including Daniel Lanois, Steve Lillywhite, Damian Taylor, Stuart Price, and Brendan O'Brien. The resulting Battle Born was released in September 2012. In early 2013, the Killers announced that they would be releasing their first greatest-hits collection later that year. Entitled Direct Hits, the November release featured two newly recorded songs, "Shot at Night" and "Just Another Girl," which were produced by M83 and Stuart Price, respectively. In 2015, the Killers began working on new material for their fifth studio album, eventually settling on producer Jacknife Lee to helm the bulk of the tracks. The resulting album, Wonderful Wonderful, featured cameos by Mark Knopfler and Brian Eno and was preceded by the single "The Man" prior to its September 2017 release. Before the Killersembarked on the road to support the album, the band announced that Mark Stoermer and David Keuning would not be participating in the tour, yet they had not left the group.



---
Serving Houston, Tx and the surrounding areas.
Music News covers all kinds of music from Rock to Country and Alternative to R&B..