Street Beat
All of us here at the Music News magazine would like to wish you a wonderful new year! Hope you rang in 2018 right as we said so long and goodbye to 2017! Now here's some news and events to kick off the brand new year...
Sam Ash Music Stores had their grand opening sale last month! This newest location is at 9941 North Freeway in Houston, formerly Hermes Music. Shop the largest selection of instruments, equipment, and gear in town at guranteed lowest prices on Gibson, Yamaha, Fender, Taylor, Roland, and more! And now, clip the coupon in THIS issue of Music News for $50 off any purchase of $299 or more, expiring Jan. 31st! Plus, 0% interest for 36 months!! Pop in to Sam Ash and have a look around!
---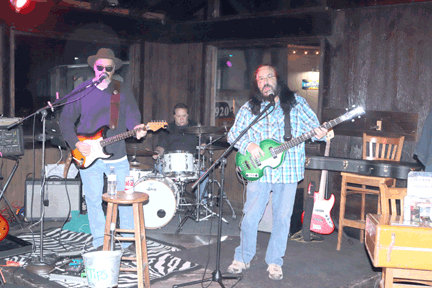 We're back at the Jailhouse Saloon tonight. It's been a while since we've been here, but when we heard that our good friends Billy Bourbon and Guy Schwartz were going to be here, we decided to drop in. As usual, the guys were in high spirits. Billy has some of the zaniest songs you've ever heard and it's been a while since we've heard them, so tonight was a big treat for us. Joining the guys on drums was Jody Smith, holding down the backbeat for these two. Billy's got some great songs about "Drinkin'," "Smokin," and just about any subject you can think of. That coupled with Guy's great sense of humor always makes for a good show and tonight's was exceptional. We've got two videos from this show for you, so just sit back right now and take a listen to The Billy Bourbon Band. Here they are performing "Quit Smokin'" on HMNTV - Houston Music News Television at http://www.houstonmusicnews.net.
Jailhouse Saloon in Spring, one of our old advertisers, is back with us, and their schedule includes TreynWrek Fri. Jan. 5th, then Kaleidoscope Project Sat. Jan. 13th, and The Weeds Sat. Jan. 27th. Acoustic sets include Jim Salter Thurs. Jan. 4th with Steak Night and Billy Bourbon Fri. Jan. 19th with Porkchop Night. Also, each Sunday is an open mic jam w/ Jim Wilson. Tuesdays have Krazy Karaoke with DJ Jason O'Leary by Allstar Entertainment and Taco Tuesday. The jam on Fridays has DJ Jason O' Leary again. Jailhouse Saloon is at 310 Preston St. in Spring. Find them on Facebook at TheJailhouseSaloonTX.
---
Live Nation is Houston's source for all things live music! You can get tickets for just about anything that tickles your fancy. And at just about every major venue in town!
At Arena Theatre: Crooner Charlie Wilson is there Fri. Jan. 12th, and hip-hop "Ladies' Choice" concert featuring Avant and Dru Hill Sat. Jan. 20th.
The Hobby Center has a guitar extravaganza with the new G3: Joe Satriani, John Petrucci, and Phil Collen on Sun. Jan. 28th!
At House of Blues: The Molly Ringwalds are an 80's tribute band and you can see them Sat. Jan. 6th. Then a metal show with Black Label Society and Corrosion of Conformity and Eyehategod Mon. Jan. 15th. The king of shock rock, Marilyn Manson, is there Wed. Jan. 24th.
At Revention Music Center: Radio host Joe Rogan is there with his Strange Times 2018 tour Fri. Jan. 26th.
Smart Financial Centre has classic English band The Moody Blues Wed. Jan. 17th, and modern rock band The Killers Fri. Jan. 26th. Dennis DeYoung of Styx and Night Ranger are there Sat. Jan. 27th.
The Toyota Center has pop star Katy Perry Sun. Jan. 7th and Kid Rock's Greatest Show on Earth tour is Sat. Feb. 3rd.
Get your tickets for these shows and more at www.livenation.com.
---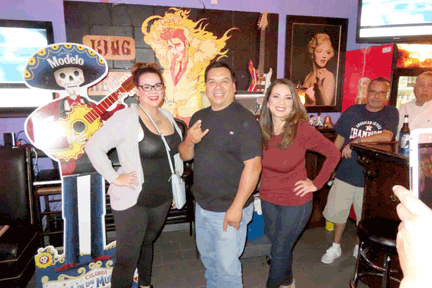 A big "Happy Birthday" goes out to Raquel Cruz (pictured at left). Raquel celebrated her birthday at one of our favorite spots, The Hellcat Cafe... and why not... her brother Roland Rangel (center) is the owner of this great new nightspot. Also on hand was Raquel and Roland's sister, Liz Saenz (far right). You need to check out The Hellcat Cafe. They have some great musical acts coming in this month. Check out their ad on page 18 for all the details!
Magnolia Park's only rock and roll pub is The Hellcat Cafe! They've got classic and 80's non-stop music. The live music nights on the patio are: Sat. Jan. 13th w/ OZZ, an Ozzy tribute with Jason Kane and The Four Mechanix. Then Sat. Jan. 20th it's The Scourge featuring the guitarist and bassist from Helstar. And Fri. Jan. 26th is "the Return of"the Kool Kats! Friday nights have domestic bucket specials. The Hellcat Cafe is at 306 72nd St. in Houston. Call 713-483-8275 for more info!
---
It's a sad day in local music store history...Evans Music City is closing up shop after 70 years in business in the Houston area. That's right, it's the "final chord" at Evans Music City as owners Brian and Hazel are retiring! But not before offering outstanding savings on everything in the store! Everything must go so it's all on sale- guitars, amps, keyboards, drums, sound equipment...EVERYTHING! Go by Evans Music City at 6230 Westheimer and wish Brian and Hazel a happy retirement while getting a great deal! You can also call 713-781-2100 or go to www.evansmusiccity.com to find out their hours. Thanks for being a part of Houston's local music business!!
---
This night we're at The Concert Pub North for The 6th Annual The Gift Remains The Same. This is a special toy drive that's done every year presented by the Led Zeppelin Tribute Band, Whole Lotta Led accompanied by many of Houston's best musicians performing the hits of Led Zeppelin. Every year, this is one of the most anticipated Christmas Shows and we never miss it. It's one of the best shows you'll ever see at Christmas time in Houston. This year's show featured many guest performers including Sherree B., Kevin Cody, Randy Folk, Becky Williams, Marc Laracuente, John Douglas and many, many more. This year's toy drive benefitted "Child Advocates" and admission to the show was only one unwrapped toy. the entry way to The Concert Pub looked much like Santa's workshop this year with hundreds of great toys for the tots. Every performance we saw at the show was fantastic and we've got a couple to share with you right now on HMNTV - Houston Music News Television. Here they are performing "Black Dog."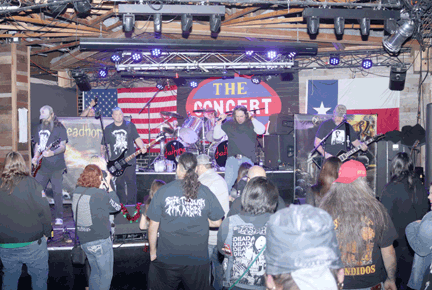 One of our favorite bands, deadhorse, made the trek from their home base of San Antonio to Houston for a really great show at The Concert Pub North. dead horse are the founding members of Houston's underground Metal scene during the late 1980's. deadhorse blend thrash with a variety of music to produce an aggravated, interesting and increasingly literate crossover material. Texas Heavy Metal will never disappoint and deadhorse remains an institution to that tradition. They are heavy, crazy fast, locked on to blow your mind, to cut your breath and drive you insane. The band was there just tearing up the stage and performing songs from their multitude of albums. They have about 8 albums to their credit, with the latest being "The Beast That Comes." It was great seeing these old friends back in Houston again. And the question comes up again... was the show loud? You bet it was. it was so loud that at one point it looked like Alpo had blown up his bass amp. Glad to hear that the amp turned out to be fine the next day. They were just cranking so much power, it was affecting the electrical circuits they were plugged in. Anytime deadhorse comes to town it's a party, and this night was definitely a party I'll remember for a while. Lots of fun and great music. We've got 3 videos from this show for you to check out on HMNTV - Houston Music New Television at http://www.houstonmusicnews.net. Turn 'em on and let's start partying' again!

At The Concert Pub North, there's more great live music throughout the month. Check out these upcoming shows: The Spotlights are there Sat. Jan. 6th, then Foreigner tribute Double Vision and Bad Company tribute Breaking Bad on Sat. Jan. 20th. Then ZZ Top tribute Sharp Dressed Man with Thin Lizzy tribute Think Lizzy Sat. Jan. 27th. The Concert Pub North is at 2470 Cypress Creek Pkwy. @ Kuykendahl. Keep up with the latest there by going to www.theconcertpub.com! The Concert Pub North is your destination for the best entertainment on the Northside of Houston!
---
Rockefeller's is the legendary Houston club that was popular in the 80's and 90's and now is back..with a vengeance! They kick off their schedule with a private event Sat. Jan. 6th and then Wed. Jan. 10th has Blues legend Eric Gales with The Sonnier Brothers Band and special guests. Then it's a few more private events until a show Wed. Feb. 14th. w/ Pedro the Lion and Marie Lepanto. There's a full bar there and free parking. Tickets are available at ticketfly.com. If you want to book your private event, go to www.rockefellershouston.com or call 713-862-4070. Come check out the new Rockefeller's!
Hired Gunz is smokin' Blues and Classic Rock for all occasions! Featuring our very own "Hollywood" Steve Rangel. Call 713-339-9167 or go to hllywdtx@yahoo.com for booking information!
---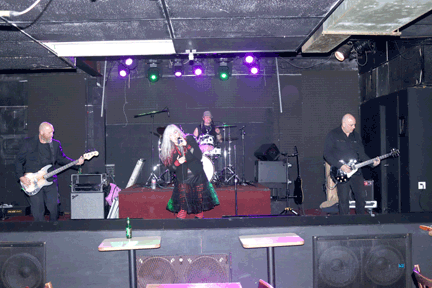 When we heard that Luna Lunacy was going to be at The 19th Hole, we dropped by there to see this night. This band is always a lot of fun. Lead singer Sloan Robley is one of our favorite singers. Sloan, accompanied by her band, Ronnie Kopal - Bass , Chad Pleasant - Drums, and Dave Robley - Guitar, put on a really good show filled with hypnotic bass, psychedelic beats, haunting vocals, & rhythmic guitars that will really leave you wanting for more. Tonight's show was great as usual. I've never seen this band put on a bad show. If you're looking for something a bit different, this just might be the band for you. It's hard to describe their style. Sometimes it's a bit theatrical, but at any rate it's always a lot of fun to watch them perform. We've got a couple of videos for you to check out, just in case you haven't seen them before. We're sure after watching these, you'll want to catch a show sometime. Here they are on HMNTV - Houston Music News Television at http://www.houstonmusicnews.net.
19th Hole Grill & Sports Bar has live bands every weekend! Most of them are the hard rock/metal variety. Also, there are great drink specials throughout the week. Check them out in the ad in this month's issue. Tuesday is karaoke with Mary from 9pm-midnight. Then Wednesday has free bingo, also from 9pm-midnight. Thursday has live music, and Friday catch the Steak Lunch Special! Back to the live music: see Tribe Hill Thurs. Jan. 4th, Vermillion Whiskey, Vehement Burn, and Konkerute Fri. Jan. 19th. Then it's FFT from San Diego on Sat. Jan. 27th. 19th Hole is at 202 Sawdust Rd. in the Woodlands. Call 281-363-2574 for more details.
---
Rudyard's is the Montrose-area hole-in-wall with an upstairs and a downstairs area. It never has a cover in their downstairs area that has darts, pool, a big screen TV, and a full bar with 18 taps! They also have a flame grill that's open 7 days a week starting from 11:30am until late. Mondays have A Couple of Stand Up Guys, a stand-up open mic at 8pm, and Tuesdays are Industry karaoke nights downstairs at 9pm. Wednesdays have the Houston Reddit board game meet-up upstairs from 6pm-midnight. Also during the week, you can see a bunch of original rock bands. Fri. Jan. 5th it's Alone on the Moon, Denmother, and Process of Illumination. Then Sat. Jan. 13th it's Soaked, TEE VEE, and Goldbloom. Fri. Jan. 26th has 61 Ghosts, Generation Landslide, Worn Out Souls, and Laybacks. For booking info, you can call 713-521-0521 from 1:00pm to 3:00pm. All the best live music in Montrose is Rudyard's!
KMP stands for Kendall Mason Photography, and they are here to meet all your personal and professional needs! Call 832-883-0853 to make an appointment. Support your local music scene!
Still trying to get repairs from Harvey done. Well, "Houston, we're in this together"! Hire Kendall Mason's handyman. Call 832-883-0853 for an estimate. No job too big or small.
---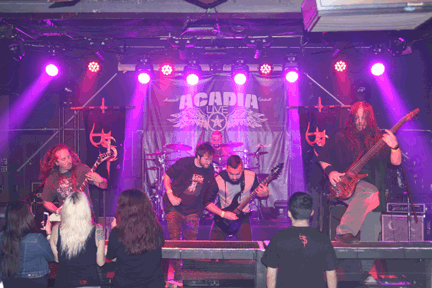 On stage tonight at The Acadia when we dropped in is the popular rock act, Black Standard. Since their inception in 2012, Black Standard has been building up quite a following. The band has one EP and we're awaiting the release of a new project soon. Black Standard has proven to be a driving force in melodic, groovy, and progressive music. Overtime we go to one of their shows, the crowd gets bigger and bigger. Tonight's show had a good deal of folks there to party down with them. Black Standard continues to impress. The guitar work, drum fills, and odd time signatures really characterize the sound of Black Standard, as does their presence on stage. Tonight's show was a lot of fun and the band put on one of the best shows I've ever seen them perform. It really kept the audience on their feet throughout the entire set. But don't just take our word for it. Check out the two videos we took while we were there and I think you'll agree. This Houston Metal Thrash Band is one of the best Houston has to offer. Watch Black Standard right now on HMNTV - Houston Music News Television at http://www.houstonmusicnews.net We've got two videos for you to check out right now.
We're jamming out with Stonework tonight at The Acadia Bar. Heavy doesn't even begin to describe this band. They perform their own distinctive sound of rock. Their slick blend of Blues, 70's Rock, Stoner and Doom Rock, combined with a bit of Metal and Progressive help them stand apart from the rest of the Metal bands in town. Their songs are enfused with great melodies and some really thought-provoking lyrics. Tonight these guys put on a really good show as we expected they would. I swear, you can always find great entertainment at the Acadia Bar & Grill.
Welcome to Acadia Sports Bar! Every week bringing you some of the best events, live music, and different food! The kitchen is open daily. Sundays it's 11 BelowBrewing Company on Sunday nights. There are live bands that night too, sponsored by Magik Recording Studio, and AdVantage Point Video. Monday night has pool league and poker league. Tuesday night is poker league. Wednesday night is the all-new open jam and different freshly made street tacos by bartender Jeremy. Thursday night has live local and touring bands, hosted by North West Houston entertainment, Youtube broadcasts, and ladies 21&up get in for free. Friday and Saturday have live, local, regional, and national touring bands. Those bands include Ragland, Spacebear, Cake Rangers, and Violawilde Thurs. Jan. 11th, then get ready for Armed For Apocalypse, Awake at the End, Surrender Stella, and Crimson Colossus Wed. Jan. 17th. See Apocalyptic, Sins of the Past, and Six Minute Century Sat. Jan. 27th. Check out Acadia at acadiabarandgrill.com and www.facebook.com/acadiabar1960.
---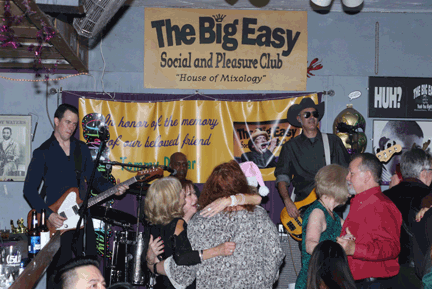 Sparky Parker celebrated his birthday this night on stage at The Big Easy. It seems like a lot of Houston Blues Musicians celebrate their birthdays there. We've watched Sparky evolve into one of the best Blues guitarists this town has to offer. He's just fantastic. When Sparky isn't performing his own gigs, you can find him usually in Europe performing with Diunna Greenleaf and Blue Mercy. You may also remember Sparky from some of the other fine outfits he's been with, like Funky Mustard, Mojofromopolis, and Bayou Monster. Sparky is definitely making his mark on the Houston Music Scene. Happy Birthday Sparky!
The Big Easy is Houston's social and pleasure club, in the downtown area of Houston, at 5731 Kirby Dr. The live musical entertainment starts on Sundays, with live zydeco music 8pm-midnight, then Mondays still have music by John Egan, then Tuesdays now has the Big Easy Trio! Wednesday it's the Big & Easy Blues Jam- all musicians welcome! Thursdays have Luther & The Healers. No cover for any of these shows, and a small cover to see bands on the weekends, like Bluestown Shakedown Fri. Jan. 5th, Step Rideau Fri. Jan. 19th, and Bob Lanza and Steve Krase Fri. Jan. 26th. Also, The National Zydeco Foundation Jam is from 8pm-midnight. Thanks, from The Big Easy, and may 2018 be kind to you!
---
Looking for a band rehearsal space? Look no further than Soundcheck Music Complex with 3 locations to serve you: the Northwest site at 5881West 34th St., and two downtown at 5001 and 5005 Gulf Fwy. They've got monthly room rental rates? Well they've got 'em starting from $195. You can also do hourly at $20 an hour with a three hour minimum. And, for every two rehearsals in a calendar month, the third rehearsal is free! Check out more at www.bandpracticerooms.com.
---
Now here's a band you really need to check out sometime at The Scout Bar. This is the only place we know of to see Metalachi. As far as we know, Metalachi is the only Mariachi band that specializes in HEAVY METAL. These guys were great. They really put on a fine show and every time we've seen them, the Scout Bar was packed. These guys perform everything from Metalica to Black Sabbath and everything inbetween. We really loved their version of Dio's "Holy Diiver." Wow, did that song rock! Like we said, you really need to see these guys sometime.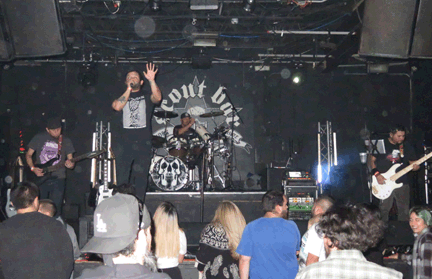 The Deft Ones brought their tribute to The Deftones show to The Scout Bar this night. If you like The Deftones, you'll love The Deft Ones. They recreate the Deftones experience to the max. Really, you'd swear you were actually listening to The Deftones. They're that good. The Deft Ones are: Henry Luna - guitars & vocals, Eric Luna - bass & vocals, Jeremy Cerasoli - drums, and Red Hernandez - guitar.
Scout Bar is Clear Lake's most popular rock concert lounge and pub! They always have a good band, whether it be local, or a national touring act. This month, a few shows you can see are: The Doors Hotel, a tribute to The Doors, with The Zeppelin Project, a Led Zeppelin tribute on Sat. Jan. 6th. Then see Schism, a Tool tribute from NYC Sat. Jan. 13th. King's X is there Sat. Jan. 20th. The Full Throttle live music and broadcast is on Wednesdays. Scout Bar is at 18307 Egret Bay Blvd. in Houston. Check out more upcoming live events at www.scoutbar.com.
---
The pub upstairs from Scout Bar 's Pub Level Grill & Lounge. They have 53 draft beers, great food, a huge video wall, and is also your headquarters for all things sports on their dozens of TV's around the bar, including the Sunday Ticket. Check them out on Facebook today.
Fuller's Vintage Guitar may have "vintage" in its title, but they not only carry vintage guitars, but have one of the largest selections of new guitars in the whole Southeast! In addition, Fuller's buys, sells, and trades, gives lessons, does repairs. Jackson, Gibson, Gretsch, Fender, Epiphone, Taylor, it's all here...not to mention, Houston's Hawaiian shirt headquarters! Call 713-880-2188 or visit them at 116 North Loop in Houston.
A super cool new venue to see live music near the Heights in Houston is White Oak Music Hall. Like Fitzgerald's, they have an upstairs and a downstairs to pack more bands in! Here's some: Eric Martin from Mr. Big with Steve Brown and PJ Farley from Trixter, The Contagious, and Lies of an Alibi Fri. Jan. 5th downstairs. Selena tribute show Siempre Selena is there Fri. Jan. 12th, and another tribute night with Whiskey Hangover, a Godsmack tribute, Electric Love Temple- a tribute to The Cult, and The Contagious, on Fri. Jan. 26th. White Oak Music Hall is located at 2915 N. Main St. Get tickets at www.stubwire.com.
---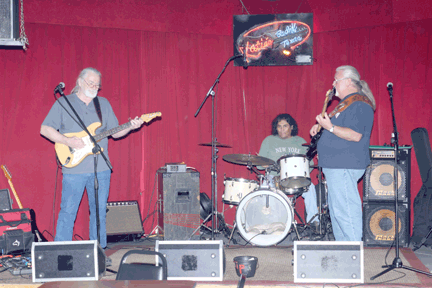 Tonight we're at Katie's Bar in Bacliff to see Scott McGill and Old Dog Mac. Without a doubt, Scott McGill is one of the best guitarists we've ever seen. This guy can play anything. We've been watching him perform around the bay area for a long time now and he always puts on a great show. With about 50 years of experience behind him, Scott certainly comes off like a seasoned pro. Besides being a great performer, he's also a great songwriters. Scott says he's written over 400 songs. Armed with his faithful start, Scott takes to the stage and always puts on a memorable show. His show at Katie's tonight was nothing less than spectacular. I really loved the way he performed "Mustang Sally," and "Brown-eyed Girl" this night. Let me tell you, if you head into one of his shows with something bothering you, he will definitely take your mind off of that and put you in a different mood all together. One of his sets will definitely take all your cares away. Yep, this was a really good set this night. Loved the hell out of it. Don't just take our word for it. Check it out for yourself. We've got a couple of videos from tonight's performance to share with you. You can start watching on HMNTV - Houston Music News Television. Here's his take on "Proud Mary" by Creedence Clearwater Revival.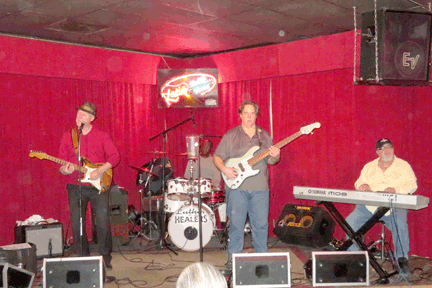 Luther and The Healers brought some much-needed R&B to Katie's in Bacliff this night. From "Sweet Home Chicago," to "Stormy Monday," Luther kept the dancefloor packed. It was just what we needed this holiday season. He even performed a little Hall and Oates with "I Can't Go For That." It was a really nice evening filled with Holiday Cheer and great music! Thanks Luther.
Katie's is "the Bay Area's finest live music venue"! The little joint at 315 Grand Ave. in Bacliff starts out the week with their legendary Sunday Blues jam Sun. 4pm-8pm. All musicians are welcome! They are closed on Mondays, and have live music Wednesdays through Sunday. Some of the upcoming shows are: Donnie Simmons and Rubber Mule Sat. Jan. 13th, Dylan Bishop Fri. Jan. 19th, and Erin Jaimes Band Thurs. Jan. 25th. Katie's is the place to be for live music in the coastal area!
---
Rock Center Band Rehearsal Studio is a Houston-area studio that has a sound engineer with over 3 decades in the business. They have secure rooms, monthly rates, and 40 hourly rooms with P.A./ backline sound system. For more info, go to www.rockcenterhouston.com, or call 713-981-6555 and ask for David. Forget the rest, play at the best!
---
Tonight, the Hipwaders Flying Circus perform at Cruiser's Ice House in Santa Fe. They were there warming up for Adam Burchfield's Birthday Bash at Fitzgerald's the next day. The Flying Circus was definitely at the top of their game. They sounded great. Clint Boyd sounded great on sax and it was great to see our old buddy Art Elder on bass. Also on hand was Bob Armour on drums and Dennis Clapp on guitar. The put on a really good show, which was a good precursor to the show the next day at Fitzgerald's. That show was equally as impressive as their show at Cruiser's Ice House. If you like the Blues, then this is a great band for you to check out. I really like their take on it. For those of you who didn't get to see them, and for those of you who did when they were in the Houston/Santa Fe area, we have two videos to share with you on HMNTV - Houston Music News Television. Here they are folks, the Hipwaders Flying Circus. Enjoy.
Cruiser's live bands on Saturday never have a cover! Here's the line-up for January: Mister Kicks Sat. Jan. 6th, Starr Jernigan Sat. Jan. 13th, and Snit's Dog & Pony Show Sat. Jan. 20th. Billy Bourbon is Sat. Jan. 27th. There's free pool every Monday, an acoustic jam hosted by Billy Bourbon 8pm-midnight and the Sunday Blues jam hosted by Ben Herrington from 4pm-8pm. Cruiser's is at 9002 FM 2004 in Santa Fe. Visit www.cruisersTX.com to learn more.
---
Ashford Pub is the little spot at 13308 Westheimer (at the corner of Westheimer and Eldridge) that has weekly specials like $2.25 domestic bottles Mondays, Big Azz Beer & Trivia Night on Tuesdays, Steak & Poker Night Wednesdays, Open Mic Night Thursdays, and Wild West Texas Beer Fest Fridays plus a DJ. The Blaggards are back there Fri. Jan. 5th. Saturdays have draft and kamikazi specials, and poker night Sundays. Check out more on Ashford Pub by going to www.ashfordpub.com.
Get your Balls at Kat's Guitars! Ernie Ball strings are only $3.99 all day every day! They have huge inventories of used and new supplies, and they also three G's- gold, guns, and guitars! They have two locations, the original, at 5907 I-45 North in Spring, and the one at 811 W. Montgomery in Willis. There are full-time guitar techs at both locations! Kat's is owned by Texas legend Kat James and Troublemaker band! Call 281-723-4410 for bookings. Happy new year from Kat's Guitars!
---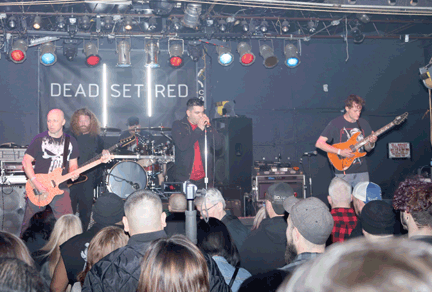 We love checking out new acts, so tonight's show at the BFE Rock Club was a real treat. We got to see the debut of Dead Set Red. Now here's a really good band. These guys put on a helluva show with a lot of great music. It was definitely a lot of fun. This is a real impressive outfit, so I expect you'll be seeing a lot of them in the future. They were on the same bill as Sons Of Blackwater and Downfall 2012. This Hard Rock band is definitely a force to be reckoned with. The band is comprised of Adrian Arce - Vocals, Chubbs Malone - Drums, Stan West - Guitars, Mike MacSherry - Guitars, and Mangy James - Bass. Stage manager and one of the integral parts of the band is Chris "Jesus" Massey. For those of you who couldn't make this auspicious occasion, be have three videos from the show to share with you, so you can just sit back now and start watching them on HMNTV - Houston Music News Television at http://www.houstonmusicnews.net. We're sure that after you see them, one of two things will happen. You'll be real pissed you didn't make the show and/or you'll make sure you can see them as soon as you can. Okay, start watching now!

On stage here at the BFE Rock Club are the Adventures of Remi. Adventures of Remi is spearheaded by guitarist Remi Shepherd. Rounding out the band is Nicholas Grubbs on bass and Lawler James on drums. Remi is a hopeless romantic, and that reflects in their original music. He sees the everyday things in life as butterfles and dandelions. Somehow he's able to see the positive side in the most negative of things and incorporates it into the band's original songs. Tonight the band was on target and the show sounded great. Here's another band to keep an eye out for.
BFE Rock Club is Northwest Houston's ultimate rock and heavy metal club, at 11528 Jones Rd. in Houston. Check out the BFE Open hip-hop mic every Thursday night. Some other acts you can see are Parabellum Sat. Jan. 13th, Tora Tora Sat. Jan. 20th and Smile Empty Soul with The Veer Union on Sat. Feb. 3rd. BFE Rock Club is found at 11528 Jones Rd. in North Houston. Come rock out with us tonight!!
---
Proof Rooftop Lounge is Midtown Houston's hippest rooftop bar and lounge! This 7,000 square foot space has a huge patio, 2 full-service bars, and of course, BANDS! The rescheduled Warrant show with Johnny Solinger opening is set for Thurs. Jan. 18th! David Lee Garza Y Los Musicales is Thurs, Jan. 25th. Y&T is there Thurs. Feb. 1st. Thursday night is also Steak Night, Friday Frenzy has DJ Impulse, and Saturday Night Live has beats by Keelan F' Oreal. Proof is at 2600 Travis St. in Houston. You can also check out www.proofrooptoplounge.com for more info.
Texas TNT is one of Houston's favorite rock and roll party bands! It's guaranteed to be a good time if you book these guys. They are used to playing on all sides of town, so here's the gigs they have scheduled for this month: Bubba's Sports Bar & Grill in Houston is where they'll be first, Jan. 5th from 9pm-1am. Then they'll be on the Northside, at The Thirsty Texan Sat. Jan. 6th from 9pm-1am. After that, it's at the Lifehouse Icehouse in Spring Sat. Jan. 13th from 6pm-9pm for the Mark Ellis memorial. Then it's back down South at Hugh & Jeff's Car Wash, Sports Bar & Grill in League City Fri. Jan. 19th from 9pm-1am. Then back up to Spring for a show at Molly Malone's Pub Fri. Jan. 26th from 9pm-1am. Then go to to Clear Lake Shores to Aspen's Bar & Grill Sat. Feb. 3rd from 9pm-1am. For booking, contact 713-339-9100.
---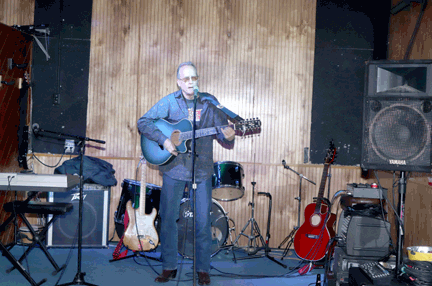 Tonight The Americana Houston presented traveling troubadour, Robert F Bogaert aka "Old Hippie Bob." Robert (Bob) put on an impressive one-man show there this night. He's got some great originals songs... a couple of which border on the bizarre, but overall, he's really got some really fine material. Bob has been performing since 1970 and has really amassed an incredible amount of original tunes. Tonight was definitely his showcase as he performed one great original after another. We especially liked the last song of the evening. We won't tell you the name, but he said it was inspired by his wife. We hope he'll be returning to The Americana Houston sometime soon in the future. Although we got to sit through one complete set, it just wasn't enough. I just want to hear a couple more songs. Really folks, they were a lot of fun to listen to. Next time he comes to The Americana Houston we'll let you know so you won't miss out. For those of you who couldn't make it to the show, we've got a couple of his great originals

---
Warehouse Live has great concerts! With its three rooms to serve you, the Studio, Ballroom, and Green Room, this is a huge space with all kinds of entertainment happening throughout the month. Check out Houston's Best Sun. Jan. 7th with The Mark May Band featuring Eric Demmer, Kyle Turner, and more in the Ballroom. Then see Pat Travers Band with The Staehely Brothers (former members of Spirit) Fri. Jan. 19th in the Studio. Then see metal band Green Jello with special guests Dead to the World, and Driven to Insanity Thurs. Jan. 25th in the Studio. For more info and upcoming concert dates, go to www.warehouselive.com.
Continental Club is the sister club to the original Austin location, and has just as much fine music to serve you. Located at 3700 Main St., it's the perfect little place to serve up some great Texas music. Check out the annual Bowie/Elvis Fest, celebrating the birthdays and lives of the two late stars, Sat. Jan. 6th. The Peterson Brothers/Boss Street Brass Band is Fri. Jan. 12th, with a happy hour show beforehand at 7pm. with tribute Band on the Run and see Fistful of Soul Fri. Jan. 19th, with Von Hindenburg (a Led Zeppelin tribute) Happy Hour before that at 7pm. Fine music downtown is found at Continental Club!
Puff N' Stuff wishes you a happy new year 2018! Out with the old, 20-50% off jewelry, T-shirts, tattoo supplies, and buttons. Come get your detox stuff to get fresh for the new year. Puff N' Stuff is at 1418 Spencer Hwy. in South Houston. Call 713-943-0170.
---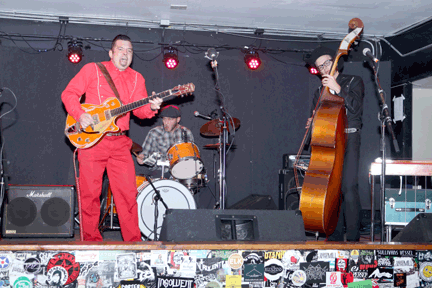 We're at Fitzgerald's right now for Adam Burchfield's Birthday Bash, and Adam and his band, The Octanes, are on stage right now. These guys are hot tonight. Adam's Gretsch guitar is blazing and the band is hot as hell. It's been a great performance so far. Adam's guitar of choice is a Gretsch and he's endorsed by Gretsch and even has a story about him published on their website. That's fantastic. Tonight's party got off to a great start with a couple of really cool opening acts, and now The Octanes are putting the finishing touches on it. The Octanes perform their own special blend of modern Rockabilly music they lovingly call "Roots Rock." The Octanes play original material, heavily rooted in hillbilly, while revving up the traditional sound with driving rhythms, and a big guitar tone. The Octanes have shared shows with the likes of: Wanda Jackson, Reverend Horton Heat, Southern Culture On The Skids, Candye Kane, The Nekromantix, The Phantom Rockers, Pep Torres, Mack Stevens, and The Chop Tops, just to name a few. Adam Burchfield has toured the U.S. and Europe with regional and International artists (Kim Carson, Coal, ) and has shared the stage with the likes of Billy Gibbons, Chris Duarte,and Gary Primich. Tonight's show was definitely well worth the wait. As expected, The Octanes put on one helluva show and we had a great time there. We can hardly wait to see them again next year.... sooner if possible. In the meantime, we have two videos from the show to share with you, so you can start watching now. Here is Adam Burchfield and The Octanes on HMNTV - Houston Music News Television at http://www.houstonmusicnews.net.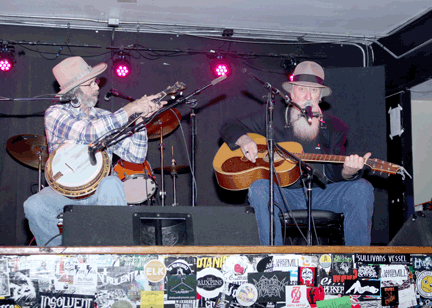 We're at Fitzgerald's for Adam Burchfield's Birthday Bash, and on stage now is the legendary Bert Wills. Bert has been performing around Harris County and Galveston County for over 40 years now and it's certainly a thrill to see him perform. Accompanying him on Banjo is Jim Moratto. Jim's a long time picker from this area also. Together, the two of them put on a really good show. Bert's really a fine Blues player. Bert Wills began playing guitar in 1965 in the Texas Gulf Coast area and was performing in the bars, ice houses, dancehalls, brothels and gambling rooms that proliferated in Galveston County during the 60's. In the early 80's Bert put together a (3) saxophone-driven blues band, "Bert Wills and the Crying Shames" that dominated the Houston/Galveston/Texas Gulf Coast region. Bert is currently working with his long-term sideman Clint Boyd and they are performing as a duo based out of New Orleans. This is a unique show that combines Bert's high-level guitar and vocal skills along with a variety of instruments that Clint Boyd plays (saxophones, clarinet, tuba, bass, chromatic and bass harmonicas). This instrumentation makes good use of Bert's high level of arranging skills while showing why Bert Wills is frequently listed as one of the major influences of many guitarists in Houston. His show tonight at Fitzgerald's was definitely impressive and it was great to see him on stage. What a great opening act for Adam Burchfield and The Octanes. We've got a couple of videos to share with you from their set right now on HMNTV! Here they are performing "Lonesome Me" by Johnny Cash!
Fitzgerald's is Houston's classic spot for local and touring acts since 1977. It has an upstairs and a downstairs for live entertainment. They both have stages, professional sound and lights and fully-stocked bars. Also, on Wednesdays they have an open mic night. This month you can see a FREE show downstairs with Up On a Quasar Sat. Jan. 13th, and A Live One- tribute to Phish upstairs. Then it's the 75th anniversary party for Janis Joplin featuring Kozmic Pearl Fri. Jan. 19th. Then, Los Skarnales Fri. Jan. 26th. Fitzgerald's is at 2706 White Oak Dr. in Houston. Get tickets for these shows at www.ticketfly.com or at www.fitzlive.com.
---
Stereo Live is the huge live music venue on Richmond Ave. that provides dance, rap, hip-hop music in their main room. They also have a big outdoor terrace and signature loft upstairs, perfect for booking your next party or event. Events include the Loft House Party Fri. Jan. 5th, then Atliens with Minesweepa, and Jameston Thieves Fri. Jan. 19th. Then Gabriel & Dresden Sat. Jan. 27th. For these acts and more go to www.stereolivehouston.com. If you want to book an event here, call 832-251-9600.
Frank's Pizza is "downtown and downright good"! Try the best pizza in the downtown area. You can pick it up, or have it delivered if you live downtown, as Frank's is at 427 Travis @ Prairie Street. Just call 713-22-PIZZA. Also, now you can get $2.00 St. Arnold's beer. See magician John Star Fri. & Sat. from 7pm-10pm. Come on out and see why Frank's Pizza has been voted #1 in pizza in the downtown area!
---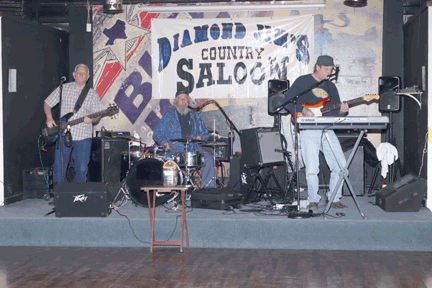 Tonight Diamond Jim's Country Saloon in Texas City presented the What's Left Band on their stage. It was time for a little Country twang, so we headed over there to check out the band. They sounded pretty good. In addition to Country, they also had a few rock songs mixed in that sounded real good. One moment they were performing Chris Stapleton's "Tennesse Whiskey," and the next they were performing "Mary Jane's Last Dance" by Tom Petty, and then they'd be performing Keith Whitley's "Don't Close Your Eyes." They performed a real good version of The Doobie Brothers' "Without Love." Good show!
If it's Country you like, then come to Diamond Jim's Country Saloon! Monday night is Customer Appreciation Night w/ dance lessons, Tuesday is Ladies' Nite with Dart League and more dance lessons. Then, Wednesday night is for the guys with Men's Nite w/ Pool League. And then Thursday it's karaoke with Double Down Joe! Fridays and Saturdays have live music. Music like Zach Tate Band Sat. Jan. 6th, Salty Dogs Fri. Jan. 12th, and Armadillo Road Fri. Jan. 26th. You can see The bar is found at 3317 Loop 197 N. in Texas City. Go to www.diamondjimscountry saloon.com for a more upcoming bands and to keep up with all the latest at Diamond Jim's!
---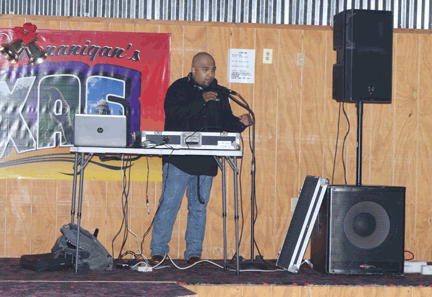 As a chage of pace, Shenanigan's brought in famed DJ, DJ Steve. Steve kept the dance floor packed and brought a whole lot of his friends with him. DJ Steve's got a good ear for music and a sly way of knowing just what his crowd wants to hear. Boucing betweent Country, Disco, and a little R&B, DJ Steve kept the audience grooving all night. He will be making an appearance at Shenanigan's this month on January 5th and we're sure he'll be returning even more in the future. Looking for a great place to party, check out Shenanigan's in Texas City.
Shenanigan's is another Texas City bar. Open 7 days a week until 2am, they've got pool, darts, big screen TV's, Also there's plenty of room for dancing to the live music Saturday nights. This month karaoke is no longer on Thursday nights, but on Fri. Jan. 5th. Shenanigan's is located at 820 34th St. North in Texas City. Discover more on the nightclub at www.shenanigansworld.com.
---
Don't look for another copy of Music News again! Now, you can have it directly delivered to your home or business absolutely free. That's right, we said FREE! All you have to do is e-mail musicnew@airmail.net and in the subject line put "Sign me up now"! Then you can have the latest issue of Music News magazine sent directly to your inbox. Be the first to know about late breaking news, and receive periodic Eblasts about special events, concert updates, as well as info on other cool things going on in our great city!
---
Serving Houston, Tx and the surrounding areas.
Music News covers all kinds of music from Rock to Country and Alternative to R&B..