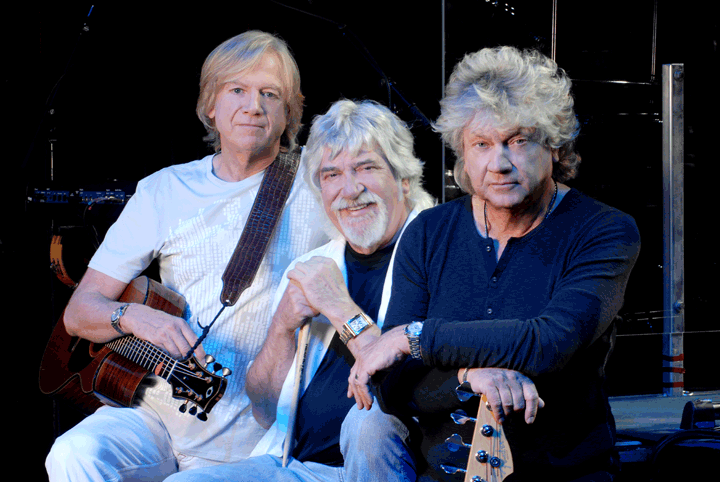 The Moody Blues Celebrate 50 Years of "Days Of Future Passed"
We're happy to announce that the legendary Moody Blues will be performing this month at the Smart Financial Centre on January 17th. This is a very special tour for the Moody Blues as they hit the road to celebrate two things, their upcoming induction into the Rock and Roll Hall of Fame and the 50th Anniversary celebration of the release of their groundbreaking album, "Days Of Future Passed." Although "Days of Future Passed" is the second album in their catalog, it is also the first album with the current classic lineup of John Lodge, Justin Hayward, and Graeme Edge. Since 1967 this trio of gifted musicians have been creating some of the most iconic music to date.
For this tour, the band is doing something truly unique. They are recreating the entire "Days Of Future" album, live on stage in its entirety as close to the original release as possible. The first part of their show will feature them performing their greatest hits, following in the second half with the entire "Days Of Future Passed." "Days Of Future Passed" was originally released in 1967. This unique recording has gone down in history as the first time a rock and roll band enfused their music with a classical orchestra, which began quite uniquely. Their record label at the time, Decca Records requested that the Moodies record an album to test out the new "stereo" process of recording. "Stereo" was quite a unique thing at the moment and was in the beginning stages of recording. Most albums at the time were released in a "Mono" fashion. At the time, Decca Records was primarily a "classical" music label, so the idea of working with a rock band was a beginning step for the record label as well. They were requested to record a rock version of Dvorak's 9th Symphony. The band agreed and production was set into place. As recording started, the band came up with a groundbreaking idea of fusing the rock format with a classical orchestra, made up of the classical musicians from Decca Records, and quite aptly dubbed the London Symphony Orchestra. Each of the Moody Blues had an integral part in the production of the album. Graeme Edge contributed the opening and closing poems, which were read by Mike Pinder, who also composed "The Sun Set" and "Dawn Is A Feeling." Justin Hayward wrote "Nights In White Satin" and Tuesday Afternoon, Ray Thomas wrote "Another Morning" and "Twilight Time," and John Lodge contributed "Peak Hour" and "Evening (Time To Get Away)." Orchestral contributions were composed and conducted by Peter Knight. The result turned out to be a milestone in English Rock Music. "Nights In White Satin" and "Tuesday Afternoon" became worldwide hits, which can be heard on the radio somewhere in the world every day. "Days Of Future Passed" went on to become one of the greatest selling albums of all time.
We had a chance to sit down with John Lodge, bassist for the Moody Blues and he gave us a little insight into the making of "Days Of Future Passed," and the current tour.
As we said before, the band will be performing "Days Of Future Passed" in it's entirety. "Absolutely," acknowledges John, "We went back into the studio first to see if we could do it, and because it's the most important thing for me, was to make sure we gave it the true reverence of the original album. So often people sort of look back into the past and they do, I don't mean this literally, but they do a karaoke version. I certainly wanted to get back to who I was in 1967. It was amazing after I emersed myself into the album, I started think about all the things that happened to us as we made the album, and who I was that time of my life. I knew right then we'd hit the right chord and I knew we were going to be able to perform the album and make people happy. To me, it was the most important thing. The other this is that Ray's not in the band, which was there at the time of course, along with Mike Pinder. We had to make sure we sang their songs in a way that they would be really happy with.
Without a doubt, the 50th Anniversary of "Days Of Future Passed is a very important milestone to the band. "It's the 50th Anniversary of "Days Of Future Passed," you know," continues John. "We went into the studios at Decca Records company in London, England and we were in there for seven days. At the end of seven days we came out with an album that changed my life and all our lives forever. The album was "Days of Future Passed," and that was 50 years ago. And so we though in 2017 we really should celebrate "Days Of Future Passed" because it was, and still is, a very important album to us."
For this tour, instead of relying on modern day keyboards to attempt to replicate, the orchestral sounds, the band is doing something quite bolder. "We're using the recorded parts of the orchestra," explains John. "It's as if the orchestra is in the pits. You know, if you go to a classical opera, ballet, classical music theatre or something, the orchestra is in the pit. You never ever see them, so we can make the recording sound as if it's a live orchestra. We also had Jeremy Iron come and do the classic narrations of the poems. It's very important to get the narrations right as well. We want everything to really be credible. We need the concert to be able to stand up on it's own two feet in 2017. It's very important."
Going back into the studio to relive this album was quite an eye-opener for the band. As they sat there and listened to it, they started remembering the challenges a young band in their 20s had to go through at the time. Technology was quite different back then, than it its now. "People are not going to understand this, but we recorded this on 4-track machines. We had two 4-track machines and a 2-track machine. We recorded basically the rhythm track, which was Justin (Hayward), on guitar and myself on bass and normally Mike (Pinder) would be on tambourine to hold the tempo. Then we'd put the drums on it and that would be 4 tracks. Then what we'd do is transfer those tracks, mix those 4 tracks to 2 tracks. And as we were going across to the other 4-track machine, we'd add the melotron, or we'd add some vocals, or the flute. So then everything would be on the 4-track machine and we'd be dualing up every time. And of course, there's the thing called the 2nd, 3rd, and 4th generations. Every time you'd transfer from one tape to another, you lost a bit of fidelity, so it was really important when you recorded, that everything was absolutely perfect, so there's no fidelity loss. We had great training with that with the technicians at the Decca Record Company in London, England. They all wore white coats and shirts and ties. They taught us a lot. They taught us a lot about making sure that what you recorded was the best it could be, along with the quality and the fidelity."
For a band in those days like The Moody Blues, there wasn't a lot of thought about where they and their music might be in 50 years. It was all about the moment.
And did John Lodge ever thing about holding this career and band together for over 50 years? "Never ever thought about it," John remarks about the thought of being together for 50 years. "The most important thing for us We were just happy to get a record contract and get into the studio and record our own songs. I think one thing we did say to each other at the time was that, 'Let's think about being truthful in our writing and the integrity of the songs. Let's hope we can make them last for 20 years. We never thought about 50. And we thought that in 20 years time, if these songs still stood the test of time, we'd achieved something. For it to be 50 years is just unbelievable. People say to me, 'John, is this your dream?" And I think, no, no one could've have dreamt this. No one. You couldn't even write this story. It isn't possible to write this story. When I was 14 I was learning to play bass. All I wanted to do was play bass, write songs, and sing and perform them on stage. I never ever thought that 50 years plus later, people would want to hear the music. You just couldn't write this."
One of the most extraordinary things about John and the music is the desire to keep playing it. When asked about still feeling excited every time he takes to the stage, he had this to tell us. "It is actually. I'll tell you why. When we were younger, it was the adrenaline that got you on stage. You have to remember, the speaker systems and the PA systems and the microphones none of that was 21st Century. It was all held together by duct tape and everything else. So when you went on stage, you were never too sure what was going to happen from the physical side, not what we were going to do, but whether an audience was going to hear you or if you could project yourself exactly the way you wanted to be. Today, with the technology and with the technicians that travel with us, getting on stage very rarely does thing go wrong. And you can really look forward to the performance and the song, and get back to what you did originally."
Be sure to attend this history making performance this month at the Smart Financial Centre as The Moody Blues recreate their classic album release, "Days Of Future Passed" in it's entirely along with some of the most memorable songs in their catalog. Including "I'm Just A Singer (in a Rock and Roll Band)," "Question," "The Story In Your Eyes," "Ride My See Saw," "I Know You're Out There Somewhere," "You're Wildest Dreams," and many more. It's bound to be a night you'll never forget.
Our thanks go out to John Lodge and The Moody Blues for over 50 years of memorable music.

---
Serving Houston, Tx and the surrounding areas.
Music News covers all kinds of music from Rock to Country and Alternative to R&B..