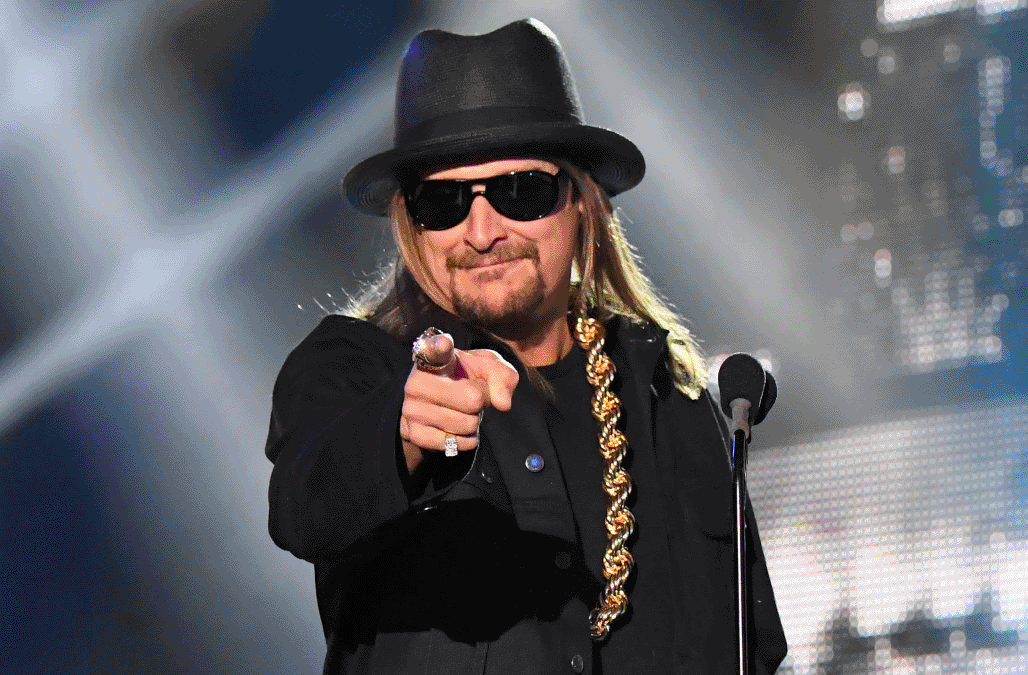 Kid Rock Runs For Congress
Kid Rock will be performing in Houston at Toyota Center on February 3. Kid Rock is touring in support of his new album release, Sweet Southern Sugar, that was released this past November 3. His current tour is called the "Greatest Show On Earth Tour 2018" and is produced by Live Nation.
The tour kicks off on January 19 at Bridgestone Arena in Nashville, Tennessee and will continue with 21 shows from coast to coast. Fans of the rocker can expect the same high-energy experience, but with brand new tracks from his latest album. It's his eleventh studio album and first since 2015's First Kiss. The last time the country rocker went on the road was with Foreigner in 2015 on the Cheap Date Tour. Kid Rock has been touring since 1989 on over thirty-five different tours with no slowing down in sight.

Kid Rock is facing a trademark infringement lawsuit from the Ringling Bros. and Barnum & Bailey Circus' owner over the rocker's upcoming "Greatest Show on Earth" tour. The lawsuit claims that Rock and Live Nation were not authorized to use the circus' well-known slogan for the 2018 trek, although the Ringling Bros. and Barnum & Bailey Circus appears to be closed down for good.
The new music comes as Rock continues to tease a run for U.S. Senate, including a website - KidRockforSenate.com - that earned him widespread attention. Media skepticism about his political plans prompted a fiery response from the 46-year-old Romeo native, as he hyped his upcoming music and declared it to be "strategy and marketing 101!" Kid Rock shared the website KidRockForSenate.com on Twitter. "I have had a ton of emails and texts asking me if this website is real," Kid Rock tweeted. "The answer is an absolute YES."
His website features souvenir merchandise with "Kid Rock for US Senate" that can be purchased from a linked online store. This led to speculation of a less-than-legitimate campaign. Kid Rock took to his website to let his fans know that his hint at a Senate run is "not a hoax" nor a ploy to promote his new album release.
Sweet Southern Sugar is Kid Rock's first album recorded in Nashville and features his spontaneous summer releases "Greatest Show On Earth" and "Po-Dunk," as well as recent single "Tennessee Mountain Top." The album ranges from country to classic rock, with a little rap sprinkled in between and highlights Kid Rock's armory of talent, which transcends a single genre.
The Michigan-bred star taps two sides of his musical personality with the two new songs. "Greatest Show on Earth" is a guitar-driven rocker that nods to the late-'90s era of albums like "Devil Without a Cause." The other, titled "Po-Dunk," is a beer-drenched blues tune laced with slide guitar.
The video for "Greatest Show on Earth" is capped with a tease to an upcoming tour: "COMING TO A CITY NEAR YOU 2018."

"I'm the realest motherf@#ker and I'm coming of age," Kid Rock sings on "Greatest Show on Earth." Later, he and his band sing on the anthemic chorus of the blistering guitar-driven song, "Welcome to the greatest/ Love you when you hate us/ Welcome to the greatest f@#king show on Earth." It ends with the words "Greatest Show on Earth Tour. Coming to a city near you. 2018. Are you scared?"
The video is a retrospective of the rap-rocker's career, with scenes ranging from his breakout Woodstock '99 performance to his 40th birthday concert at Ford Field in 2011. Also shown is footage of his myriad guest appearances through the years, onstage with Aretha Franklin, Peter Wolf, ZZ Top and others.
Other song titles on the forthcoming album include country-sounding titles "Raining Whiskey" and "Grandpa's Jam," as well as "American Rock N' Roll," "Back to the Otherside" and more.
Tickets and VIP packages for the tour went on sale to the public the day Sweet Southern Sugar is released, November 3, at www.LiveNation.com. Fan Club members were able to purchase tickets beginning October 31, and fans who pre-ordered the album through www.KidRock.com were eligible for a special pre-sale beginning on November 1.
Sweet Southern Sugar is the eleventh studio album by American recording artist Kid Rock. It was released on November 3, 2017, by Top Dog Records and BMG Rights Management. The album spawned three singles: "Po-Dunk", "Greatest Show on Earth", and "Tennessee Mountain Top" with its music videos. Its lead single, "Po-Dunk", peaked at number 27 on the Hot Country Songs. "Greatest Show on Earth" peaked at number 16 on the Mainstream Rock chart and is used as the main theme for WWE pay-per-view Survivor Series (2017). "Tennessee Mountain Top" peaked at number 36 on the Hot Country Songs. The album's title comes from a lyric in "Tennessee Mountain Top".
Sweet Southern Sugar debuted at number eight on the US Billboard 200 with 43,000 album-equivalent units, with almost all of that figure (41,000) coming from pure album sales. It has sold 78,500 copies in the United States as of December 2017.
Kid Rock burst onto the music scene in 1998 with his Devil Without a Cause album and hasn't looked back. From hit singles like "Bawitdaba" and "Cowboy" to "Picture" and "All Summer Long," the recording artist has blazed his own trail in the music world, having sold over 26 million albums to date and continuing tour. Kid Rock holds the Michigan record for most tickets sold with 150,000 for a run of ten consecutive sold-out shows, and recently set the Little Caesars Arena attendance record in his hometown of Detroit with 86,893 attendees in six sold-out shows. Kid Rock remains at the center of media attention in regards to his musical and personal ambitions, leaving his mark in a multitude of genres.
---
Serving Houston, Tx and the surrounding areas.
Music News covers all kinds of music from Rock to Country and Alternative to R&B..