I Had The Chance To Go
By Jay Lambs Remy
December 9th at the Acadia Bar & Grill we kicked off the month of Christmas with Tommy, Mandy, and Derek! The Badass Bands that performed were Superna, madSons, Twelve Years Driven, and Broken Valor. It was One hell of musical stocking stuffer!

December 17th we attended the DosomethingAwesome.org's Annual Fundraiser and Giveaway at Rudyards. They had great music, art, and tons of fun activities for the evening. DosomethingAwesome.org raised money for kids and families in our community that needed our help this holiday season. Many people donated show tickets, including myself to many events In the Houston area such as Marilyn Manson, and Surrender Stella! It was great to meet others that were all trying to do good things to help out. Awesome burgers and fries were provided there by Punk Rock Stacy, Myconsumer IT, and our friends in Street Plant Street Scoundrels Houston Music, along with a performance by the amazing Doug Kosmo and your resident, Smash Rap hooligans. We also hung out with professional comic book artist Mostafa Moussa Of Marvel Comics and Amanda Marie Remy of Premier Portrait Art of Houston Texas. Check out her site at https://www.facebook.com/premierportraitart
That day we also went to Docs Sports Bar and it was epic! Frankie, Bill, Spencer, and Shane of the BFE Rock Club as well as Lisa Lemon, Niki Love, and many others were in attendance. There was a lot of great. Appetite for Distraction, a Guns N' Roses tribute got us all in the spirit of the holidays, along with "Hold On Hollywood" and more. They rocked out the night with some merry metal!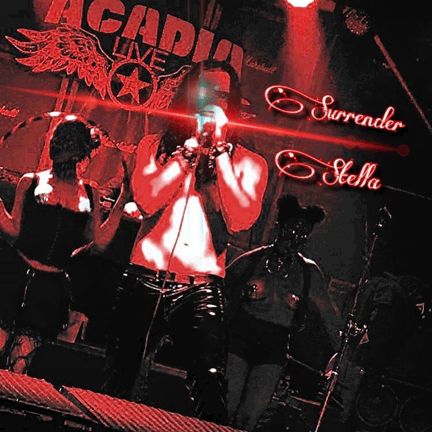 December 23rd, we were back at the Acadia Bar & Grill, the day before Christmas Eve. Bands performing there that night were the Joshua Project, with their amazing stylings, props and music, and Process of illumination, who are absolutely incredible Instrumentalists. Also there are what many are calling 'the musical circus of the dark' with fire dancers, industrial metal and more; Oh My! They are Surrender Stella. Members include Seven Stella on vocals, guitarist Gilbert Grimm, bassist Josh Kaye, and keyboardist Six, The Sinister Synthesizer Rabbit. Also on hand was Stem Tracking Technician, Austin Clay. Dancing was provided by Amanda Marie Remy! Check out their website https://www.facebook.com/SurrenderStella and http://www.reverbnation.com/SurrenderStella
A Merry Music News Holidays with Jay Lambs Remy
The Tenebrian Machine Spirit Of Christmas Dinner.
It was the month of Christmas and all seemed to be going south until our brothers with painted faces and glowing mouths, The Tenebrian Machine asked us to join their families for a holiday feast. We even got to hang out with "The Mothermachine." As we are not from here, this years xmas would have been the least without these great people, our new family, the tenebrian machine. Now when we hear bells of holiday cheer, we raise our glasses and remember the year the Tenebrian Machine saved Christmas for us. We had a great holiday dinner with Evan, Adam, Nick, Korbin, and More! We ate Italian Food like Mafia Sons!
Happy holidays to you and yours from https://www.facebook.com/thetenebrianmachine
Mesha-P, The Miracle of Christmas!
Hip hop R&B artist of extreme talent! Mesha P offered us a place to live so we can continue to stay In Houston. Her family welcomed us as part of theirs and now we are all helping each other make things better for everyone. Her kids are gifted dancers and young singers themselves. It warms my heart to see youth learn from their family and the wonders of music and art. I got to hang with Mesha P and IFLOWZ of IFLOWZ ENT. & MEDIA, a freelance writer, media producer plus so much more. Here Is Iflowz writing a little info directly - "Its Iflowz, Jays stepbrother and we are about to do karate and party in the garage. I am also a talent scout and want to add onto Jay's highlight of Mesha P. She is a legendary rising star the world can appreciate. I have independently produced a trailer to her upcoming documentary! Here is the YouTube.com link from IFLOWZ ENT. & MESHA-P MUSIC. https://youtu.be/vK3lXJQoLkQ.
In this documentary she gives her story as a survivor of gun violence, a mother, and a true musical rock star! Hear about her past, her rise and what her future holds. She is currently an indie artist and has distribution through S.D.Y.P. Success, Determination, Youth, & Prosperity."


A Lil Holiday Love From Lil Tarus
We had Christmas Day dinner with Lil Tarus, a great hearted hip-hop R&B artist, who's just like family. He absolutely loves us, as we do him. He comes from a musical family of unity, love, and great times. We filled our bellies like Santa and spoke about his upcoming release, "No Problems In Life," which will be filled with awesomeness.
Be sure to check out his page at https://www.facebook.com/LilTarus
Special Royal Holidays
Breaking News for ReverbNation and Facebook Listed Music Projects! Royal Prodigy Records is adding more people to its amazing roster to help spread the word of your albums and more! Royal Prodigy Records is not like any other label, it's a roster of musical artists, Made by the artists, for the artists, allowing other labels to sign you are what other labels are looking for. Roster additions include musical artists such as Hindsight, Inner Image, The Tenebrian Machine, Surrender Stella, Battlehorn, Lamb To The Slaughter, Depth Hate, Berdoo, Fathom, Forces, Bad Hatter, In Wonderland, Antonio Eye, Liz Vaughn, Alex Knight, BJ Miller, Eugene Jacquescoley, Intrvallic Interval, Rob V, Mark Cedermark, Jaiz, Gothams Gangsters, Lil Tarus, KC, KonFlikk, Hah 3, And Big Yogi to name a couple of the members. We are here to help with artist credentials and exposure through unity of many media outlets.
Check out some of the albums from the Royal Prodigy Records roster at https://www.facebook.com/royalprodigyrecords/shop.
Take a look at the ever-growing roster at http://www.reverbnation.com/label/label_artists/253317
All purchases for each artist go directly to the artist. Royal Prodigy is the only label that exists to this day of its caliber. Now Royal Prodigy Records is teaming up With Jay TV Houston in what they hope will be what MTV and VH1 used to be. Local musician's music videos will be aired on local broadcasted TV, as well as online through many pages. Please contact https://www.facebook.com/JayLambsRemy
for registration, information and editing so your music video can air on local TV this year when the show starts to air locally.
I spoke with Marilyn Manson about his upcoming show here in Houston this January at the house of blues. He said he is doing much better in health after the holidays. Manson said he is ready to perform songs that some will hate, but that I personally think are great! If you have not yet seen Marilyn Manson, I suggest you do. It's always an epic show. I talked to Manson about some recent people that made my naughty list and we laughed about it, as he expressed that many will upset me as they will always fear and try to hold down someone that is doing more for the industry then typical commercial screw overs do everywhere. I mentioned that Manson's music influenced the music around me and, as it still is to this day, such as with the next band out of Houston that I joined, called Surrender Stella. It was nice to connect with M.M. again be sure to see him at House Of Blues This Month!
This month "Icons at Badassery" would like to honor, Andre Lamy. This great Individual has taught me wisdom and kindness. Andre been dealing with many health scares over the years and has endured. He has been like The Incredible Hulk, standing for good, with a touch of humor beating death like a Superman many times. Andre was once called the 'animal,' which makes complete sense, as I am a chip off the legendary block for sure. He provides me the inner strength, drive, and passion, which I carry in my soul. I could not be who I am today without him. Our hearts are one and the same, for we are warriors of good. It is through his Native American Chief type of aura in the way he guides that helps me stay humble and for that I am forever thankful of my father. It is a great honor to entitle Andre Lamy, an Icon at Badassery! Thank you very much for all of your hard work, and deep soul to soul talks. I love you so much! God knows we have been through so much in our lives to prepare us for our futures. We are here to be pillars for others so they may learn from us. Are you an icon? Get hold of us at Icons At Badassery, and send us the scoop and you could be honored and entitled as a Icon
https://www.facebook.com/iconsatbadassery

---
Serving Houston, Tx and the surrounding areas.
Music News covers all kinds of music from Rock to Country and Alternative to R&B..