The Hollywood Spotlight by Steve Rangel
Local CD Reviews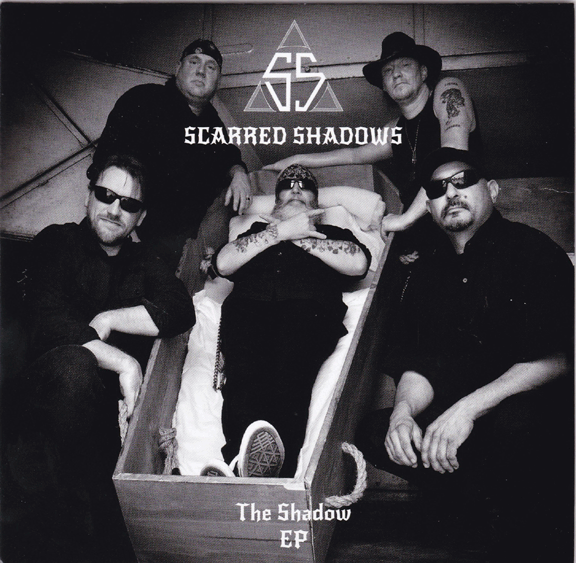 Scarred Shadows
"The Shadow"
The metal scene in Houston is a robust and vibrant one. There's no shortage of world class heavy bands in the Bayou City, so standing out among the crowd is no small feat. Enter Scarred Shadows. One listen to their new 5-song EP "The Shadow" confirms that they are not only up to the challenge, but they are capable of standing toe-to-toe with the very best H-town has to offer.
Scarred Shadows boasts a truly rare combination: a metal/thrash band with a lead singer who can actually SING. Brian Scott's crisp delivery and impressive range instantly separate this band from the rest of the pack. His vocals, combined with the band's heavy material, is very reminiscent of Joey Belladonna-era Anthrax. A clean (dare I say, melodic) voice paired with such aggressive music would seem to be an obvious contradiction. But it worked brilliantly for Anthrax, and it is equally effective here.
Joining Scott is Roger G. Lambeth on lead guitar, Gordon Medlin on bass, J. Staggs on rhythm guitar, and drummer Leonardo Garza Jr., and there isn't a weak link in the bunch. This is a finely tuned unit of professionals who deliver this material with conviction. Garza in particular is not only supremely talented, he is a unique and creative player. His style, especially his unorthodox kick drum work, give these songs a character and feel that would be lacking with a lesser drummer.
It goes without saying that all of the tracks on "The Shadow" are heavy. "Messiah" sports a sophisticated arrangement that borders on progressive metal, while "Silence" and "One Day" are riff-driven scorchers. Yet the most intriguing song on the EP is the haunting "Hold A Place For Me". There is clearly a story behind this fascinating composition, and it is the band's finest moment here. This effort closes with "No One Gets Out Alive", a Metallica-like tune with all the subtlety of a runaway train.
Houston area metal bands, be advised: there's a new contender in town. And they mean business.

Will Van Winkle
"Down The Road"
"Down The Road" is the new nine song release by singer-songwriter Wil Van Winkle. It's a genuine effort that is both thoughtful and well executed. The first word that comes to mind, several songs into my initial listen, is Americana. And certainly there are elements of an
Americana flavor throughout the proceedings. But as the album unfolds, Van Winkle slowly but very surely begins to spread his musical wings. There is definitely a contemporary country influence at work here. And by the time he gets to the closing number, "Rainwater", Van Winkle is in full Southern rock mode. His versatile songwriting and pleasant vocals give this CD legitimate crossover appeal. And that's always a mark on the positive side of the ledger.
Still, Van Winkle's strength seems to be in the Americana songwriting style. He's a solid lyricist, best illustrated by "Won't Be Coming Home", "Monday Morning", and "In This World". And he shows off his talents as an arranger on the album's most intriguing track, "It Must Be Love". The production on "Down The Road" is impressive as well. The recording quality is sharp and consistent. And a couple of guest musicians make notable contributions, particularly Eli Fabrikant's violin work on "Only Friend".
Wil Van Winkle makes to attempt to re-invent the wheel here. This is not a collection of songs that is going to break any new ground. But it is an enjoyable listen. And that's all it really needs to be.
reverbnation.com/wilvanwinkle

---
Serving Houston, Tx and the surrounding areas.
Music News covers all kinds of music from Rock to Country and Alternative to R&B..