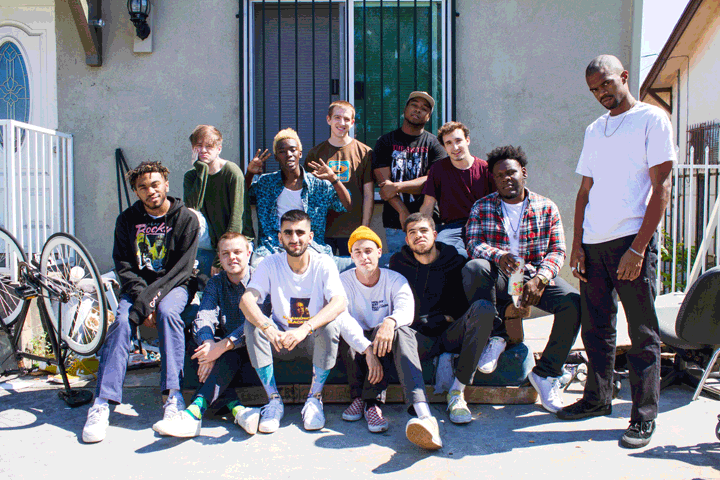 Brockhampton Performs at The House of Blues
Following the release of their sophomore album SATURATION II and their first ever headlining tour, LA based boyband BROCKHAMPTON is back to announce a new headlining North American tour. The Love Your Parents tour will kick off on January 16th in Dallas and see BROCKHAMPTON play 32 shows across North America before the tour's conclusion on March 7th in Phoenix. They will be appearing in Houston at The House Of Blues on January 17th. The tour will follow the release of the boy band's third album of 2017, SATURATION III, which they have teased online as arriving in December of 2017. Tickets for the Love Your Parents Tour are on sale now.

SATURATION II released on August 25th, less than three months after the release of BROCKHAMPTON's debut album SATURATION. The group has been working at a prolific pace, releasing four videos in the month leading up to SATURATION II's release. Each album has arrived with multiple impressive music videos all directed by the group's leader Kevin Abstract.
Days before the release of SATURATION II, the boyband announced that SATURATION was a trilogy and that their third album was on its way.
A left-field act whose material ranges from ominous posse cuts to light R&B ballads, BROCKHAMPTON prefer "all-American boy band" to "rap group" as a designation. The first lineup took shape on New Year's Day 2015 in San Marcos, Texas, and by the end of the year the band prevailed as winners of the VFILES Loud! talent search. This enabled them to issue the single "Dirt" via Fool's Gold, after which they self-released the mixtape All American Trash in March of 2016. Their widely distributed full-length effort, Saturation, arrived in March 2017 and featured the input of members Kevin Abstract (Ian Simpson), Matt Champion, Romil Hemnani, JOBA (Russell Boring), Dom McLennon (Dominique Simpson), Ameer Vann, and Merlyn Wood (William Wood). BROCKHAMPTON swiftly followed up with Saturation's sequel ­ Saturation II -- later that summer. That winter, the boys issued their third effort of the year, Saturation III.


In January 2017, Brockhampton released a new standalone single and music video, "Cannon". In May 2017, Brockhampton released "Face", the first single and video promoting their debut album Saturation. Throughout the month, Brockhampton released several singles and music videos in promotion of the album, including "Heat", "Gold", and "Star", all of which were directed by Abstract and shot locally in their neighborhood of South Central, Los Angeles, California. The same month, it was announced that Brockhampton was going to be the subject of the upcoming Viceland series American Boyband, set to premiere June 8, 2017. A standalone music video, titled "Lamb" was released on June 8, 2017. Saturation was released on June 9, 2017 to critical acclaim, and brought new attention to the group.
Following the release of Saturation, Abstract stated that Brockhampton were already working on a follow up, tentatively titled Saturation II and was set to be released in August. On August 1, 2017, Brockhampton released the debut single and video from Saturation II, titled "Gummy". A week later, they released the second single and video, titled "Swamp". On August 15, they released the third single, titled "Junky", and later that day, they announced via Twitter the release date for Saturation II.
The album's final single and video "Sweet" was released on August 22. This was followed the same day by the surprise release of "Follow", after which Abstract announced via Twitter that the Saturation Trilogy would be concluded with Saturation III. Saturation II was released on August 25 to further acclaim and attention.
September 14, 2017 Abstract revealed that the trilogy would be released as a boxset alongside a collection of unreleased demos prior to the year's end.
By December 1, Brockhampton officially announced Saturation III as their final studio album; however, the group later clarified that this was not a literal statement, and they were likely to release further albums. On December 12, they released the album's lead single and video, entitled "Boogie".
On December 14, 2017, Brockhampton announced their fourth studio album, Team Effort, slated for release in 2018, along with a new single from Saturation III, "Stains". The album released on December 15.

---
Serving Houston, Tx and the surrounding areas.
Music News covers all kinds of music from Rock to Country and Alternative to R&B..