"Serving Houston, Texas and the surrounding areas"
Music News covers all kinds of music from Rock to Country and Alternative to R&B
Your complete source for everything musical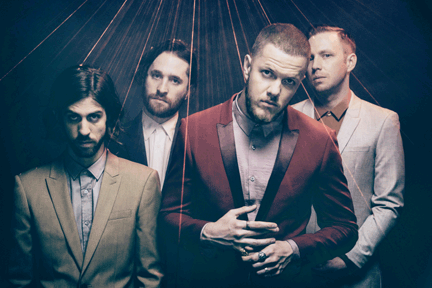 Imagine Dragons Perform at Toyota Center
Multi-platinum, Grammy Award-winning band Imagine Dragons will be performing this month at Toyota Center on November 12th.
Imagine Dragons released their third album, Evolve, on June 23rd via KIDinaKORNER / Polydor Records. Their first singe off the album, "Believer," spent six consecutive weeks at No. 1 at Alternative Radio in the US and broke a 13+ year record for number of spins at the format, besting the record previously held by Linkin Park's "Faint" in 2003. 'The track has already picked up over 30 million views on Youtube, over 2 million daily plays on Spotify and been a mainstay on UK radio.
Formed in 2009 and featuring lead vocalist Dan Reynolds, guitarist Wayne Sermon, bassist Ben McKee, and drummer Daniel Platzman, Imagine Dragons released their debut album 'Night Visions' in 2012 selling over five million copies worldwide, and becoming the No. 1 album on Spotify Worldwide for 2013. The standout single, 'Radioactive' went Diamond (10x platinum) in the US, Platinum in the UK and earned the band a 2014 Grammy for "Best Rock Performance."
Their second album Smoke + Mirrors debuted at #1 in the UK Chart and went on to go Gold selling over 170,000 albums. Imagine Dragons have played live sets for massive crowds across the UK including Glastonbury, Reading/Leeds, and many sold out UK arenas.
Since making their full-length debut with 2012's multi-platinum Night Visions, Imagine Dragons have drawn worldwide adoration for their anthemic yet moody alt-rock. On their third album Evolve, the Grammy Award-winning band shift perspective and take on a brighter but more layered emotional outlook. "The last year's been the healthiest year of my life, and I think that's very much reflected in the music," says lead vocalist Dan Reynolds, whose bandmates include guitarist Wayne Sermon, bassist Ben McKee, and drummer Daniel Platzman. "There's definitely some moments of sadness on this album, but there's also moments of real celebration."
On lead single "Believer," Imagine Dragons wholly embody the emotional dynamic at the heart of Evolve. With its bold percussive vocals and hip-hop-inspired rhythms, the track offers a testament to gaining strength through adversity. "Over the past eight years we've gone through some bad times, but those were almost always the times that helped us evolve," says Sermon of the Las Vegas-based band. "We didn't always want to grow, and pain was the gateway to that growth."
In bringing "Believer" to life, Imagine Dragons joined forces with Swedish production duo Mattman & Robin and carved out a cleaner sound than they'd ever attempted before. "For each song on this album we were very careful about selecting the minimum number of instruments needed to portray the emotions we were searching to capture," says Reynolds. In a departure from the largely self-produced Night Visions and its 2015 follow-up Smoke + Mirrors, Evolve finds the band working closely with Mattman & Robin and producers like Joel Little (best known for helming the production of Lorde's Pure Heroine). "We purposely went after producers with a less-is-more philosophy, and they each helped us build that big Imagine Dragons sound but with a much simpler palette," says Sermon.
Despite the minimalistic approach of Evolve, Imagine Dragons achieve a rich complexity partly informed by their taking time out to recharge. After much soul-searching during a year-long break from touring, the band arrived at a new mindset and ultimately brought a greater sense of openness to their music. "Smoke + Mirrors was a very introspective time for the band, where we were questioning spirituality and its meaning in our lives," says Reynolds. Sermon continues: "With that album we were struggling to come up with the answers, and with this one we're satisfied not to have the answers at all."
Throughout Evolve, Imagine Dragons find unlikely glory in intense self-reflection. On "Whatever It Takes," the band turns self-doubt into a soaring, shimmering epic driven by heavy beats and Reynolds's rapid-fire flow. Another moment of reckoning, "Thunder" brings waves of majestic harmonies and warped vocal effects to Reynolds's recounting of his life's journey so far. "That song is me looking back on my earlier years, when I felt like such an oddball and making music was my only escape, even though I was too shy to share it with anyone," he says. "It's about how that time was the lightning before the thunder, and how now I'm at a place where I get to do the thing I love and travel the world playing music for people."
In a rare turn for Imagine Dragons, Evolve also offers up a selection of love songs. With its delicate guitar tones and tender vocals, "Walking the Wire" centers on what Reynolds describes as "a tumultuous relationship that feels like it's going to collapse at any moment-but that's what makes it exciting." A more lurid twist on that sentiment, "I Don't Know Why" brilliantly blends icy synth with throbbing rhythm. "'I Don't Know Why' started with that beat," notes Reynolds. "It's got this feeling like you're going 90 miles an hour, swerving in between cars, and you're just about to crash. The danger goes along with the romance in the song, where it's so exhilarating but headed somewhere tragic." One of Evolve's most ballad-like moments, "I'll Make It Up to You" unfolds with glistening guitar work and warmly delivered lyrics about "that moment of passion that forgives all the things you've done wrong," according to Reynolds.
Formed in 2009, Imagine Dragons first revealed their emotionally charged and inventive sensibilities with a series of independently released EPs that earned them a grassroots following. Signed to KIDinaKORNER/Interscope by hitmaking producer Alex Da Kid, the band greatly expanded their fanbase with the release of their multi-platinum breakthrough single "It's Time" (featured on the 2012 EP Continued Silence). With their past hits also including "Radioactive" (a diamond-selling smash that won Best Rock Performance at the 2014 Grammy Awards), Imagine Dragons went on to see Smoke + Mirrors debut at #1 on the Billboard Top 200 album chart upon its release in early 2015.
For Imagine Dragons, one of the greatest achievements of Evolve is its unfettered honesty. "Instead of hiding behind metaphors, I was able to be more direct in my lyrics," says Reynolds. "I really focused on searching deeper for lyrical value." Along with giving the album untold emotional depth, honesty cuts through everyday chaos to reveal a luminous truth. "Right now the world can seem like a very dark and daunting place," says Reynolds. "We wanted to create something like a lot of the records we grew up on, where it feels like you're escaping into a world that's much more vibrant. Our hope is that the album helps people focus on the beauty of each moment, and really see all the brilliance and color of life."
---
Serving Houston, Tx and the surrounding areas.
Music News covers all kinds of music from Rock to Country and Alternative to R&B..