Street Beat

Don't look for another copy of Music News again! Now, you can have it directly delivered to your home or business absolutely free. That's right, we said FREE! All you have to do is e-mail musicnew@airmail.net and in the subject line put "Sign me up now"! Then you can have the latest issue of Music News magazine sent directly to your inbox. Be the first to know about late breaking news, and receive periodic Eblasts about special events, concert updates, as well as info on other cool things going on in the great city of Houston!
---
Live Nation is your source for all the biggest acts coming to town! Here you can find all the hottest tickets for all the major venues all in one place.
At House of Blues: The Mardi Gras Boil and Bash is Sat. Feb. 10th, and 90's rockers Gin Blossoms are there Tues. Feb. 13th. Eric Johnson and original band members rock out on Fri. Feb. 16th. Then chick rock band L7 is there Wed. Feb. 28th.
At Revention Music Center: Ultimate Beatles tribute is there Fri. Feb. 2nd and Latino singer's Marisela y Amanda Miguel Fri. Feb. 16th. Houston Roller Derby is Sat. Feb. 17th.
Smart Financial Centre has the legendary Fri. Feb. 2nd, and rapper G-Eazy: The Beautiful & Damned Tour Thurs. Feb. 15th. Comedian Jo Koy is there Sun. Feb. 25th.
NRG Stadium has comedian Katt Williams Fri. Feb. 2nd and Sat. Feb. 3rd. Houston's Monster Jam is Sat. Feb. 10th and Sun. Feb. 11th.
The Toyota Center has Kid Rock's Greatest Show on Earth tour is Sat. Feb. 3rd. Pop singer Lana Del Rey is there Sat. Feb. 10th. Latin pop star Marc Anthony is in the house Fri. Feb. 16th.
Get your tickets for these shows and more at www.livenation.com.
---
It's a sad day in local music store history...Evans Music City is closing up shop after 70 years in business in the Houston area.
---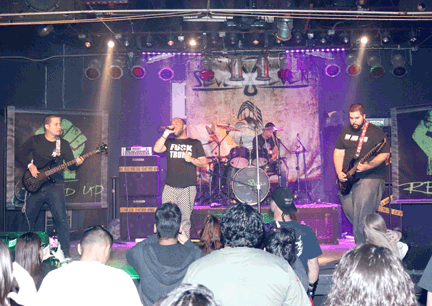 Tonight we checked out a new up and coming band. They're called Seven8seven. Tonight they debuted their band at The BFE Rock Club. They've actually been around for quite a while, just not here in Houston. They formed back in 2009 in Puerto Rico. Previously known as A Different Mind, Seven8seven is the evolution of the musical and psychedelic thinking that characterized its predecessor, maintaining it's unique sound that comes from a mix of elements from metal, punk and 70's music, but adapting it into social, personal and emotional thematic, accompanied by a raw, dirty and down to the point message. This collective is composed by Joe Flores, Tiko Duran, Jorge Ruiz and Johnny Flores. As you can expect, we've got a couple of videos from this show to introduce the band to US audiences that haven't had a chance to see them. I think you'll be impressed with their musicianship. I see a big future in store for these guys. You can see both of their videos on HMNTV - Houston Music News Television at http://www.houstonmusicnews.net. Here they are performing "Flowers" and "Red Window."

---
That's right, it's the "final chord" at Evans Music City as owners Brian and Hazel are retiring! But not before offering outstanding savings on everything in the store! Everything must go so it's all on sale- guitars, amps, keyboards, drums, sound equipment...EVERYTHING! Go by Evans Music City at 6230 Westheimer and wish Brian and Hazel a happy retirement while getting a great deal! You can also call 713-781-2100 or go to www.evansmusiccity.com to find out their hours. Thanks for being a part of Houston's local music business!!
---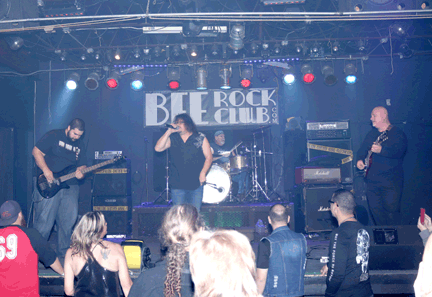 When we heard the Kendall Mason Band wa going to be performing over at the BFE Rock Club we dropped in to see them. We really like this band. You've seen them in the pages of Music News before, and no doubt you'll see them again. We really like their original music. This cool rock band definitely has a style all it's own and it really pops. It's fronted by lead singer Kendall Mason and he does a great job fronting the band. Also in the band is drummer Bill Thompson, bassist Tiko Duran and guitarist extraordinaire, Bill Nelson. Together these guys really put on a solid show power-packed with some great original songs. As usual, we've got some videos from this show for you to see on HMNTV - Houston Music News Television at http://www.houstonmusicnews.net. Here they are performing one of their great originals, "Black Flag." We've got three videos from their performance this night, so you can start watching them on HMNTV - Houston Music News at http://www.houstonmusicnews.net right now.

---
Ashford Pub at 13308 Westheimer (and the intersection of Eldridge) has happy hour everyday from 11am to 7pm! Some great weekly specials are $2.25 domestic longnecks, Big "Azz" Beer & Trivia Night on Tuesday, Steak & Poker Night on Wednesday, and Open Mic Night on Thursday. Wild West Texas Beer Fest is on Friday, along with a DJ spinning tunes most Fridays. Everyone's favorite Irish rock band The Blaggards are back Fri. March 2nd! Poker Night is on Sundays. For all the latest info and updates on everything Ashford Pub, go to www.ashfordpub.com.
---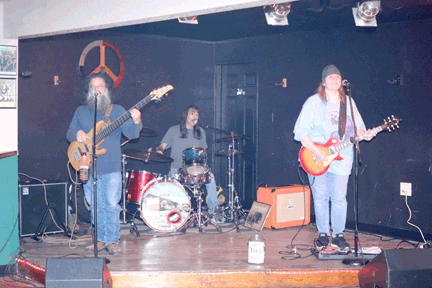 We're over at Cruiser's Ice House in Santa Fe tonight to see the Starr Jernigan Band. Starr is one of the finest female guitarists we've ever seen in the Houston area. She plays with such great taste and it's always a pleasure to see her perform. Tonight she had her three-piece powerhouse trio at Cruiser's performing some great "Classic Rock". While we were there she performed a variety of great old tunes, like "Lucy In The Sky With Diamonds" by The Beatles, "Strange Brew" by Cream, and even a little George Harrison. The Show was sure a lot of fun. Starr Jernigan is a multi-instrumentalist (guitar, harmonica, & vocals) who never fails to amaze audiences, thus being dubbed "The Amazing Starr". She was also noted as being the best female guitarist in Texas by Music News, Deadbeat, and Nightsounds radio programs. She is often compared to being a combination of Janis Joplin, Stevie Ray Vaughn, Jimi Hendrix and Jerry Garcia rolled into one powerhouse performer with sheer emotion at the helm. Her versatility continues to win over audiences. She is well versed in rock, blues, country, folk, and psychedelic music. Prepare yourself to be amazed !! Here she is performing "For What It's Worth" by The Buffalo Springfield "Riders On The Storm" by The Doors. Check out these two videos right now on HMNTV ­ Houston Music News Television at http://www.houstonmusicnews.net

Cruiser's is "the best little ice house in Texas"! This biker-friendly bar at 9002 FM 2004 has been around since 1997, and newly renovated after Hurricane Harvey! Come see the new and improved Cruiser's. They continue to have happy hour Monday thru Friday 11am to 6pm. They also have free pool every Monday, the acoustic jam on Fridays with Starr Jernigan and Steve Shannon from 8pm-midnight. Awesome live band on Saturdays include The Feel Sat. Feb. 3rd, Mister Kicks Sat. Feb. 10th, and Billy Bourbon Sat. Feb. 17th. The famous Sunday Blues Jam hosted by Ben Herrington is from 4pm-8pm on Sundays! Cruise into Cruiser's and have some fun in Santa Fe tonight!
---
KMP stands for Kendall Mason Photography, and they are here to meet all your personal and professional needs! Call 832-883-0853 to make an appointment. Support your local music scene!
Still trying to get repairs from Harvey done? Well, "Houston, we're in this together"! Hire Kendall Mason's handyman. Call 832-883-0853 for an estimate. No job too big or small.
---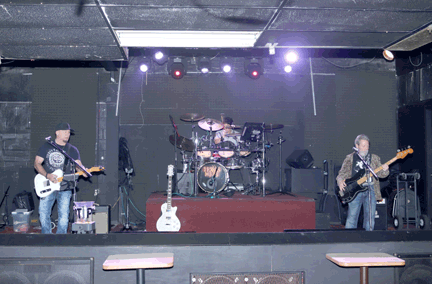 Artie V. and Texxas Heat brought some good 'ole "Classic Rock" to the 19th Hole this night. Artie and the guys have been serving up the best in "Classic Rock" for years, and it's always great to see them perform. Every time we've seen them, they've always put on a great show. These guys are true veterans of the Houston Music Scene. Guitarist Artie Valenzuela was in the band High Risk, which dominated the Richmond Strip back in the day. Bassist Joe T. Holland was in the popular band Tyrant, which you may have seen perform at the original Cardi's. Last but not least, drummer Dennis Oquendo worked with 80's & 90's dance bands such as Spin Cycle. Together, they're one powerhouse of a unit. If you haven't seen them, you need to check them out sometime. We've got a couple of videos (as usual) to share with you from their performance at the 19th Hole, so you can start watching them right now on HMNTV - Houston Music News Television at http://www.houstonmusicnews.net. Here they are performing a medley of ZZ Top songs for your pleasure along with "Chicken Fried" by the Zac Brown Band.

19th Hole Grill & Sports Bar is celebrating its 26th year of business! This awesome rock venue in the Woodlands has been a gathering of metalheads since the early 90's. Come in Tuesday for karaoke with Mary from 9pm-12am, Wednesday for free bingo 9pm-12am, and new, a Friday lunch special 11am-5pm. Live bands are on Thursdays, Fridays, and Saturdays. See American Psychos Fri. Feb. 9th, then The Kid Ray Project Thurs. Feb. 15th. Knuckle Deep is there Sat. Feb. 24th. Also, check out a Blues Jam Benefit for DeWayne Johnson featuring No Rehearsal, Ernest Leonard, Big E & Lowdown, and Tribe Hill Sun. Feb. 11th. Come out to 202 Sawdust Rd. in The Woodlands to the 19th Hole!!
---
Rudyard's in the Montrose area has some of the most unique bands in town for a low cover, but it never has a cover for the bar downstairs that has darts, pool, a big screen TV, plus a flame grill open 7 days a week at 11:30am. Shows you can see this month are: The Beaumonts, Poor Dumb Bastards, and Hard Luck Revival Fri. Feb. 9th, then Filthy Dead, Wonder Boy, Merkava, and Dead Stuff Fri. Feb. 16th. Then Fiddle Witch and the Demons of Doom, with Unearthly Child Thurs. Feb. 22nd. Mondays have A Couple of Stand Up Guys comedy open mic showcase. Tuesdays have Industry and Karaoke Night. Wednesday its a Houston Reddit Board Game Night. Rudyard's is at 2010 Waugh Street. For booking info, please call the club at 713-521-0521Wednesdays from 1pm-3pm. See ya there!
---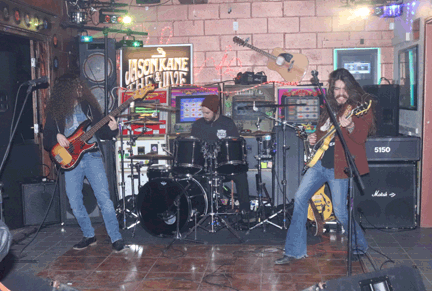 The Hellcat Cafe has been bringing is some really great entertainment lately. In fact, every time we go there they have one fantastic show after another this nght featured Justin Kane and The Jive from San Antonio. This high voltage Rock and Roll Boogie Band put on one helluva show. Their original pieces really demonstrated their classic rock influences such as Grand Funk, The Amboy Dukes, Pat Travers and more. It was an incredible show that left the folks there screaming for more. Word has it that Roland will be bringing the band back to perform at his Birthday Bash in the neqr future. We would advise you to be there for that. We're sure it's going to be a blast!
---
The Hipwaders Flying Circus has a couple of gigs they'd like to shout out. Fri. Feb. 23rd they're at Bubba's on the Strand in Galveston. Then the 24th they do a show at Cruiser's Ice House. A good time will had by all!
---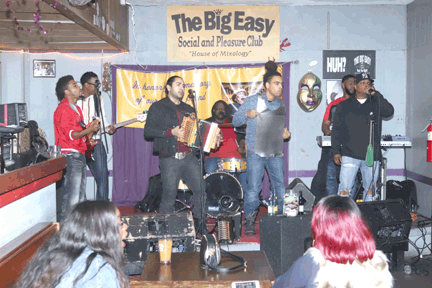 The Big Easy was filled with the sounds of Zydeco Music this night that we dropped by. Zydeco master Ruben Moreno and his band was on stage and a big party broke out at the Kirby Road Blues club. Ruben has been performing Zydeco music since he was 13, and now at the age of 27 he truly has become a veteran of the genre. His show tonight at The Big Easy was a lot of fun and the crowd there just couldn't get enough of it. Here's another local musician you need to check out sometime.
---
The Big Easy is Houston's social & pleasure club! They have something going on every night. Sunday has the zydeco music party 8pm-midnight. Mondays have live music by John Egan, and Tuesdays have The Big Easy Trio. The Big & Easy Blues jam is on Wednesdays, and Luther & The Healers play on Thursdays. The Houston Blues Society Jam is on Thurs. Feb. 22nd. The National Zydeco Jam is Sun. Feb. 25th. Some of the other musical entertainment includes Mark Dini Sat. Feb. 10th, Rick Lee on Fri. Feb. 16th, and Waylon Thibodeaux Fri. Feb. 23rd. The Big Easy is at 5731 Kirby Dr. in Houston. A good time is sure to be had at The Big Easy!
---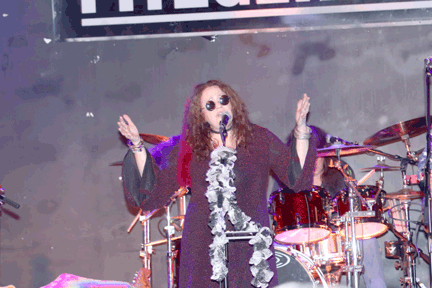 Myrana Sanders and her tribute to Janis Joplin, Kozmic Pearl, really put on a great show at Fitzgerald's this past month. You could really tell her love for Janis is the way she performed the songs their this night. She did a fantastic job. If you're into Janis Joplin, this is the next best thing. Check her out sometime.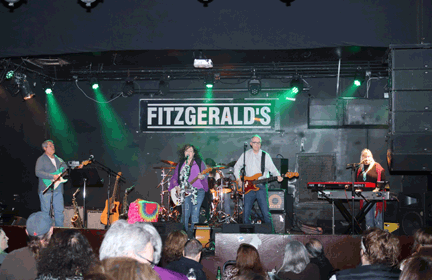 Opening up for Kosmic Pearl was Myrna's tribute to the 60's, Zig Zag. Performing songs by Neil Young, The Beatles, The Mamas and The Papas,The Doors, and more, the band was a huge hit.
Fitzgerald's is one of Houston's renowned spots for local and touring acts for over 40 years. It has an upstairs and a downstairs for live entertainment. They both have stages, professional sound and lights and fully stocked bars. Also, on Wednesdays they have an open mic night. This month you can see Judgement Day, a tribute to Whitesnake on Sat. Feb. 3rd. Then it's the "ultimate party band" Skyrocket Fri. Feb. 9th. After that, it's HeartByrne, a Talking Heads tribute on Sat. Feb. 17th. Fitzgerald's is at 2706 White Oak Dr. in Houston. Get tickets for these shows at www.ticketfly.com or at www.fitzlive.com.
---
Heights Guitar Tech is where you should go for your stringed instrument repair and here's why: They have a fast turn-around with most simple repairs overnight for no extra charge! They do quality work since this is what they specialize in. They have a good value, as the prices are competitive and fair. Isn't it time you give them a try? Check out www.HeightsGuitarTech.com or call 713-426-1888 for more info. Heights Guitar Tech is at 742 20th St. between Shepherd & Durham. Come see 'em!
---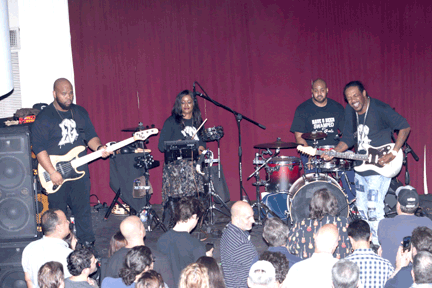 Guitar virtuoso Eric Gales put on a stellar performance this past month at Rockefeller's. The club was packed with fans. It's been a while since Eric has performed in Houston and there has been a lot of anticipation for this show, which proved to be well worth the wait. He was spectacular. Since Eric released his first album at the age of 16, he has been delighting audiences all over the world. Hailed as a child prodigy, Eric has definitely made a name for himself as one of the top guitarists in the world. Eric has released over 17 albums in his career so far, and shows no signs of slowing up. His show this night at Rockefellers was certainly a lot of fun and definitely one not to be missed. Hopefully they will have him back again in the near future.
Rockefeller's is synonomous with live music in Houston. You may remember the old white former bank building over at 3620 Washington Ave. After being bought and repurposed, bands are now back, for a couple of years now. Wed. Feb. 14th Margin Walker presents Pedro the Lion. Then a couple of bands Fri. Feb. 16th with Waxahatchee and Night Shop. On Fri. Feb. 23rd it's the Zenteno Benefit Gala. Rockefeller's has a full bar and free parking. Tickets are available at ticketfly.com. If you want to book your private event, go to www.rockefellershouston.com or call 713-862-4070. Come check out the new Rockefeller's!
---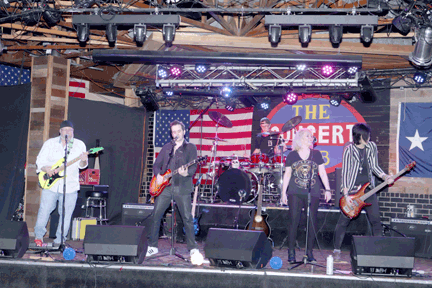 We dropped by the Serena Dames Benefit at The Concert Pub North this evening to show our support and caught the Kyle Cousins Band onstage performing some of their cool original material. Kyle Cousins' ultimate goal is to bring back Rock. Kyle has performed at venues such as Carnegie Hall and the Empire Ballroom alongside Jack Black and Steven Stills. Here he is performing one of his originals called "Mr. Fly." We've got two songs from that performance to share with you, so you can access them on HMNTV - Houston Music News at http://www.houstonmusicnews.net.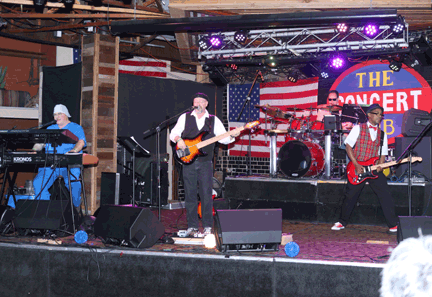 We had a craving tonight to hear some songs from The 80s, so we headed up to The Concert Pub North to see Houston's "Best Tribute Band To The 80s", The Chromatics. This is no ordinary cover band DUH! It is a complete stageshow that ensures a packed dance floor throughout the night to gasps of "Totally Awesome!" The Chromatics employ their own sound and lighting crew to ensure that the room levels are always righteous. Since the '80s have now made their comeback, The Chromatics will ensure that several generations are singing along to every song as they crowd the dance floor with pure energy. Featuring members of The McClanahans, Dimitri's Rail, Nervous Rex, The New Siblings, Staci Butler Band, and Mr.Hands Revenge bring you the best of the '80s dancepop/rock music. As we expected, the show tonight was fantastic and we stayed there for quite awhile clad in our DEVO hats celebrating the occasion. If you ever have a hankering for The 80s, please check out The Chromatics. You'll be more that happy with their show. To say it "Rocks" just simply doesn't give it justice. It's extraordinary and more than fantastic. Be sure to see them the first chance you can. Here they are performing The Pretenders' "Message Of Love" with a segue into "Pump It Up" by Elvis Costello and Wall of Voodoo's "Mexican Radio". What great performances! You can check out these performances right now on HMNTV - Houston Music News Television at http://www.houstonmusicnews.net

At The Concert Pub North, it's always sure to be a great time with their live bands, full menu (open for lunch too) and the Boat next door. Check out these upcoming shows: Bon Jovi tribute Let it Rock, and Judas Priest tribute Judith Priest Fri. Feb. 9th. The Spotlights are Fri. Feb. 16th and Sat. Feb. 17th. Then it's Hold on Hollywood with Aggressive Vibe Fri. Feb. 23rd. The Concert Pub North is at 2470 Cypress Creek Pkwy. @ Kuykendahl. Keep up with the latest there by going to www.theconcertpub.com! The Concert Pub North is your destination for the best entertainment on the Northside of Houston!
---
Puff N Stuff is your one stop shop for your smoke accessories, T-shirts, darts/billiards, body toxin cleansers and more! All under one roof at great prices, located at Spencer Hwy. @ Perez in beautiful South Houston! Call 713-943-0170 for more info!
---
Scout Bar is Clear Lake's premier rock club and lounge! They have the Full Throttle Live music & broadcast on Wednesdays. See bands throughout the week, Crosby, Steele, and Etheridge on Mon. Feb. 5th. This is a fundraiser for Dayna Steele, local celebrity who is running for Congess...and yes, it actually features David Crosby and Melissa Etheridge! Trapt is there Sat. Feb. 10th. Then see Thunderstruck, America's AC/DC tribute and Battery, Metallica tribute masters on Fri. Feb. 23rd. Get tickets for these shows and learn more at www.scoutbar.com! The Texas Buzz is a one-hour radio show broadcast on Sundays by 94.5. The Buzz live from Scout Bar, featuring new up-and-coming artists. Get tickets for these shows and more at www.scoutbar.com.
---
The pub upstairs and adjacent from Scout Bar is Pub Level Grill & Lounge. They have 53 draft beers, great food, a huge video wall, and is also your headquarters for all things sports on their dozens of TV's around the bar, including the Sunday Ticket. Check them out on Facebook today.
---
Acadia Sports Bar on 1960 has the best hard rock and heavy metal bands playing over there. Here's their weekly schedule: Sunday has 11 BelowBrewing Company on Sunday nights. There are live bands that night too, sponsored by Magik Recording Studio, and AdVantage Point Video. Monday night has pool league and poker league and Tuesday night has poker league. Wednesday night is the all-new open jam and different freshly made street tacos by bartender Jeremy. Thursday night has live local and touring bands, hosted by North West Houston entertainment, Youtube broadcasts, and ladies 21&up get in for free. Friday and Saturday have live, local, regional, and national touring bands. Here are some of them: Erase the Virus, Black Market Tragedy, Edge of Misery, and Sevlin Fri. Feb. 9th. Don't miss KISS tribute band KISS Alike, and Iron Maiden tribute To Tame a Land Sat. Feb. 17th. Then Thurs. Feb. 22nd see Silence the Witness, Tenebrian Machine, and Crimson Void. Find Acadia Bar at AcadiaBarandGrill to find out more!
---
Rock Center Band Rehearsal Studio is a Houston-area studio that has a sound engineer with over 3 decades in the business. They have secure rooms, monthly rates, and 40 hourly rooms with P.A./ backline sound system. For more info, go to www.rockcenterhouston.com, or call 713-981-6555 and ask for David. Forget the rest, play at the best!
---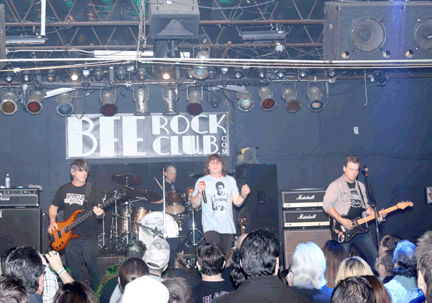 Tora Tora finally made it to Houston this past month. This show was one of the most anticipated shows of the year. We had to go through one cancellation with the band last year, but the band sure made up for it, putting on one spectacular show at the BFE Rock Club. The club was packed! And I couldn't believe how many people there new the lyrics to almost all of their songs. You could see the mouths moving in unison with the vocals. Congratulations goes out to Fish for organizing one of the best shows of the year. He'll never let you down! A couple of the bands that opened up for Tora Tora were The Unled and Tame Fury. We managed to see both of these bands also and they put on a couple of great sets. We'd recommend both of them for you to go out and see when you get a chance. We also managed to get a couple of videos to share with you of Tora Tora, so you can start watching them at HMNTV - Houston Music News Television at http://www.houstonmusicnews.net any time now. If you were there, you're definitely going to want to see these. If you haven't seen Tora Tora before, here's your chance to do so.

The Unled, opening up for Tora Tora!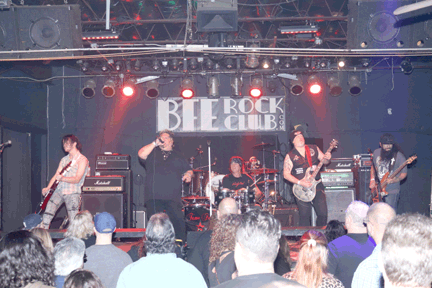 Tame Fury, opening up for Tora Tora!
---
Continental Club, fashioned after the original Austin location, has just as much fine music to serve you. Located at 3700 Main St., it's the perfect little place to serve up some great Texas artists. Like Graham Wilkinson with Charlie and the Regrets Sat. Feb. 10th, then Lara Hope and the Ark-tones Wed. Feb. 21st. The Woggles and The Ugly Beats are Sat. Feb. 24th. Also, check out different happy hour tribute bands during the week! Quality music downtown is found at Continental Club!
---
Warehouse Live is an awesome live music venue! With its three rooms to serve you, the Studio, Ballroom, and Green Room, this large space hosts different events throughout the month. The month of February you can see blues singer Anderson East Sat. Feb. 10th, then 2016 America's Got Talent winner Grace VanderWaal on Mon. Feb. 12th. Magic Giant with The Brevet is there Fri. Feb. 23rd. For more info and upcoming concert dates, go to www.warehouselive.com.
---
Looking for a band rehearsal space? Look no further than Soundcheck Music Complex with 3 locations to serve you: the Northwest site at 5881West 34th St., and two downtown at 5001 and 5005 Gulf Fwy. They've got monthly room rental rates? Well they've got 'em starting from $195. You can also do hourly at $20 an hour with a three-hour minimum. And, for every two rehearsals in a calendar month, the third rehearsal is free! Check out more at www.bandpracticerooms.com.
---
Looking for a venue to see live music that's a little different, then check out Last Concert Cafe. It is downtown, at 1403 Nance St. If you've been here, you already know that it is a full cafe that serves homemade Tex Mex cuisine, including healthy options, plus you can listen to music on the outdoor stage. Live music 7 nights a week includes no cover for those who go on before 9:30. Their latest weekly happenings are the Monday's Jazz Open Jam from 7pm-10pm. Then Tuesday nights it's Tom Turner Band from 5pm-7pm, followed by an open mic 7pm-9pm, and then The Sidemen from 10pm-midnight. Wednesday nights have HellinaBucket with Potroast and the Midnight Drum Circle. Then Dinner Music Friday Nights with Jimmy Lee Dean! Also, see live music by some of the following: Little Screamin' Kenny Thurs. Feb. 8th, and Saltwater Slide and Indaskies Fri. Feb. 16th. Carolyn Wonderland is there Fri. Feb. 23rd. Check out the full schedule online at www.lastconcert.com. Call 713-226-8563 for more info about The Last Concert Cafe!
---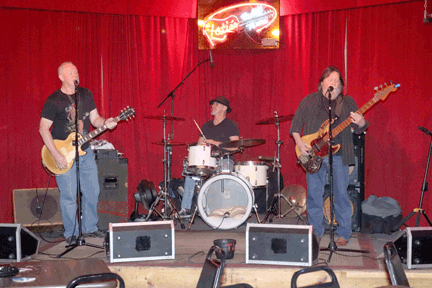 Donnie Simmons and Rubber Mule were certainly showing their "Rock" side this night when we dropped by Katie's in Bacliff. From The Rolling Stones ("Miss You"), to Free ("All Right Now"), to Aerosmith ("Sweet Emotion"), the guys were taking us on a long journed down the Classic Rock highway. They even performed a cool version of the Eagles' "Heart Of The Matter." Usually we get a lot of Blues at Katie's, but this change in direction for the night really hit the spot. If you haven't seen Donnie Simmons yet, make sure you do. He'll be back at Katie's this month on Thursday, February 22. We'll see you there!
Katie's Bar in Bacliff has the best live music in Bacliff and surrounding areas! AND, they have live music 5 nights a week. It all starts out with Katie's Jam Sundays from 4pm-8pm Sun. Feb. 4th, Groove Kings Sun. Feb. 11th, Mark May Sun. Feb. 18th, and Ricky Jackson Sun. Feb. 25th. A few other bands are Buzz Dawgs Sat. Feb. 3rd, Freddie Pate Wed. Feb. 14th and Wed. Feb. 28th, and Mike Zito Fri. Feb. 23rd. Katie's is at 315 Grand Ave. in Bacliff. Check out www.katiesbar.com for upcoming shows and info!
---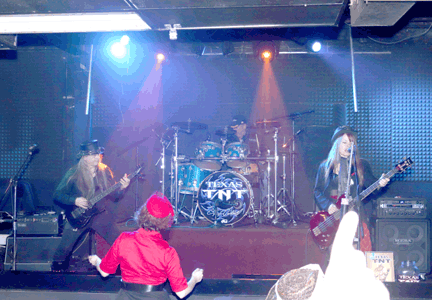 Tonight we made a special trip back to the 19th Hole to see one of our favorite bands, Texas TNT. Texas TNT has been performing great "Classic Rock" tunes for years around Houston to rave reviews, but tonight they've got something different up their sleeves. They're performing their "Original Music Set." Yes, that's right, Texas TNT has some great original tunes as well. The show tonight was nothing less than incendiary. They performed some really great "original" songs followed by an encore of Black Sabbath's "War Pigs." Let me tell you, the crowd there loved every minute of their show. It was really inspiring. Ron was fantastic on guitar and Ramona just killed it on bass and vocals. That coupled with the extreme drumming of Ian really made for an incredible show. We're happy to say that we managed to capture three songs from their set to share with you, so you can go to HMNTV - Houston Music News Television and start rockin' now. I'm sure that when you hear their great originals, you'll be going out of the way to see them the next time they perform a night of original music. We'll definitely be back. You can count on that.

Texas TNT are your ultimate rock n' roll cover party band! They have their list of gigs up and running, and here it is! First off, they'll be at Aspen's Bar & Grill in Clear Lake Shores Sat. Feb 3rd from 9pm-1am. Then they'll be at McCardell's Tavern Fri. Feb. 9th from 8pm-midnight. After that, they're at The Thirsty Tavern in Spring Fri. Feb. 16th and Sat. March 3rd from 9pm-1am. Then see them in Alvin at Bub's Sports Bar Fri. March 2nd from 9pm-1am. Check the band out at www.texastnt.com or at reverbnation.com or Facebook!
---
Stereo Live is the huge live music venue on Richmond Ave. that provides dance, rap, hip-hop music in their main room. They also have a big outdoor terrace and signature loft upstairs, perfect for booking your next party or event. Events include Sikdope Thurs. Feb. 8th, Keys N Krates with Promnite and Jubilee on Sat. Feb. 17th. The month closes out with Nightmare on Sat. Feb. 24th. For these acts and more go to www.stereolivehouston.com. If you want to book an event here, call 832-251-9600.
---
White Oak Music Hall is a multi-stage venue with two levels and double the fun. Just a few of the acts you can catch are Motion Hotel, Wellwell, and Camera Cult Thurs. Feb. 8th upstairs. Also, Puddle of Mudd, with Hindsight, Red Iris, and Lies of an Alibi Fri. Feb. 16th. You can see Of Mice and Men with Bless the Fall, and more on Tues. Feb. 27th. White Oak Music Hall is located at 2915 N. Main St. Get tickets at www.stubwire.com.
---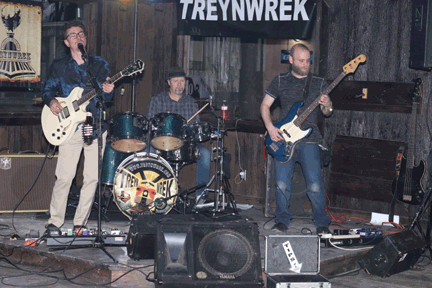 TreynWrek was burning up the stage this night when we dropped by The Jailhouse Saloon. Their slick combination of Rock and Blues really hit the spot. TreynWrek has been rocking the Gulf Coast since 2012, performing over 120 shows a year. This band is definitely tight and really knows how to put on a top notch show. Besides performing a great variety of cover songs, the band also has some great originals of their own, which are big crowd pleasers. An evening with TreynWrek is an evening of fun and great music. If you haven't seen them yet, make sure you do. It will be well worth your time. TreynWrek is Trey Dryden (guitar, vocals), Tim Hutto (drums, vocals), and James Breaux (bass).
Jailhouse Saloon is back with us! This little bar in Spring includes live music like Timewarp Sat. Feb. 10th, Zach Tate Band Fri. Feb. 16th, and Charlie Parker Band Sat. Feb. 24th. Check out Billy Bourbon's acoustic set Thurs. Feb. 15th with Porkchop Night! Also, each Sunday is an open mic jam w/ Jim Wilson. Tuesdays have Krazy Karaoke with DJ Jason O'Leary by Allstar Entertainment and Taco Tuesday. The jam on Fridays has DJ Jason O' Leary again. Jailhouse Saloon is at 310 Preston St. in Spring. Find them on Facebook at TheJailhouseSaloonTX.
---
Hired Gunz is "smokin' Blues and Classic Rock for all occasions"! Featuring our very own "Hollywood" Steve Rangel. Call 713-339-9167 or go to hllywdtx@yahoo.com for booking information!
---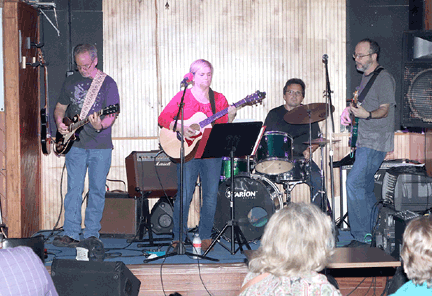 The American is still brining in some great bands, duos, and solo artists for your entertainment pleasure. This night when we dropped by it was the band Sweet Persuaders. These folks had quite a few really good original tunes and put on a fine show for us. Be sure to check out The Americana ad in this issue for some great acts to see this month.
The Americana features the best in country, Blues, Folk, Rock, Jazz, and more! Here's their NEW weekly schedule: Mondays have an open dart tournament, and "For Whatever Ales Ya", a buck off all ales! Then Tuesdays have Martini Night, then the Bayou City Showcase Songwriters Night. Wednesdays have The Americana Big Open Jam at 8pm with Texas Beer specials! Thursdays have happy hour from 4pm-7pm, with Ladies' Night w/ happy hour all night for the ladies. Fridays and Saturdays have live music no cover! Here are a few of them: folk/country band Grifters & Shills Fri. Feb. 9th, the high-energy rock of Hogan & Moss Fri. Feb. 16th, and the folk rock band Escaping Payment Sat. Feb. 24th. The Americana is at 2957 Bingle Rd. at Kempwood. Call 713-370-7554 for details.
---
County Line Bar & Grill in Richmond is a biker-friendly bar that serves wine, beer, and liquor, and they also boast the best burgers in town! This is the home of the Sunday afternoon jam. Sundays Feb. 4th and 18th the jam is hosted by Eric Dongle from 3pm-7pm. Its hosts change to Kenny & The Bluesmen from 3pm-7pm. Mondays and Tuesdays have free pool with drink specials. Join them Thursday night for Steak Night. Please your eardrums with music by On the Double Thurs. Feb. 8th, Kenny & the Bluesmen Sat. Feb. 10th and Robert Firth. Check out more about County Line at www.thecountylinebarandgrill.com.
---
Local artist Mark Zeus has a few gig dates he'd like to shout out. He will do an acoustic show Sat. Feb. 10th at Mezzanotte Restaurant in Cypress from 7pm-10pm, followed by another acoustic show at Off the Vine wine bar Sat. Feb. 17th in Missouri City from 6:30pm-9pm. He does another show, this time with The Thunderboltz at Jimbo's Roadhouse in Hockley Fri. Feb. 23rd from 9pm-1am, and then it's back to an acoustic show Thurs. March 1st at 9035 Bois d'Arc in Fulshear from 5pm-8pm. Thanks, from Mark Zeus!
---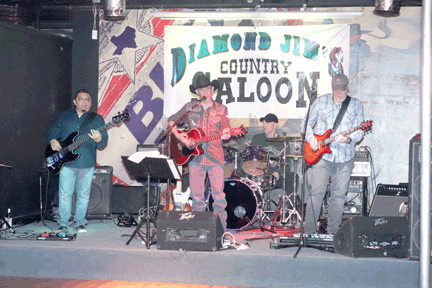 ---
Another, newer country dancehall in Texas City is Diamond Jim's Country Saloon. They offer such weekly happenings as T-shirt Day on Mondays...wear your Diamond Jim's T-shirt and receive a discount on your drink tab! Tuesday is Ladies' Nite with Dart League. Then, Wednesday night it's for the guys with Men's Nite w/ Pool League. And then Thursday it's karaoke with Double Down Joe! Saturdays and Sundays have live music. See Storybook Road Sat. Feb. 3rd along with Diamond Jam's Country Saloon 5th Annual BBQ Cook-off. Then Stranded Fri. Feb. 9th. Pee Wee Bowen Band is there Sat. Feb. 17th. Diamond Jim's can be found at 3317 Loop 197 N. in Texas City. Go to www.diamondjimscountry saloon.com for a more upcoming bands and more info!
---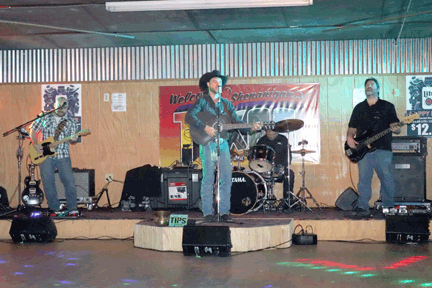 It was time for a little Country Music, so we decided to head over to Shenanigan's in Texas City. This is a great place to hear Country Music. It's there specialty. Tonight on stage was the Jarrod Sterrett and The Hired Guns. Jarrod Sterrett moved to Huntsville in 2006 and had a passion for music along with 8 years of experience playing. Since he was the new guy in town, he had a hard time getting a steady set of musicians to play with him. When he got gigs that required more than an acoustic show he asked musicians that didn't have a regular band or any loyalties to play with him. Musicians refer to these jobs as hired gun work so naturally he billed himself as Jarrod Sterrett and the Hired Guns. In September of 2009 he got a steady group of guys and started gigging more but the name remained. Now they are a band with over 50 years of combined experience. They are known for being able to play songs that get the crowd on their feet and singing at the top of their lungs. Then they take the same crowd down to a slow dancing mood with a love ballad. Beside performing a larger variety of Country Classics, they also perform some really good originals. Tonight's show featured songs by David Allan Coe and Johnny Cash along with a great original by the band titled "Settle Down Cowboy." Here they are performing "Cocaine Blues" by Johnny Cash. Check it out right now on HMNTV - Houston Music News Television.
For some country music entertainment, try Shenanigan's Nightclub! The Texas City nightspot has been around for over 3 decades and is still going strong! Open 7 days a week, they have pool, darts, big screen TV's, and weekly specials. Those include a Men's Night Dart Tournament Tuesdays, Ladies' Night Wednesdays and a pool tournament Thursdays. DJ Steve is there Friday Feb. 9th, Sat. Feb. 10th, and Sat. Feb. 23rd. Bring your sweetie to the Valentine's Day Celebration Wed. Feb. 14th for a free raffle and candy. Shenanigan's is found at 820 34th St. North in Texas City. Discover more on the club at www.shenanigansworld.com.
---
Frank's Pizza is "downtown and downright good"! Try the best pizza in the downtown area. You can pick it up, or have it delivered if you live downtown, as Frank's is at 427 Travis @ Prairie Street. Just call 713-22-PIZZA. Also, now you can get $2.00 St. Arnold's beer. See magician John Star Fri. & Sat. from 7pm-10pm. Come on out and see why Frank's Pizza has been voted #1 in pizza in the downtown area!


---
Serving Houston, Tx and the surrounding areas.
Music News covers all kinds of music from Rock to Country and Alternative to R&B..