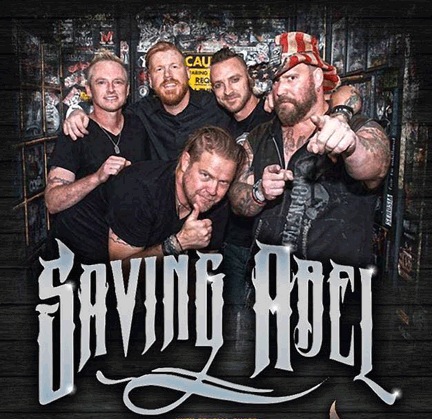 Saving Abel Perform at The Concert Pub North February 10

Formed in 2004 by vocalist Jared Weeks and guitarist Jason Null, Saving Abel combine riff-heavy hard rock with sexually charged lyrics and Southern rock influences. The quintet took root in Corinth, MS, where Weeks and Null cut their teeth in different bands before merging their songwriting talents. In early 2005, the duo attracted attention from producer Skidd Mills, who invited Weeks and Null to record in his Memphis studio. Juggling day jobs and regional gigs, the two began driving back and forth between Corinth and Memphis, sporadically recording their self-titled EP with Mills while putting together a full lineup consisting of guitarist Scott Bartlett, bassist Eric Taylor, and drummer Blake Dixon.
Within a year, the EP had earned Saving Abel a contract with Virgin Records, and Mills returned to produce the group's full-length debut. Combining new material with the EP's best songs, the self-titled album was issued in March 2008. It went gold within a year, with the lead single "Addicted" cracking the Top 40 and nearly topping the modern rock charts. While touring the country in support of the album, Saving Abel began playing new material, most of which appeared on the sophomore album Miss America in 2010.
On May 14, 2012, Saving Abel debuted their new single "Bringing Down the Giant". Their third album, Bringing Down the Giant, was released on July 17, 2012. They went on a Summer/Fall tour to promote their new album.

On May 21, 2013, Saving Abel released information on their website regarding their upcoming EP release, Cracking the Safe, which was set to be released on August 6, 2013.
December 26, 2013, Jared Weeks posted on the band's Facebook that he would be leaving the band to pursue a solo career. Scott Austin, frontman for Trash The Brand, was announced as Weeks' permanent replacement as lead singer. The same day drummer Michael McManus announced his departure from the band via Twitter. No reason was given, nor did Saving Abel comment on McManus leaving the band.
November 11, 2014, Saving Abel released their latest album titled "Blood Stained Revolution". Their latest single off the album was released on February 22, 2015, titled "15 Minutes of Fame."
On June 14, 2017 the band announced via their Official Facebook Scott Wilson; former Tantric will be joining and replacing Eric Taylor. At the same time they announced the return of Blake Dixon on Drums replacing Steven Pulley.


---
Serving Houston, Tx and the surrounding areas.
Music News covers all kinds of music from Rock to Country and Alternative to R&B..