I Had The Chance To Go
By Jay Lambs Remy
I HAD THE CHANCE TO HANG OUT WITH
Cinematic Manipulation which from 1999 - 2011, Cinematic Manipulation started his journey in music under the name DJ Question?. After seeing video manipulation turntablist, Mike Relm, open up for Blue Man Group in 2011, he was inspired to work with video and music. Thus, VJ R-M8E was born! After changing his name to VJ R-M8E in 2011, he had truly found his passion of combining video and music into one live performance. He calls this "Cinema Electro", which is a perfect blend of fusing audio and video mixed live! In early 2013 VJ R-M8E started creating live songs by mixing nothing but movie clips as instruments. August of 2015, VJ R-M8E hung up the videos and headphones for a short hiatus to start taking things to the next level! Summer of 2016, he started working on new material and taking it to a whole new level! He could of come back with the old VJ name, but wanted to start back up under something new... something never seen before... something that is way before it's time... something called Cinematic Manipulation! Upcoming Shows: February 17 ­ Zion: TBA https://www.facebook.com/events/1580082195420372/ February 24 ­ Spring Fling Party: Avante Garden https://www.eventbrite.com/e/spring-fling-party-tickets-42505526173?aff=efbneb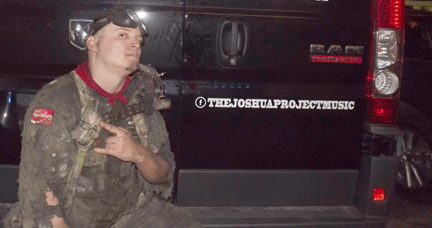 I HAD THE CHANCE TO HANG OUT WITH
The Joshua Project, which first began as a side project for Joshua Lowry while in between, bands. Joshua eventually created a Myspace page for the project to introduce others to the music and receive feedback. As a result of this, he began to draw a small following with interest in an album or a show. Thriving on this and other feedback, He continued to write more music on the side, which served as an outlet to express other musical interests, while maintaining a part of the Houston metal scene.
Once he enough songs were written to compose an album, Joshua reached out to Mike BBQ in 2008 to record his debut album, "428." Shortly after its release however, Joshua stepped away from the music scene so he could focus on his education and professional career outside of music. After a 7-year hiatus however, while in pursuit of his Master's degree, Joshua once began to hear the music.
As a result, in 2015 he began writing music once again for his sophomore effort, tentatively entitled "WWIII." This new album focuses on the research he conducted in graduate school, as well as other issues of social justice. Joshua hopes to use his music and high energy, theatrical, and (possibly) controversial performances to draw attention to these important issues. The album was initially scheduled for a mid-late 2016 release with a subsequent tour to follow, however it may be pushed back to an early 2017 release date. The Joshua Project is an industrial performance art musical experience, with emphasis on the importance of individuality, diversity, collectivity, and social justice. Contact Joshua at thejoshuaprojectmusic@hotmail.com
I HAD THE CHANCE TO HANG OUT WITH
Bear the Burden a metal core band based out of Houston, TX. with a start as early as 2015. The group began practicing and performing shortly before 2016. Early on, the group faced all of the challenges that come with being a metal band in a city with a small scene. Despite this, in a year's time the group has performed with industry veterans such as He is Legend, Norma Jean, Oh, Sleeper, and most recently After the Burial and Emmure, garnering a local circle of fans that seem to make it to almost every event. Since then, the group collaborated with Brad Lambert (Hindsight, Day of Reckoning) to record their debut single "Stand your ground" and make a splash. Soon after, they followed up with the Kritikos brothers of Southwing Audio to record two more songs for a self-titled EP release. They are currently working on new material for a full-length release and performing in town. Band Members are Roger Soza drums, Sean Adams on Lead guitar, Tony Eddy on Rhythm, Kevin Davis on Vox and Brendan Murphy on bass. They are currently working on a full-length album! Upcoming Shows: March 6th at Houston Underground with Norma Jean, Gideon and Toothgrinder, April 20th at BFE Rock Club with the Convalescence.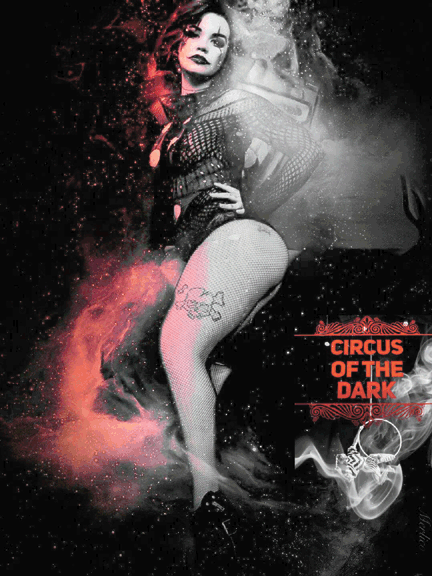 I HAD THE CHANCE TO HANG OUT WITH
Circus of the dark which started Just Recently, a group of models, photographers, artists, dancers, and more that help out bands events as well as parties. Circus Of The Dark features models such as Amy Gates, Lacey Waller, Cyrina Crystal, Amanda Dimaria, Tyler Smith, Kim Lester, Leda Patterson, Kitty Fowler, Jay Lambs Remy, Asia Miller, Judith Ann Murrell And Many More. We Also Have International Models Such As Lilith May Of Ireland, Lycana Aradia Gangrel Of Chile, And Rochelle Dupre Of Norway. We Feature Legendary Champion Body Paint Artist Ricky Ortiz of Houston, plus The Iconic Rosie Nation a Pole Silks Performer who has been pole dancing for almost 8 years. She is a principle performer for Kinky Circus. She's won numerous pole fitness competitions and is currently reigning Master Division champion for Texas Pole fitness. Rosie specializes in polesque performance and is a brand ambassador for Unite Pole Artists and Fabpole Rosie Nation Pole Aerial Artist She Is Our Legendary Female RingMaster Of Circus Of The Dark. Circus Of The Dark Also Has A Free Independent Record Label which is happy to add more people to its growing roster of over a hundred artists worldwide and, a TV shows coming this year! Now Booking Its Tour Message Jay Lambs Remy ASAP! We Help Many Bands Artists Photographers Models and More Build Their Portfolio. Started By Jay Lambs Remy Who Formerly Assisted Suicide Girls, Rob Zombie, Slipknot, Twiztid, And Bone Thugs N Harmony. Currently Of Surrender Stella, Bad Hatter, In Wonderland, Lil Tarus, Gotham's Gangsters, Lamb to the Slaughter, The Tenebrian Machine, And Many More. Here are some links to some to the Circus of the Dark Pages www.facebook.com/circusofthedark www.facebook.com/circusofthedarkrecords www.facebook.com/circusofthedarktv www.facebook.com/circusofthedarkart www.reverbnation.com/label/circusofthedarkrecords ww.twiter.com/CircusOfDark and www.facebook.com/jaylambsremy
Icons at Badassery would like to honor Kalique McMillian AKA IFLOWZ. After only 4 months of relocating to Houston and resurfacing his entertainment company IFLOWZ ENT. He became a freelance member of the US press agency and puts on his thinking cap after enlisting at Media tech Institute of Houston, formally known as Sunrise studios where Destiny's Child recorded they're debut album "WRITING ON THE WALL". He is currently studying and taking a degree at M.T.I. In Digital Film, where he plans to create short films as he continuously works on his debut premier documentary film "I AM MESHA P". A production that highlights an official member of the NRA and victim of domestic violence Jamesha Spence known to local underground as Mesha P. He interviews and highlights reels of moments in her life as a hip-hop icon on the rise from Flint, Michigan here in the heart of Houston Texas. IFLOWZ uses his Instagram at http:www.instagram.com/iflowzent as a platform to brand and expand artist reach creating Excalibur one minute promo clips for such artist and bands as Dre B of Killeen Texas, Surrender Stella of Houston Texas, K Breezy and Cristel Meth of Charlotte NC and many more. When asked "what is your goal and what do you plan on achieving from what you are doing". His response was simple. He had something to say along the lines of, "Think of Roc Nation, it's an all in one stop shop for artist, there you can find a record label, publishing, marketing, promo, video, photography, PR service etc. and mainly for artist on a major level. Now ask yourself who are they're competitors? Outside of stingy record label who want to own and delegate the talent, there's no one! Now imagine a service like Roc Nation but for artist of all levels! That's where I come in! I plan to bring back socialism to social entertainment. Besides that, he wants create films and tell great stories because I love editing footage and see myself as the next Spike Lee, Hype Williams, and Quentin Tarantino all in one. I am entertaining, I am entertainment!" It is with great honor to entitle Kalique McMillian as an Icon at Badassery. Thank you for all the hard work!

---
Serving Houston, Tx and the surrounding areas.
Music News covers all kinds of music from Rock to Country and Alternative to R&B..