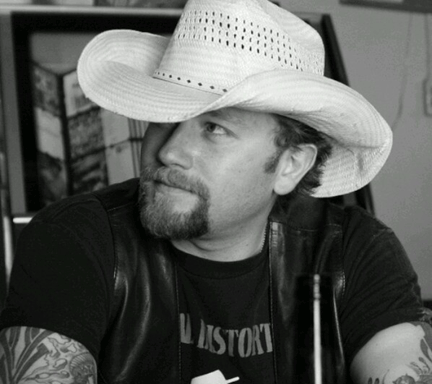 Jackson Taylor Performs at The County Line February 20

"Hard to Be an Outlaw (Who Ain't Wanted Anymore) came from one of the wild conversations with my roughhouse, rounder, one and only, real brother. Far as I'm concerned, straight shooting, greatest entertainer, songwriter, kickass, lives life to the hilt, outlaw who ever lived ­ or will live - my best friend, Jackson Taylor." - Billy Joe Shaver.
When you're immortalized in a song written by the likes of Billy Joe Shaver, and recorded by Billy Joe and Willie Nelson, there really is not much more to say than a few facts
Since 2001 Jackson Taylor has been one of the most prolific songwriters and recording artists of any genres of music, with over a dozen CD's and multiple times on Billboard's Top 100 list. All without record companies, management, booking agents, or publicists. Jackson Taylor personifies true independence.
Born the youngest son to a migrant farm worker, Jackson spent his youth living the modern equivalent of Steinbeck's, "Grapes of Wrath." With a background much more akin to Merle Haggard and Buck Owens, than his contemporaries. Jackson's music reflects his adolescence of hard labor and poverty. Growing up working and living in the California, Washington, and Montana fruit ranches. Jackson's musical influence crosses many boundaries. He has recorded with red dirt legend Jason Boland, and Austin Texas legend Dale Watson. Jonny Two Bags, the lead guitarist of Southern California's punk innovators and royalty, Social Distortion. As well as rockabilly troubadour Lucky Tubb, and south Texas rockers the Pear Rats. He has shared the stage with everyone from Lynnrd Skynnrd and The Black Crowes, to Willie Nelson and Billy Joe Shaver. Much of Jackson's career early on was marred by excessive drugs and alcohol, and violent outbursts. Cementing his image as a wild and out of control artist. Leading him to being blacklisted from many venues across the country and internationally.
The last five years, Texas music's baddest boy has made good, found his center, and was offered his place in Texas music history by recording a Live at Billy Bob's CD/DVD in 2013, which would have been unthinkable just a few years before.
Jackson now lives in Denver, CO with his wife, writing books, painting, and turning his manic energies into a constant flow of creativity. He and his band The Sinners, continue to tour and put out records. And as the wild times fade into memory, Jackson Taylor is showing to be as resilient as he is prolific.
Jackson Taylor is a story teller, plain and simple. Jackson Taylor tells stories about what he knows ­ life. Jackson's lyrics paint tales of lives filled with passion and joy as much as of a life tainted by sorrow and disappointment ­ his life. Jackson sings of heaven and hell, beauty and grit ­ Jackson sings of real life. Jackson Taylor specializes in a good old outlaw country sound with his band, which ignites with enough punk energy to go over on any stage the group takes and with enough Southern rock elements and pure straightforward songwriting to always leave a lasting musical impression. Taylor was born in Moody, Texas (just north of Austin) to migrant working parents, one of 11 siblings, and his childhood was a nomadic one, moving from labor town to labor town. Taylor's main cultural constant during this time was the country music his father so treasured, and Taylor grew to love it himself and was soon trying his hand as a musician. He eventually graduated from high school in a small farming community in the state of Washington, moving almost immediately back to Texas before trying his hand in Nashville. There he found work as a songwriter, but somehow the often sheep-like following of the town's music business didn't sit well with him and Taylormoved on to New York, then to L.A., and eventually back to where it all began in Texas, signing with Paul Gaske's independent Gaske label. Now working with a solid band, the Jackson Taylor Band, he released a solid series of albums, including Hollow Eyed & Wasted, Humboldt County, Gypsies & Drifters, Easy Lovin' Stranger, Goin' Down Swingin', The Whiskey Sessions, and, switching labels to the Smith Entertainment Group, 2007's Dark Days and 2009's Aces 'N Eights. The ensuing years saw Taylor operating both solo and with the newly minted Sinners, releasing a string of hard-driving country-rock albums including Crazy Again, Let The Bad Times Roll, Which Way Is Up, and Cantina Del Diablo.
Billy Joe Shaver summed up it up best when he said, "Jackson's songs are so real and honest, you know straight off he's been there and done that. He writes and sings like he lives, great songs that I believe will live forever."
---
Serving Houston, Tx and the surrounding areas.
Music News covers all kinds of music from Rock to Country and Alternative to R&B..