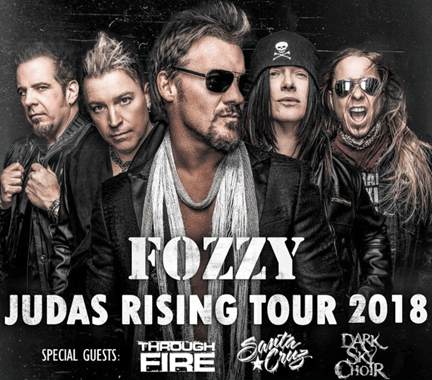 Fozzy Perform at the Scout Bar March 1
FOZZY, the active rock band led by Chris Jericho, will continue to rock their fans across America on their Judas Rising Tour with newly added tour dates in 2018. Set to launch February 28 in New Orleans, LA, the 25-date trek will take the band (Jericho: vocals, Rich Ward: guitars, vocals, Frank Fontsere: drums, Billy Grey: guitars and Paul DiLeo: bass) from east to west, including stops in Los Angeles on March 10 and New York City on April 5, before bringing them back across the country through the spring. Through Fire, Santa Cruz and Dark Star Choir will round out the bill for the night of rock headlined by FOZZY.
"I'm stoked to do this extensive tour of the States now that 'Judas,' the song, is a Top 5 rock radio hit and Judas, the album, has gone top 40!" says Chris Jericho. "Fozzy is bigger than we've ever been, which means bigger production, bigger songs and bigger lighted jackets! So we can't wait to rock your literal socks off starting in February!! JUDAS IS RISING!"
The upcoming tour dates come on the heels of the October release of the band's seventh album, JUDAS (Century Media), which Loudwire named as one of the top 25 albums of 2017, saying the band has continued "honing their craft and steadily improving. JUDAS is their most polished and fully realized album, and should be their most successful, as well."
"I started playing guitar because of how deeply powerful the experience of going to concerts was for me," Rich Ward adds. "With a hit single and a new album pushing Fozzy to new heights, I can't wait to get back on the road in America to capture the power that only live music can create. Make sure to bring a helmet and your dancing shoes when Fozzy rolls through your town."
The album's title-track and single "Judas" was released in May 2017, becoming a top 5 hit at active rock radio. The song also spent five weeks at number one on the highly influential 'Big Uns Countdown' on Sirius/XM's Octane channel and has amassed over 11 million views for its video on YouTube (view here). Cryptic Rock (10-13-17) says the song is "A passionate and bombastic tune showcasing the band's irresistible energy and uncanny ability to rock hard, it is as good as it gets."
In their more than 20-year career, FOZZY FOZZY-Chris Jericho (vocals), Rich Ward (guitars, vocals), Frank Fontsere (drums), Billy Grey (guitars), Paul DiLeo (bass) - has always been about hard work, dedication and delivering great rock n roll to their devoted fans worldwide; reminding them that music is all about invoking dirty, sweaty jubilation and doing it loudly! However, calling them just "entertainers" would be abridging their talent as Ward is one of the most versatile, underrated riffers in rock n roll and Jericho's vocal range and passion for music makes one wonder just how he is able to excel in pretty much everything he does. Throw in the powerhouse rock solid drumming of Fontsere, the blazing leads of Grey and the genius and energy of returning bassist DiLeo and it's no surprise that FOZZY has skyrocketed into becoming one of the hottest rock acts in years.

According to a series of short films broadcast on the Internet, Fozzy is a legendary American metal band who, unable to get out of their record contract, spent 20 years in Japan; when they returned to the U.S., lead singer Moongoose McQueen and the rest of the band found that artists like the Scorpionsand Ozzy Osbourne had become stars by stealing Fozzy's material. In reality, Fozzy is fronted by WWF wrestler Chris Jericho, with the remainder of the group consisting of Atlanta rap-metal outfit Stuck Mojo.
Shortly after the videos were introduced in October 2000, Fozzy's self-titled debut album was released by Palm Pictures/Megaforce as a tie-in. A short tour and an MTV special (no doubt due to the WWF's contract with the network's parent company) led to minor recognition from the metal underground, but Jericho's wrestling commitments cut the band short after its release. Still, after Stuck Mojo wrote and released an album, and Jericho won the heavyweight championship, they came back together and recorded another album, this time with writing contributions from Jericho and guitarist Rich Ward. The results, Happenstance, were released on Megaforce in the summer of 2002.
2005 saw the release of All That Remains, the group's first collection to feature all-original material. The album sold over 100,000 copies and was generally well received by both fans and critics. Chasing the Grail, released in 2010, helped to further cement the band as not only a legitimate, populist metal act, but a force to be reckoned with as well. Released in 2012, Sin and Bones, the band's third collection of originals, premiered at number one on the Billboard Heatseekers chart, eventually making its way to the coveted Top 200 albums chart, while 2014's Do You Wanna Start a War proved to be the band's most successful outing to date, debuting in the number 53 slot on the Billboard Top 200 and cracking the Top Ten on the Hard Rock Albums chart. In April 2017, the band released the title cut from their seventh studio long-player, Judas, which arrived later that October.


---
Serving Houston, Tx and the surrounding areas.
Music News covers all kinds of music from Rock to Country and Alternative to R&B..