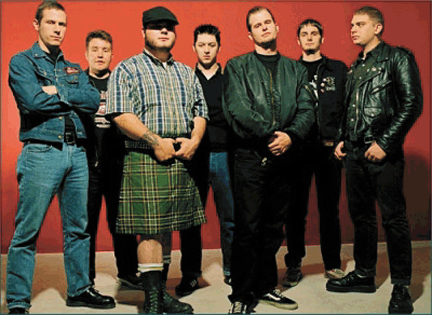 Dropkick Murphys Perform at Revention Music Centre on March 3
Dropkick Murphys have announced the dates for their headlining St. Patrick's Day Tour 2018. Tour openers include New York Hardcore icons Agnostic Front and Boston ska pioneers Bim Skala Bim, who both have a long history with Dropkick Murphys and have shared bills with the band since the early days of DKM. Bim Skala Bim was a co-opener for The Mighty Mighty Bosstones' "Boston On The Road" tour in 1997, which introduced Dropkick Murphys to a national audience. Dropkick Murphys and Agnostic Front last toured the US together in 1998, which was followed by the DKM/AF 7" split Unity in 1999. Bim Skala Bim will be supporting them on their Houston Show March 3rd at Revention Music Centre.

Dropkick Murphys-Al Barr (lead vocals), Tim Brennan (guitars, accordion, mellotron, whistles, vocals), Ken Casey (lead vocals, bass guitar), Jeff DaRosa (banjo, bouzouki, mandolin, harmonica, acoustic guitars, vocals), Matt Kelly (drums, percussion, vocals), James Lynch (guitar, vocals)- are touring in support of their 11 Short Stories Of Pain & Glory album, released through the band's own Born & Bred Records earlier this year. The album debuted at #8 on the Billboard Top 200 and was the #1 independently released album. There's a feeling of purpose throughout the album, influenced by the band's work with The Claddagh Fund, a charity the band established in 2009 to help support addiction recovery as well as children's and veterans' organizations. Dropkick Murphys are hands-on in raising funds, mentoring, and lending a helping hand with veterans, youth sports, and drug and alcohol rehabilitation. Many of the songs reflect these experiences, and the band's sadness, anger and dismay at the opiate epidemic ravaging the country - in particular, Boston and New England - and also their feeling of pride and optimism at the sight of those who have turned their lives around. Dropkick Murphys have become ambassadors for their city. In Boston, it seems like everybody knows someone connected to the band whether by blood, friendship, or the time they shared a brew at a Bruins game. They've built a legacy that does Beantown proud.
---
Serving Houston, Tx and the surrounding areas.
Music News covers all kinds of music from Rock to Country and Alternative to R&B..