"Serving Houston, Texas and the surrounding areas"
Music News covers all kinds of music from Rock to Country and Alternative to R&B
Your complete source for everything musical
STREET BEAT
Don't look for another copy of Music News again! Now, you can have it directly delivered to your home or business absolutely free. That's right, we said FREE! All you have to do is e-mail musicnew@airmail.net and in the subject line put "Sign me up now"! Then you can have the latest issue of Music News magazine sent directly to your inbox. Be the first to know about late breaking news, and receive periodic Eblasts about special events, concert updates, as well as info on other cool things going on in our great city!
We'd like to congratulate Tysha Serenity Barksdale on her new position as bar manager at Blue Steel Bar & Lounge on Homestead Rd. in Houston. Way to go!
Tonight on The Pub Fountains stage it was former Skid Row vocalist and solo star, Sebastian Bach. The weather was great and the sound was even better when Sebastian took to the stage. He put on a fantastic show performing all the old Skid Row hits we know him from, as well as a lot of great material from his solo career. The place was packed and there wasn't an empty seat on the patio at all. People crowded the stage for a good view of him and their exuberance for him helped fuel the show. It was really one of the best shows I've seen at The Pub Fountains so far. Sebastian was in high spirits and truly put on one of the best shows I've ever seen him do. He was fantastic. But you can judge this for yourself. We have two videos of him performing there this night for you to check out on HMNTV - Houston Music News Television at http://www.houstonmusicnews.net. You can start watching them right now. Here he is performing Skid Row's "I Remember You" and Skid Row's "Big Guns."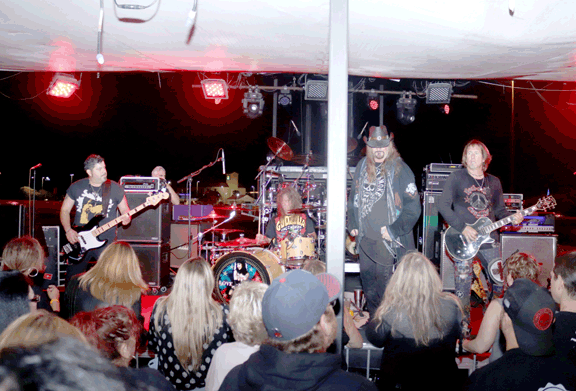 One of the opening acts for Sebastian Bach was Love and War. These guys did an excellent job as well this night, performing some great original tunes. It was definitely a pleasure seeing them perform this night. This band is one of the most popular bands in Houston and you can usually find them opening up for some of the biggest acts coming through Houston. Love and War is John Adams (guitar and vocals), Jeff Vandenberghe (lead vocals), Donnie Bragg (drums) and Ray Soliz on bass guitar. Congratulations guys on a great show and a great performance. We hope to see you again soon.

Merry Christmas and Happy New Year from your friends at The Pub Fountains, The Pub Galleria, The Pub 529, and The Pub 36!
No matter, which pub is closest to you or you choose to go to, there's always something going on!!
At The Pub Fountains: Check out live music like The Spotlights Sun. Dec. 3rd, and Sun. Dec. 17th. Get your karaoke fix with Karaoke Mondays along with $5 burger baskets. There's live music on the patio with The Steamers, and $5 tacos. $9 cent wings on Wednesday and Sunday! The Pub Fountains can be found at 12720 SW Fwy in Stafford. Find them online as well at www.pubfountains.com.
At The Pub Galleria: See live music on Fridays like Children of the Sea (a Dio tribute) Fri. Dec. 15th, David DelaGarza Fri. Dec. 22nd, and Steve Garcia Thurs. Dec. 29th. Also, they have karaoke on Mondays with DJ Karaoke X, plus Steak Night!! Then either an open mic or karaoke on Thursdays. $2 burgers Monday-Friday from 11am-3pm and 49 cent wings on Wednesday and Sunday. The Pub Galleria is at 5636 Richmond Ave. in Houston. Find out more at www.thepubgalleria.com!
The Pub 529, at 15444 FM 529 Rd. has karaoke on Wednesdays along with Ladies' Night, and $2 margaritas and $3 crown. $4 You-call-its on Thursday, and a live DJ on the weekends! Check out more at www.pub529.com.
The Pub 36 is, you guessed it...at 13400 Hwy 36 in Needville. They have live music on Fridays, like The Spotlights Fri. Dec. 8th, and Fri. Dec. 29th. Get your 49 cent wings Wednesday and Sunday, and keep up to date at www.pub36.com.
Join us at any location Sunday night, Dec. 31st for a great New Year's Eve celebration! See you soon!!
We went out to The Americana Houston on Bingle this night to see The Eric Korb Band. We'd heard a lot of good things about Eric, so we figured it was time to check him out. Eric Korb is a veteran of the thriving Alternative Rock scene in Dallas in the early 1990's. Eric played with several bands including The Cowtippers, Whitey, Trio of One, and a brief stint with Billygoat. Eric moved back home to Houston in 1994, and since then he has worked mostly as a singer/songwriter and lead guitar player. Eric has worked in the studio with several local artists including Kimberly M'Carver, Phillip Rodgriguez, Scott Phegley, Theresa Kolo, and Fred Parrott. Eric also plays in a few different local bands...900Lbs, Kimberly M'Carver Band, and The Texas Toast. Eric's singing and guitar playing is unique and engaging. He brings intense passion to his music and always gives his audiences a great show. Tonight's show was no exception. Eric performed a variety of music from Blues to Rock featuring performances of Nazareth's "Love Hurts," "Cream's "Crossroads" and "Sunshine Of Your Love," as well a few originals. It was definitely a well rounded set and we all had a great time listening to it. We've got a couple of videos for you to check out from this night, so tune in to HMNTV - Houston Music News Television at http://www.houstonmusicnews.net for a couple of great performances.

The Americana is Houston's latest and greatest live music & sports bar right in Spring Branch! It features country, blues, folk, rock, jazz and more...and there's no cover on regular music nights! Those nights are Thursday, Fridays, and Saturdays. Greg Day & Lisa Lyric perform Thurs. Dec. 7th. Then Charlie Harrison and Friends are there Sat. Dec. 16th. See Marina Rocks & Ken Gaines Fri. Dec. 22nd. The Americana is at 2957 Bingle Rd. at Kempwood in Houston. Get more info at www.theamericanahouston.com.
We dropped by one of our new favorite hangouts this month, The Hellcat Cafe, to see Latin superstars, The Kool Kats. This was definitely a trip worth taking. These guys put on one of the best shows we've seen all month. This band is comprised of members from several different local bands including the Mambo Jazz Kings. Each one of these musicians is a star unto themselves and the show was really extraordinary. They were covering all sorts of genres of music with songs from Boz Scaggs, Barry White, Kool and the Gang and even The Temptations. We've got two videos from this show to share with you, so just go to HMNTV - Houston Music News Television at http://www.houstonmusicnews.net and start watching them now. Here they are performing Junior Walker & The All Stars' "What Does It Take (To Win Your Love), along with a coll Latin number. Looking for something different, try the Hellcat Cafe. You never know what kind of act will be on their great outdoor stage.

The Hellcat Cafe is Magnolia Park's one-and-only rock and roll pub! There you'll hear nonstop classic and 80's music. Friday nights have free pool all-night and domestic beer buckets. Live music this month includes Sabbath Judas Sabbath (a Judas Priest/Black Sabbath tribute) on Sat. Dec. 2nd, Black Mountain (Black Sabbath tribute), and Fri. Dec. 8th, then Fri. Dec. 22nd is Christmas Party with Space Monkeys! The Hellcat Cafe is at 306 7th. St. in Houston. Have a blast here!
Live Nation has all the biggest shows coming to town! If you look, you're sure to find something to suit you. Some of the tickets available at their site:
Arena Theater has The Brian Setzer Orchestra Christmas Rocks! Spectacular brought to you by SiriusXM Radio Sun. Dec. 10th.
House of Blues has a few things going on too: The Houston Jazz Orchestra Christmas Show is Mon. Dec. 4th. Hard rockers Clutch are there Sun. Dec. 10th, then a little country with Eli Young Band Sat. Dec. 30th.
Revention Music Center rocks out with Chevelle and 10 Years on Sat. Dec. 2nd and then Spanish singer Rosario Flores Fri. Dec. 15th.
At Smart Financial Centre: You can see Amy Grant and Michael W/ Smith w/ special guest Jordan Smith Sun. Dec. 3rd, and then see Houston Ballet's The Nutcracker Dec. 10th-23rd. Then see Mannheim Steamroller Fri. Dec. 29th.
At the Toyota Center: Sun. Dec. 3rd Lady Gaga is in the house, and Thurs. Dec. 21st Trans-Siberian Orchestra is back in town!
Get your tickets now at www.livenation.com.
For one night only, it's the 6th annual The Gift Remains the Same Christmas gift drive! The fun is at Concert Pub North Fri. Dec. 8th and has the music of Led Zeppelin performed live! The toy drive benefits Child Advocates and a new, unwrapped toy gets you in the door. Here's some of the performers: Jeff Ball, Zach Keener, Mike Lambert, Doug Pritchard, Nathan Stellman, Darby Usey, and special guest stars Kevin Cody, Randy Folk, Steffany Johnston, Mike Porterfield, Russell DeLeon, Sherree B. and more! Concert Pub North is at 2470 FM 1960 Rd. West in Houston. Hope to see you out there!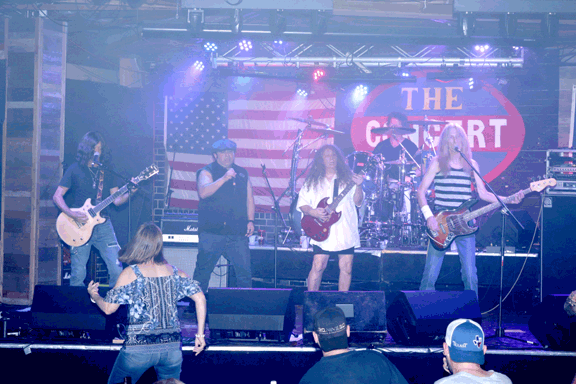 We were in the mood for a little AC/DC, so we headed over to The Concert Pub North to see TNT. TNT is the hottest AC/DC Tribute act around. We've never seen a bad show or heard a bad note from these guys. They're the next best thing to going to an AC/DC concert. Tonight's show was really good. We were treated to do different versions of AC/DC... The Bon Scott AC/DC and the Brian Johnson AC/DC. Both of these really kicked ass. Rather than bore you about how much we liked these acts, we're going to do the next best thing. We're going to treat you to two performances from them. Just go to HMNTV - Houston Music News Television at http://www.houstonmusicnews.net and you can start watching them rock your world. Watch them perform "It's A Long Way To The Top (If You Want To Rock and Roll," complete with bagpipes. This one really rocks!! This is the Bon Scott version of AC/DC. There is also a video of them performing "Hells Bells," The Brian Johnson version of AC/DC. Check 'em out now!!

Also at The Concert Pub North, there's more great live music throughout the month. Check out these upcoming shows: Nightbird, a Stevie Nicks/Fleetwood Mac tribute Sat. Dec. 9th. Then Deadhorse Fri. Dec. 15th. Guns N Roses tribute Guns 4 Hire is Fri. Dec. 29th. Don't miss out on #1 Beatles tribute The Fab 5 for their Christmas party Sat. Dec. 16th, and the New Year's Eve party Sun. Dec. 31st with Escape, a Journey tribute with a special guest, and champagne toast at midnight plus party favors. At the boat next door, there's karaoke and trivia most Friday and Saturday nights. The Concert Pub North is at 2470 Cypress Creek Pkwy. @ Kuykendahl. Keep up with the latest there by going to www.theconcertpub.com! The Concert Pub North is your destination for the best entertainment on the Northside of Houston!
MArlo Blue and Guys Schwartz present Guy Schwartz's Music Machine, 10pm Friday nights on Houston Comcast's channel 17! Fri. Dec. 8th it's South By Due East Television #110 featuring Kim Carson, The Share Fire, Satin Hooks, Pete Simple, and Zak Perry teaches the band a song! Fri. Dec. 15th it's HippiesTV #1703- Guy Schwartz & The New Jack Hippies live at The Green Oaks Tavern. Then on Fri. Dec. 22nd it's South BY Due East Television #111 featuring The Bad Credit Band, Giant Kitty, Freddie Pate, New Clear Weapon, plus Roger Dawson teaching the New Jack Hippies a song. The next week, Fri. Dec. 29th it's South By Due East Television #112 featuring Iron Skillet, Kronika, Randy Meadows, Ganesha, plus Jimmy Lee Dean teaches The New Jack Hippies a song. You can also check these episodes out online at www.hmstv.org and archived on youtube at youtube.com/siriushippies.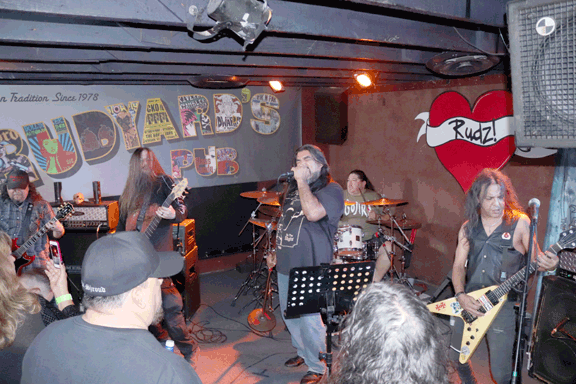 Tonight Rudyards British Pub presents Las Cruces from San Antonio. Las Cruces is a Doom Metal Band that was formed back in 1994 by George Trevino out of the ashes of Sound Asylum and Legion. Since it's inception, Las Cruces has opened for bands such as Monster Magnet, Overkill, Kyuss, and SolitudeAeturnus to name a few. Needless to say, their show this night at Rudyard's was nothing less thatn HEAVY! It was a good show. We're looking forward to seeing them again soon.
Rudyard's, in Montrose, has an upstairs and a downstairs area. It never has a cover in their downstairs area which has darts, pool, big screen TV, and a full bar with 18 taps! Their flame grill is open 7 days a week at 11:30am until late. Mondays have A Couple of Stand Up Guys- stand up open mic at 8pm, and Tuesdays are Industry karaoke nights downstairs at 9pm. Wednesdays have the Houston Reddit board game meet-up upstairs from 6pm-midnight. Also during the week, you can see a bunch of original rock bands. Sat. Dec. 9th you can see Paper Gliders, Moe Lerma, Forever Miles, Le Chien Freud. Then Tues. Dec. 19th has Grown Up Story Time upstairs. Fri. Dec. 29th see Winter Wonderglam w/ Dead Roses and Killer Hearts. For booking info, call 713-521-0521 from 1:00pm to 3:00pm. All the best live music in Montrose is Rudyard's!
The Big Easy is Houston's "social & pleasure club". There is live music every day of the week! It all starts on Sundays, with live zydeco music 8pm-midnight, then Mondays still have music by John Egan, then Tuesdays now has the Big Easy Trio! Wednesday it's the Big & Easy Blues Jam- all musicians welcome! Thursdays have Luther & The Healers. No cover for any of these shows. For a $5 cover you can see Brad Absher for his going away party Fri. Dec. 8th. Then see Keeshea and Shawn Sat. Dec. 16th and Grady Gaines Fri. Dec. 22nd. Be sure to catch the Houston Blues Society Blues Jam hosted by Steve Gilbert Thurs. Dec. 28th, and the New Year's Eve bash with Mark May. Join the party at The Big Easy and "laissez le bon temps rouler!
Warehouse Live is the large entertainment venue that has 3 rooms to serve you. These rooms are the Ballroom, the largest of the three, then the Studio, which is more intimate, and The Green Room, used for special events. Some of the shows you can see there this month are: Trivium & Arch Enemy with Special Guests Fit For an Autopsy in the Ballroom Wed. Dec. 6th, and then check out Us and Them, The Pink Floyd Experience Sat. Dec. 9th also in the Ballroom. Then it's back to the 80's with Gary Numan Fri. Dec. 15th in the Studio. Warehouse Live is at 813 St. Emanuel St. in Houston. Hope to see y'all out there this month.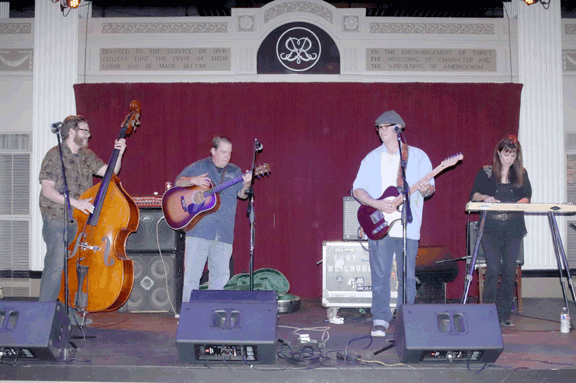 "The King of Juke Joint Swing," Wayne "The Train" Hancock brought his original blend of Honky Tonk, Western Swing, Blues and Big Band sound to Rockefellers this Friday night. Authenticity and sincerity have been the cornerstones of Wayne's writing and music since the start of his career, and his refusal to compromise his vision and sell out his music has earned him a fiercely loyal underground following. His show tonight at Rockefeller's was certainly a lot of fun and the folks there just couldn't get enough of it. Applause after applause at the end of each song definitely signaled that they were extremely happy with his performance this night.
Rockefeller's is the well-known venue in Houston where they have live music, private events, a full bar and free parking. You can get tickets now for the following shows: Scott H. Biram with The Yawpers Sun. Dec. 10th, and Mary Griffin Thurs. Dec. 14th. Then Loc Nation presents New Year's Eve Party "The Get Down" Sun. Dec. 31st. Tickets for shows can be bought at ticketfly.com. Rockefeller's, at 3620 Washington Ave. is Houston's premier live music showcase! Book your holiday parties now by calling 713-862-4070. Check them out online at www.rockefellershouston.com.
Sam Ash Music Stores are having a grand opening sale!!! The sale will be going on during the entire month of December. This newest location is at 9941 North Freeway in Houston, formerly Hermes Music. Shop the largest selection of instruments, equipment, and gear in town at guaranteed lowest prices! Gibson, Yamaha, Fender, Taylor, Roland, it's all here. And now, clip the coupon in THIS issue of Music News for $50 off any purchase of $299 or more! Expires Dec. 31st. Plus, 0% interest for 36 months!! Now's the time to shop for the holidays at Sam Ash!
A cool new place to see live music near the Heights in Houston is White Oak Music Hall. Touring bands come here, like The Neighbourhood Fri. Dec. 8th, Dead Kennedys with special guests on Fri. Dec. 15thm and Agnostic Front with their 35th anniversary tour Sun. Dec. 17th. White Oak Music Hall is located at 2915 N. Main St. Get tickets at www.stubwire.com.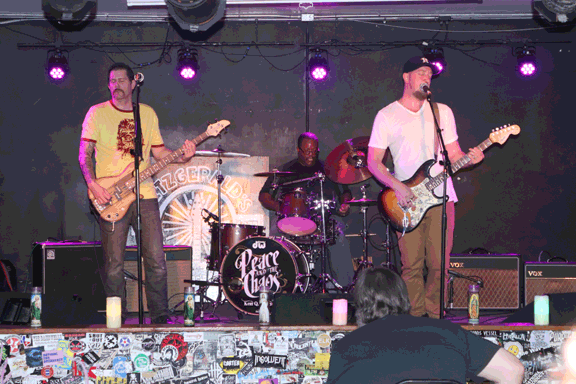 Peace and the Chaos perform this night at Fitzgerald's. The band hails from the Beaumont area and has created quite a following. Members of the band are Billy Beaumont (guitar, vocals), Lenwood Sonnier (bass vocals), and Ken Q. Turner on drums. Their slick combination of Blues and Rock make for a unique sound all their own and the band has a lot of great original material. You need to check these guys out.
It's The Contagious, live on the downstairs stage at Fitzgerald's in Houston. This alternative Rock band from Montgomery, Texas has been making quite a name for themselves lately. We saw them open for both Sammy Hagar and ZZ Top recently at the Smart Financial Centre in Sugar Land, and they're really creating quite a stir. The band is comprised of three 15-year old lads with quite a musical gift. The Band is Mac Johnson (guitar & vocals), Cayden Diebold (bass & vocals), and drummer Jake Douglas. The band has quite a few really good tune and really puts on an inergetic show. The show at Fitzgerald's tonight was certainly a lot of fun to watch and listen to. If you get a chance, check them out and see what the future of Rock looks like for Houston. It's certainly got a lot of potential.
Fitzgerald's is Houston's classic spot for local and touring acts since 1977. It has an upstairs and a downstairs for live entertainment. They both have stages, professional sound and lights and fully stocked bars. Also, on Wednesdays they have an open mic night. This month you can see Galactic Cowboys Fri. Dec. 1st, Heartbyrne Sat. Dec. 9th, and Karina Garcia Sat. Dec. 16th. Fitzgerald's is at 2706 White Oak Dr. in Houston. Check 'em out at www.fitzlive.com.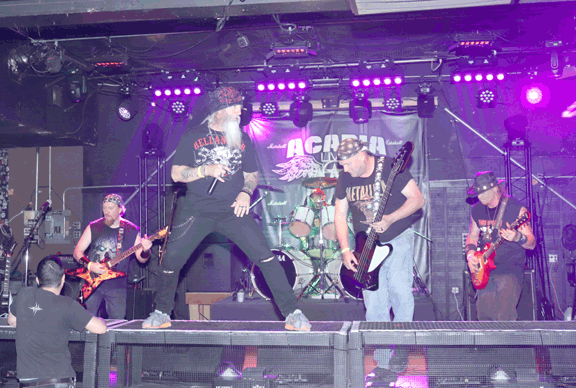 Scarred Shadows put on an impressive show this night at The Acadia Bar. The band was there performing songs from their new EP release, "No One Gets Out Alive." Their new EP is an equally impressive piece of work showcasing their talents and roots of Old School Thrash and Metal. The band just started up this past year, but they sound as if they had been together for years. They're a very tight outfit. Scarred Shadows is Brian (vocals), Roger (ld. guitar), James (rhythm guitar), Gordon (bass) and Leo on drums. If you want a chance to see this up and coming new band, drop by The Scout Bar this month on December 6th.
Acadia Sports Bar brings you some of the best events, live music, and different food items each week! Monday night has pool league and poker league and Tuesday has poker league. Wednesday night has an all-new open jam and fresh made street tacos by bartender Jeremy plus $2 tube shots. Thursday night has live and local touring bands hosted by North West Houston entertainment and more live, local, regional, and national touring bands Fridays and Saturdays. Sunday is 11 Below Brewing Company on Sunday nights. 11 Below pints from 7pm-2am also sponsored by Magik Recording Studio and AdVantage Point Video. Check out a free show (with a ticket) with Broken VAlor, Twelve Years Driven, Madsons, and Superna Sat. Dec. 9th. Then its The Kendall Mason Band, Kid Sixx, Darkness of Tomorrow, Witness to the Fallen, and Weekend Fire Fri. Dec. 15th. Then another free show (with ticket) to see Downfall 2012 and Angel Siren Tues. Dec. 26th. Acadia is at 3939 FM 1960 West. Find them on facebook at AcadiaBarand Grill and at acadiabarandgrill.com to learn about more events and drink specials.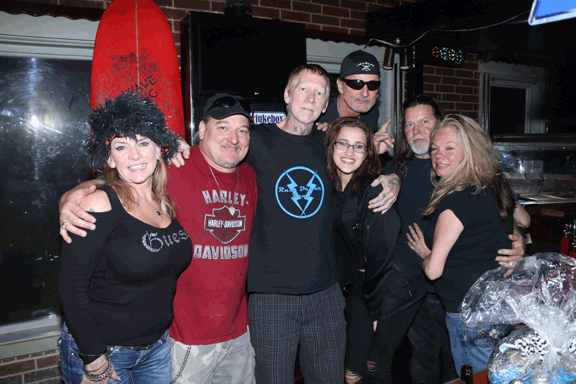 We're at Vollie Ray's Circus for the Russ Driver Benefit tonight and it's a packed house. Friends, fans, and fellow musicians joined together to help out on this noble cause. Russ (3rd from left, above) has been diagnosed with Stage 4 Cancer and is undergoing treatment to help him with this disease. Russ was in high spirits and was extremely happy to see a great deal of his friends there to support him in this hour of need. Several bands lent their talents this day, including Outboard Johnson and Konkerute. Also on spotted there was Loretta and John Schoolcraft, and Chris Loper, among many others. Contratulations goes out to Vollie Ray for allowing this great benefit to take place at his club. We've been told that the Silent Auction and BBQ sales really helped out as well. Needless to say, despite the situation, it really turned out to be a lot of fun for Russ and all the amazing people that came there to help out. Good Luck Russ, we're pulling for you!!
Rock Center Band Rehearsal Studio is a Houston-area studio that has a sound engineer with over 3 decades in the business. They have secure rooms, monthly rates, and 40 hourly rooms with P.A./ backline sound system. For more info, go to www.rockcenterhouston.com, or call 713-981-6555 and ask for David. Forget the rest, play at the best!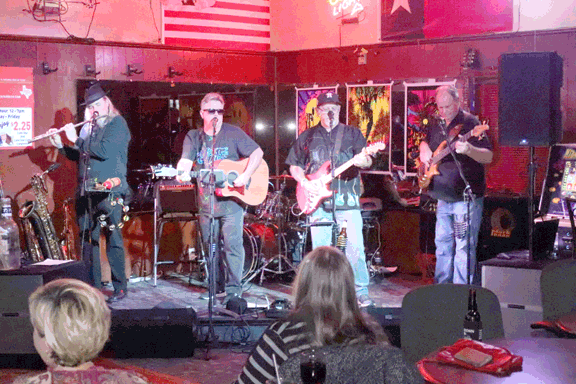 The Sundown Saloon is always one of our favorite places to go to. The folks there are always friendly and a lot of. They also happen to feature some of the best entertainment in town. Tonight the folks there were in the mood for a little something different, so they brought in an old favorite, Leftooright. Leftooright performs a mixture of everything from Rock to Country to Classic to Blues. There's a little of everything mixed into their repertoire. The guys were sounding great tonight and the sandwiches were good too. We just had to throw that in. Weekend nights the club usually has food out there for their patrons. Our favorite is the ham sandwiches. Now you know what we're talking about. Back to the band. The band was sounding good and was performing a variety of tunes. One moment it was Ringo's "It Don't Come Easy," then the next it was George Strait and "Amarillo By Morning," and then it was "Ticket To Ride" by The Beatles. Good show, good set list. Since we didn't see you there, we filmed a couple of songs for you to check out. Here they are performing a little Jethro Tull for your pleasure and "Wild World" by Cat Stevens.

At Sundown Saloon, you can enjoy live music without a cover. Some of the bands you can see are Tres Blondies Mon. Dec. 4th, and Liz Talley & The Dusty Spurs Band Fri. Dec. 8th. Fun Country close out the month on Fri. Dec. 29th. Sundays have an acoustic open mic with Don Whitt from 4pm-8pm. Then Tuesday bring your own steak to grill, and they'll provide a baked potato with all the fixin's! One Wednesday a month they have Earl T. & The Tattered Hearts Band and this time they play Wed. Dec. 20th. Closed on Christmas Day. No smoking inside but there is a large patio outside. Come into the Sundown Saloon at 4818 Dacoma in Houston, and tell 'em we sent ya!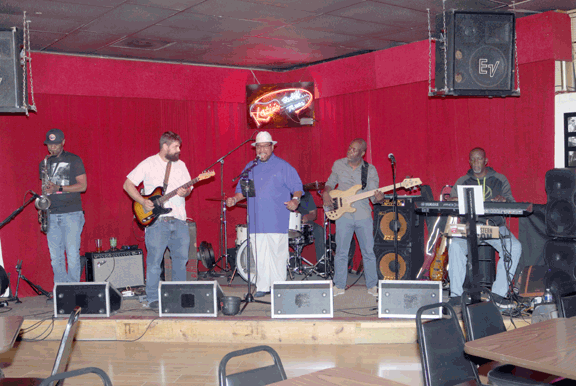 Odell Gray brings a heapin' helpin of R&B and the Blues to Katie's in Bacliff this night. Odell is a fine singer and brings with him a band of seasoned veterans that really know how to make good music. Tonight's show included songs by Z.Z. Hill ("Someone Else is Steppin' in), The Commodores ("Brick House"), and even Carl Carlton ("She's A Bad Mama Jama") among other cool songs. It really made for a fine evening of entertainment. But then again, what else would you expect to see at Katie's. Katie's features the best in R&B and Blues in the Clear Lake/ Bacliff area. Drop by sometime.
Katie's has the Bay Area's finest live music. This spot, at 315 Grand Ave. in Bacliff starts out the week with their legendary Blues jam Sun. 4pm-8pm. All musicians are welcome! They are closed on Mondays, and have live music Wednesdays through Sunday. There's a Freddie Pate CD releases party and Katie's jam with Paul Ramirez Sun. Dec. 3rd. James Wilhite is there Thurs. Dec. 14th. No Refund Band is Fri. Dec. 22nd. Don't miss the New Year's Eve party with Tony Vega Band with a champagne toast at midnight and a free buffet. Katie's is where it's at!
Scout Bar is Clear Lake's most popular rock lounge! They always have something going on, whether it be something local, or a national touring act. This month, a few events lined up are: a Toys For Tots event with The Brandon Williams Band, Ellco, Heights Funk Collective, and Channel K Fri. Dec. 8th, then it's the one-and-only Ace Frehley back at Scout Sun. Dec. 17th! Hard rock band Sevendust with their 20th Anniversary tour is there Fri. Dec. 29th w/ special guests Crobot, Broken Valor, and Hindsight.The Full Throttle live music and broadcast is on Wednesdays. Check out more upcoming live events at www.scoutbar.com.
We dropped by Wildcatter 2 this night to see our old buddy Keith York. Keith is playing drums now for Kenny & The Bluesmen, among his other projects. Also joining in this night was another friend of ours, Chaz Nadege Cosme. Chaz is one of the finest keyboardists Houston has to offer, so it's alway a lot of fun to hear him play. The rest of the band is Nick Michael Taylor (Nickel - don't call him that) on guitar and Kenny Palyola on bass guitar. These guys were hot tonight. One of the best moments of the night was when David Watkins joined in with them on the Blind Faith song, "I'm So Glad." Boy, did that song rock. We've got a cool video from their show that night to share with you on HMNTV - Houston Music News Television at http://www.houstonmusicnews.net. Yeah, you can start watching it now.

A great new place is Pub Level Grill & Lounge, which is the bar above Scout Bar, at 18301 Egret Bay Blvd. Suite A. They have such specials as $3 wells and $2 off all craft beer on Mondays, Texas Tuesday w/ specials on Texas liquors. Wine Down Wednesday has 25% bottles of wine and $2 glasses. New there now is Monday open mic w/ Clint & Chase, and Texas Tuesdays w/ live music by Erik Garza and David Wolfe. The party is here at Pub Level!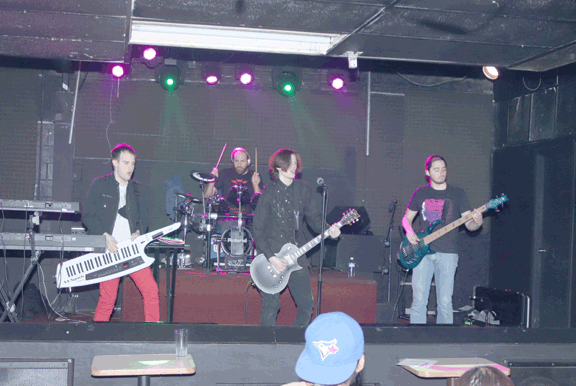 Scarred Shadows put on an impressive show this night at The Acadia Bar. The band was there performing songs from their new EP release, "No One Gets Out Alive." Their new EP is an equally impressive piece of work showcasing their talents and roots of Old School Thrash and Metal. The band just started up this past year, but they sound as if they had been together for years. They're a very tight outfit. Scarred Shadows is Brian (vocals), Roger (ld. guitar), James (rhythm guitar), Gordon (bass) and Leo on drums. If you want a chance to see this up and coming new band, drop by The Scout Bar this month on December 6th.
19th Hole Grill & Sports Bar, is where Houston's metalhead crowd goes! They are celebrating their 24th year of being a live music venue. That is on Thursdays, Fridays, and Saturdays. Bands this month include Castaway Radio, Superna Fri. Dec. 8th. Then Sat. Dec. 16th has Process of Illumination and The Clutch Kings. TreynWrek is Thurs. Dec. 28th. Don't forget the New Year's Eve party Sun. Dec. 31st. Karaoke w/ Mary is on Tuesdays from 9pm-midnight and is presented by Overtime Productions. Big Ass Beer is on Wednesdays. 19th Hole is at 202 Sawdust Rd. in The Woodlands. Call 281-363-2574 for more info.
Texas TNT is Houston's own high-energy rock and roll party band! They put on shows all over town, and in December they have one Fri. Dec. 8th at Aspen's Bar & Grill in Clear Lake Shores from 9pm-1am. Then a show in Alvin at Bubba's Sports Bar & Grill Sat. Dec. 9th from 9pm-1am. You can also see them at The Thirsty Texan in North Houston Sat. Dec. 16th from 9pm-1am. and at Molly Malone's Pub in Spring Fri. Dec. 22nd from 9pm-1am. Next they're at Alief Pub in Alief Sat. Dec. 23rd from 9pm-1am, and the following weekend at Bedrock Tavern in Cypress Fri. Dec. 29th from 9pm-1am, followed by a show at McCardell's Tavern & Grill in Tomball Sat. Dec. 30th from 8pm-midnight. Finally, close out the New Year with Texas TNT Sun. Dec. 31st at Jack's Bar from 9pm-1am. For booking, contact the band at 713-339-9100. Thanks from Texas TNT!!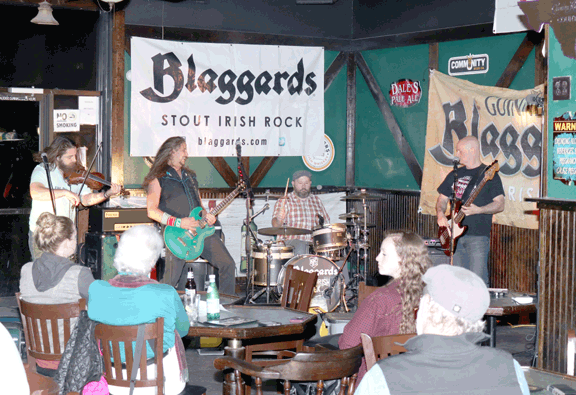 The Ashford Pub books very few bands, but one band they try to get in every month is Blaggards. Blaggards perform what they call Stout Irish Rock, traditional Irish music mixed with rock n' roll, informed by everything from Johnny Cash and Elvis Presley to Thin Lizzy and Black Sabbath. They are most frequently compared to bands like Flogging Molly, Dropkick Murphys, and the Pogues. Blaggards are guitarist/vocalist Patrick Devlin, bassist/vocalist Chad Smalley, drummer Michael McAloon, and fiddler Wes Barlow. Blaggards maintain a rigorous schedule, playing constantly throughout Texas and touring nationally several times a year. Despite their constant touring, they always manage to be able to slip in a date for their fans at The Ashford Pub, and we were lucky enough to be there this night for their show. Looking for a little Stout Irish Rock, then look no further. Here's a song from their show at The Ashford Pub this last November. You can watch it right now on HMNTV ­ Houston Music News Television.

Ashford Pub is the pub at 13308 Westheimer (at the intersection of Eldridge) that has happy hour everyday from 11am to 7pm! Some great weekly specials are Sunday $3 Bloody Marys and Poker Night, $2.25 domestic longnecks Monday, Big "Azz" Beer & Trivia Night on Tuesday, Steak & Poker Night on Wednesday, and Open Mic Night on Thursday. Wild West Texas Beer Fest is on Friday, along with a DJ spinnin' the tunes. You're invited to the New Year's Eve party with a DJ, buffet and champagne toast at midnight. For all the latest info and updates on everything Ashford Pub, go to www.ashfordpub.com.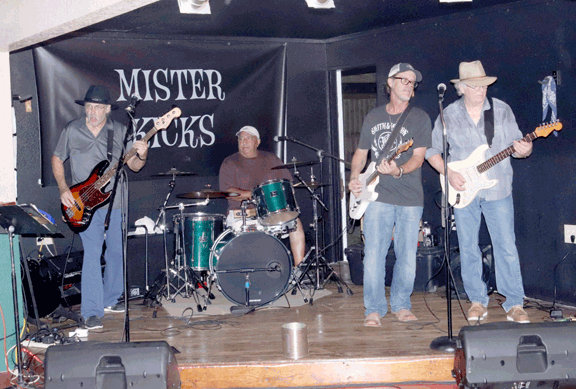 Mister Kicks performs at Crusier's Ice House. Mister Kicks is one for the first bands to perform at Cruiser's since they remodeled from Hurricane Harvey. Unfortunately Crusier's took on about 4 feet of water and was forced to shut down for about 6 weeks while they rebuilt the inside of the club. Mister Kicks certainly put on a good show mixing a little of the old school music with a little of the new to bring a fresh sound to the club. It made for a great night of entertainment. Congratulations goes out to Mike Armstrong for keeping it all together and getting Cruiser's Ice House back up and running again. We know it was a bit of a chore, but he pulled it off. Congratulations Mike!
Mister Kicks will be performing this Sat. Dec. 9th at The Pit Stop, 8510 FM 517 in Texas City from 9pm-1am. Then they'll be at Chantilly Room, 2420 S. Broadway St. in La Porte, from 9pm-1am. For booking, call 713-398-2007 or on Facebook!
Cruiser's Ice House is back after the hurricane! Back and better than ever, that is. The "best little ice house in Texas" never has a cover for its live music, and this month is no exception, with the Sunday Blues jam is hosted by Ben Herrington from 4pm-8pm and the Friday acoustic jam hosted by Starr Jernigan and Steve Shannon from 8pm-midnight. Then Saturday live music like The Hipwaiders' Flying Circus Sat. Dec. 9th, Billy Bourbon Sat. Dec. 16th, and Paul Ramirez Sat. Dec. 23rd. Don't miss the Christmas party Fri. Dec. 22nd with door prizes!! Cruise on into Cruiser's, at 9002 FM 2004 and check out more at www.cruiserstx.com.
Stereo Live is the huge live music venue on Richmond Ave. that provides dance, rap, hip-hop music in their main room. They also have a big outdoor terrace and signature loft upstairs, perfect for booking your next party or event. Events include Price & Takis Thurs. Dec. 7th. Then Firebeatz Fri. Dec. 22nd, and Tchami Sun. Dec. 31st. For these acts and more go to www.stereolivehouston.com. If you want to book an event here, call 832-251-9600.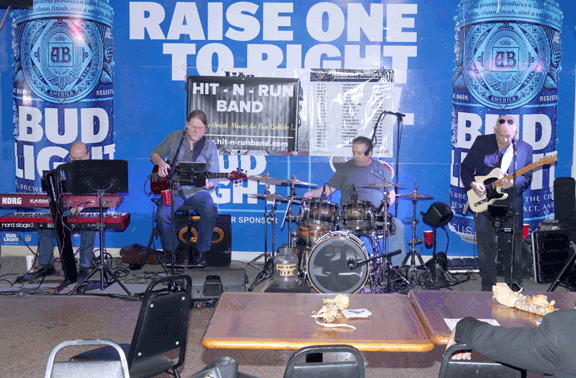 Hit 'N' Run make their Alief Pub this night with some great music and a really good show. Songs that really stuck out that night include Tom Petty's "Mary Jane's Last Dance," Johnny Cash's "Folsom Prison Blues" infused with The Who's "Pinball Wizard," and The House Of Blue Light. We especially liked the Boz Scaggs tune they performed. You can always be guaranteed a good time when you go to a Hit 'N' Run show. Those guys know how to throw a party!
Looking for the perfect gift for that special musician in your life? Get them a gift certificate from Heights Guitar Tech! It's good for the purchase of any in-stock instrument, accessory, or service. It even comes with a free gift box and cool stuff! Bring the ad in THIS issue to get a pack of free guitar strings or 50% off bass strings with setup! Heights Guitar Tech is at 742 West 20th St. You can go to www.HeightsGuitarTech.com or call 713-426-1888 for more info.
Proof Rooftop Lounge is Houston's coolest new midtown venue on the roof! Also what makes it cool is the fact that they have shows for free brought to you by Blackhorse Limo! Check out this lineup: Candlebox and American Fangs Sun. Dec. 3rd. Then Drowning Pool is there Thurs. Dec. 7th. L.A. Guns and Enuff Z Nuff are there Thurs. Dec. 14th. Proof is at 2600 Travis St. in Houston. Call 832-767-0513 for additional info.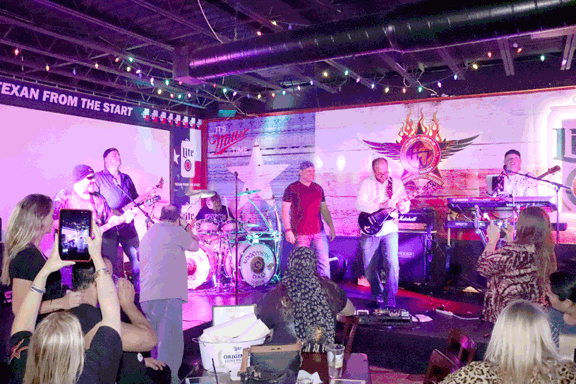 We dropped by Hugh and Jeff's Car Wash this evening to see the Whitesnake tribute band, Judgement Day. Our buddy Ty texted us and turned us on to the show this night, and it was definitely well worth the trip. Lead Singer Tom Calandra sounded just like David Coverdale and Dale Rasco, Scott Misner, Chris Kotlaraz, Shane DuBose, and Eddie Kaiser were equally as impressive. If you're into Whitesnake, then this is the band you need to check out. The did a real impressive job recreating the Whitesnake sound.
Jack's Bar is the place to be on the Southwest side! Check out live music on Saturday nights: Sundog Sat. Dec. 2nd, Jukebox Appreciation Night Sat. Dec. 9th, and After Party Band Sat. Dec. 16th. The New Year's party Sun. Dec. 31st. has Texas TNT. Of course, every Friday night is Ladies' Night, and FREE pool is every day until 7pm. Now they have ping pong Sundays at 1pm. Jack's is at 11720 S. Wilcrest. Visit them online at www.jacksbarhouston.com.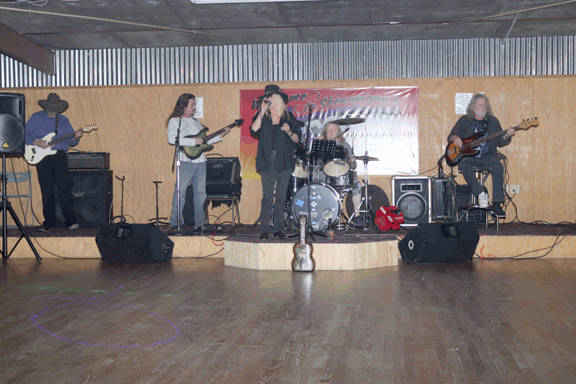 Stuck On Country is on stage at Shenanigan's in Texas City, performing a cool variety of Rock and Country. From "Blue Suede Shoes" to "Help Me Make It Through The Night," to "Stand By Me," they put on a cool set.
Texas City bar Shenanigan's, has been around for over 30 years and is still going! Open 7 days a week until 2am, they've got pool, darts, big screen TV's, as well as karaoke Thursday nights from 9pm-1am by Jammin' J. Also there's plenty of room for dancing to the live music Saturday nights...bands like Bryan Shayne Sat. Dec. 9th, Peterbilt Sat. Dec. 16th. and Keith McCoy Sat. Dec. 23rd. Come celebrate the New Year with your friends at Shenanigan's, with party favors, food, and fun! Shenanigan's is located at 820 34th St. North in Texas City. Discover more on the nightclub at www.shenanigansworld.com.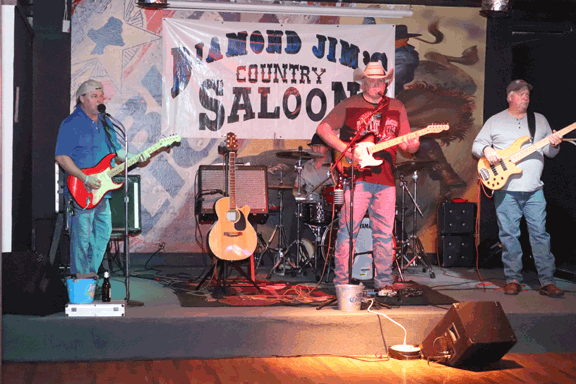 The Kenny Cooper Band brings a bit of Country Music to Diamond Jim's Country Saloon in Texas City. Kenny's got a great voice and sounded great tonight on tunes like "Stars On The Water," "Tulsa Times," and he really took off on George Strait's "The Chair." It was definitely a good show with a lot of great songs. I'd recommend Kenny any day of the week if you're looking for some great Country tunes.
Also a Country bar and also in Texas City, is Diamond Jim's Country Saloon! Monday night is Customer Appreciation Night w/ dance lessons; Tuesday is Ladies' Nite with Dart League and more dance lessons. Then, Wednesday night is for the guys with Men's Nite w/ Pool League. And then Thursday it's karaoke with Double Down Joe! Fridays and Saturdays have live music. You can see What's Left Band Sat. Dec. 9th, PeeWee Bowen Band Sat. Dec. 16th, and Posse on Fri. Dec. 29th. Come to the New Year's Eve party w/ Cimarron on Sun. Dec. 31st! The bar can be found at 3317 Loop 197 N. in Texas City. Go to www.diamondjimscountry saloon.com for a more upcoming bands and to keep up with all the latest at Diamond Jim's!
Frank's Pizza is "downtown and downright good"! Try the best pizza in the downtown area. You can pick it up, or have it delivered if you live downtown, as Frank's is at 427 Travis @ Prairie Street. Just call 713-22-PIZZA. Also, now you can get $2.00 St. Arnold's beer. See magician John Star Fri. & Sat. from 7pm-10pm. Come on out and see why Frank's Pizza has been voted #1 in pizza in the downtown area!
---
Serving Houston, Tx and the surrounding areas.
Music News covers all kinds of music from Rock to Country and Alternative to R&B..