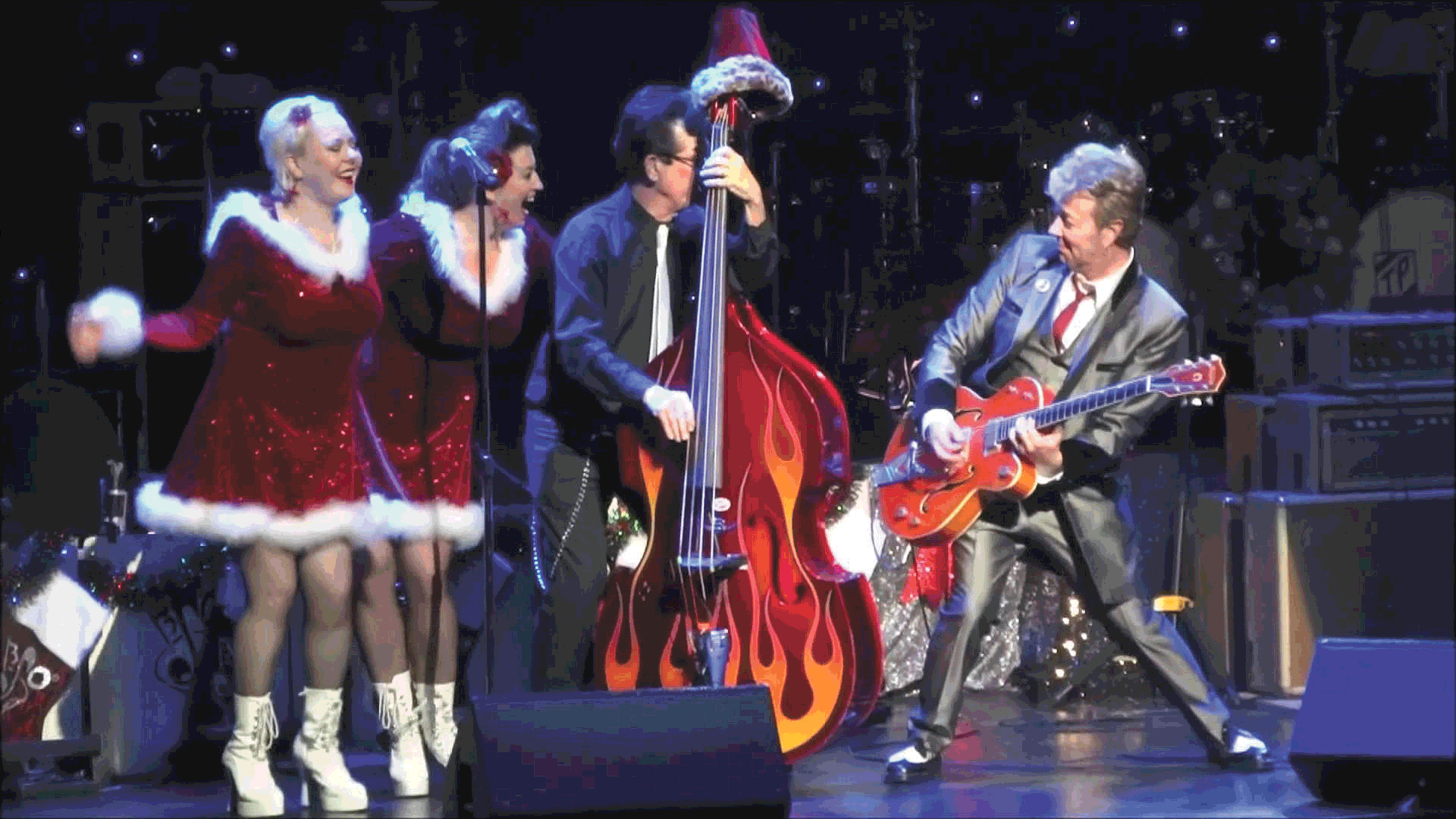 Brian Setzer Brings The Brian Setzer Orchestra and his 14th Annual Christmas Rocks! Tour To Houston's Arena Theatre
It's Christmas time and one of Santa's favorite Elves will be returning again to spread a little Christmas Cheer. Brian Setzer, the legendary guitarist from The Stray Cats will be bringing his 18-piece, World Famous, Brian Setzer Orchestra to Houston for his 14th Annual Christmas Rocks! Tour. Brian has been bringing this power-packed show to the Arena Theatre for many years now and it is rumored to be one of his favorite places to perform at. He just loves spinning around on the huge rotating Arena stage. He will be there this month on Sunday, December 10th.
Brian Setzer, now 58 years old, is now celebrating 25 years of his 'Big Band Sound.' Besides getting off to a rocky start, which he laughs about now, Brian has had a very distinguished career. One of his first shows with The Brian Setzer Orchestra drew only 34 people to The Roxy and nobody thought this type of show would sustain his career. All be it that it happened during the 'grunge' era and people thought the idea of having a big band show was nuts. 25 years later, his 'Big Band' show has become a hit Worldwide. He headlined The Hollywood Bowl in celebration of the 25th Anniversary of his Brian Setzer Orchestra. He has had 13 consecutive 'SOLD OUT! Christmas Rocks! Tours. And he just recently SOLD OUT London's 02 Forum Kentish Town show this past July 11th. Any doubts about this era in his career have been completely forgotten.
In addition to that, Brian has released 14 albums, sold over 13 million albums, and is a 3-time Grammy Award winner! Brian's music has now been licensed in over 40 major movies, TV shows, and commercials.
But if you ask Brian what he feels his crowning achievements have been, you may be surprised to learn a few unexpected things. He is extremely proud to have been asked by the Smithsonian Institution in Washington, D.C. to donate a replica of his iconic, original 1959 Gretsch 6120 "Stray Cat" guitar. Yes, even the Smithsonian is in awe of his distinctive career with the legendary Stray Cats. He was also personally asked to induct one of his heroes into the 17th Annual Rock 'N' Roll Hall of Fame, Mr. Chet Atkins. And he also gets a kick out of being presented with the Gibson Lifetime Achievement Award. Not bad for a guy that plays a Gretsch instead of a Gibson. He has definitely had a blessed career.
This month's show at The Arena Theatre is definitely going to be a show to remember this Christmas. Brian tells us to expect a lot of Christmas music along with a few surprises, which he is keeping to himself right now. You can be sure you're going to hear Christmas classics like, "Rockin' Around The Christmas Tree," and "The Christmas Song (a.k.a. "Chestnuts Roasting On An Open Fire")", "Angels We Have Heard On High," and "The Nutcracker Suite," among many more. Don't be surprised to hear a rendition of one of his favorite Stray Cat tunes, "Stray Cat Strut." Brian always performs some sort of homage to the band that catapulted his career into stardom. Other songs that he's been rumored to perform on this tour include Glenn Miller's "Pennsylvania 6-5000," "Jump, Jive an' Wail," "Rockabilly Boogie," and "I Got a Rocket In My Pocket."
Yes, this is going to be a great Christmas Show and if you only get to see one Christmas Show this December, make sure this is the one you make it too." And don't expect this to be an all-too-serious show, Brian has been known to interject a lot of great comedic moments into his show. Yes, without a doubt, this is going to be one of the best Christmas shows this year, if not the best one.
Merry Christmas and we'll see you at The Arena Theatre on Sunday, December 10th.


---
Serving Houston, Tx and the surrounding areas.
Music News covers all kinds of music from Rock to Country and Alternative to R&B..